The Loop
Falling for No. 16 in Michigan
They let the editor in charge of the Editors' Blog out once in a while and last week was one of those whiles. Your letters were dwindling and it was time for field work; hence my silence. No harm, though, because as Calvin Coolidge said, "I have noticed that nothing I have never said ever did me any harm." In this case, it did me good.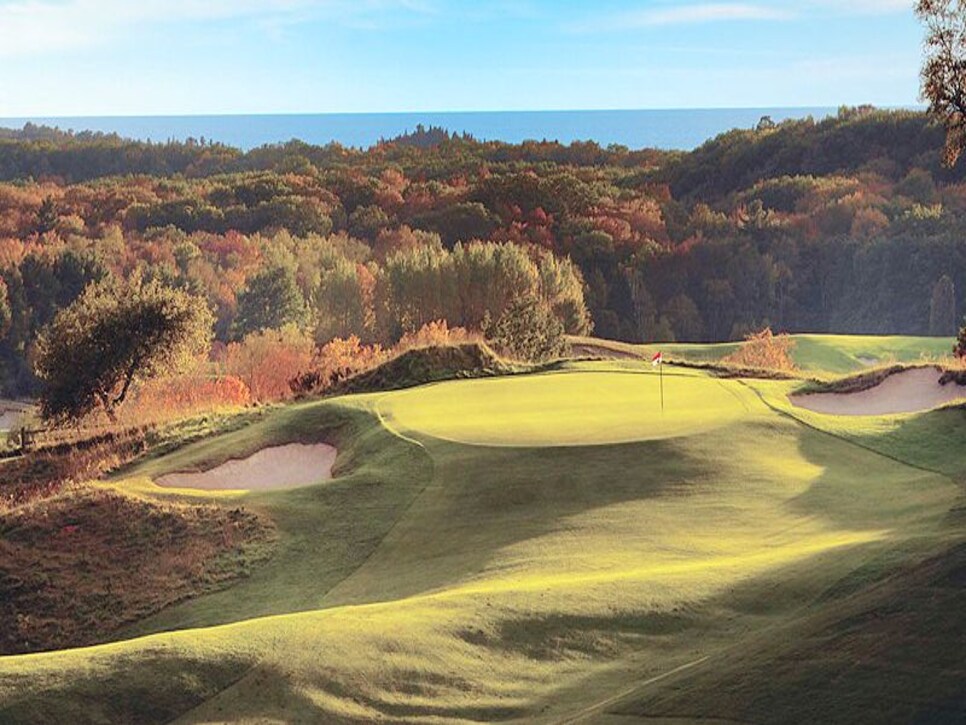 My road trip took me to one of golf's most unforgettable places and to another very, very memorable one, both in Michigan.
When you write to us about our course rankings, you tend to focus on either the new entries or the old standbys and their place on the chart. How did Augusta National overtake Pine Valley? Why is Oakmont not higher? Lower? Pebble is the greatest ever; how can it not be No. 1?! And why is Bandon Trails so far behind Bandon Dunes?
No one mentions our No. 16 course, Crystal Downs Country Club. Some readers don't even know about it. Crystal Downs was designed by Alister Mackenzie within a few years of his work on Augusta National and Cypress Point, the zenith of his career. He spent two weeks there and then handed the job over to his associate, Perry Maxwell, who took a great site and an inspired design and made a masterpiece.
You'll find Crystal Downs up in the northwest corner of Michigan's lower peninsula, on a strip of land where, if you liken Michigan to a mitten, the little finger and ring finger from a notch. It sits on a sandy bluff that overlooks pale blue Crystal Lake in one direction and oceanic Lake Michigan in the other. You can, on good days, see the Sleeping Bear Dunes, reminding you that a dune is what you're standing on. Having climbed to first tee from the road that hugs Crystal Lake through a birch, beech and evergreen forest that reveals only a couple of (relatively flat) holes, the view from the top is your first shock. What really floors you, though, is the golf course.
It is 6518 yards that, simply put, has never been messed with. It's playable, challenging, enduringly, rusticly beautiful. It gives you, on almost every tee, a feeling of hope and confidence, because there is usually plenty of room to play and beautiful views to match. But reality sets in as you approach greens that tilt, tip, buckle and fall away in every direction. You can score here. You'll enjoy your game here. If you have a caddy, you'll surely enjoy the walk. But, if you're not precise, you may also spend a great deal of time learning new short game shots. Crystal has only 79 bunkers, many of them behind greens (think of the 13th at Augusta) but they will find you, especially if you are approaching from a less-than-ideal direction. And if they don't, the the gathering depressions beside them will swallow you up.
The par-5 eighth is a perfect example. You know the nine will finish with this par 5 and a medium-length par 3, (542 yards and 175 years), with few bunkers to contend with. You're disappointed because you played two very short par 4s preceding it sloppily, and you have nothing to show for it. You're thinking, "I can make up some ground here." But if you haven't hugged the inside of the dog leg on the par 5, and placed your second shot up the right side, you're third shot will be just a bit longer and much more awkward than you'd planned. Your third will no doubt be off a less-than-level lie (they all are) and you know that a mis-hit will send your ball tumbling down the left front of the green (where the green seems to evaporate) or in a position on the putting surface where you're putting defensively. Get aggressive, lose it over the green, and you'll be happy to make bogey. So you fumble the 8th; now the 175-yard ninth looks like a real bear. And, oh, don't be above the hole.
And so it goes at Crystal Downs. Listen to Fred Muller, who's been pro there for 33 years--he's more like a curator, really--describe the 449-yard No. 1, which, he cheerfully points out, usually plays into the wind: "Sneak up on a wildly undulating green with a shot that lands short and pitches on. A miss to left is a bogie, a miss to the right is a disaster." The day I played, with the wind howling, I snuck up on No. 1 with a 2-rescue and a sand wedge. Not so sneaky.
But I spent a wonderful afternoon first chatting with Fred about the course and the club and then playing it in, admittedly, pretty rough conditions. The wind was blowing 35 miles an hour, raining off and on, playing long and walking longer. And yet was the round of my season. There are courses you play and think, "Great. I've done it. It's off the list. And there are others where you think, "Wow. May I come back tomorrow? Please?" That's Crystal Downs.
The following day I joined my brother and two other members at recently renovated Barton Hills Country Club in Ann Arbor. Architect Ron Prichard has removed trees, added and restored bunkers, and made this very good course even better. Barton held the 1998 U.S. Women's Amateur and it is, in my experience, one of the truly great members' courses in the country. It's now been made even more beautiful and, for better players, much sturdier. I hear that some members have complained that removing trees and adding bunkers has made Barton "easier." Not for me. It has made it perhaps more playable off the tee, but, as with Crystal Downs, more challenging than ever on the approach. Trees behind greens have been taken out, revealing the movement in those greens, and making one's shot selection even tougher.
It was, despite cold and wet weather, a most memorable weekend. No wonder Michiganders love golf so much.