The Loop
Facing my fears and taking on Pittsburgh's famous Primanti Bros. sandwiches
As a native Cincinnatian, I grew up with a deep-seated aversion to all things Pittsburgh. This was the city that ruined Carson Palmer's career, nearly killed baseball twice with the 1980s drug trials and Barry Bonds, and gave the world "All The Right Moves."
In college, this hostility dissipated. At a school with a strong influx of Pennsylvania residents, I learned that, despite employing Ben Roethlisberger, Pittsburgh was a lovely place. The downtown area is a paragon for urban renewal, the locals are proud and hospitable, and, most importantly, the city boasts a kick-ass beer scene. By the end of my senior year, I had an admiration for the Steel City.
Except for one thing: Pittsburgh's world famous Primanti Bros. sandwiches.
For those unfamiliar with the food chain, Primanti Bros. specializes in a concoction that's banned by the United Nations, or at least should be. The item in question is a pastrami sandwich, covered with mounds of coleslaw and french fries -- not on the side, but literally in the sandwich -- held together by white bread. I pride myself in owning a strong constitution, but this monster looked like a heart attack in a hoagie.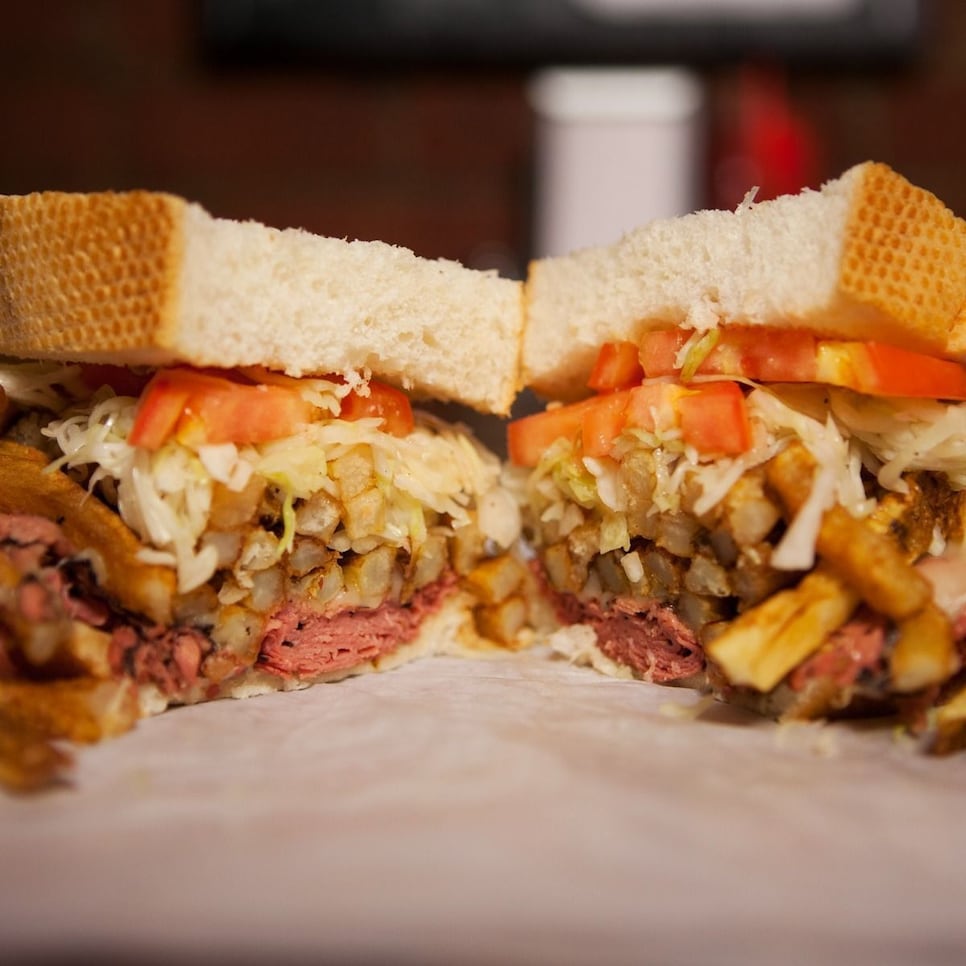 Whenever I visited friends in Pittsburgh, they tried to get me to eat at Primanti's, a fate that seemed comparable to colonoscopy. In turn, said buddies refused to eat Skyline Chili, a Cincinnati dish that many outside the city view as hog feed. However, an agreement was reached: If one party tried the other's hometown speciality, the other had to reciprocate the friendship gesture. And during a recent trip to the Buckeye State, one of the friends attempted Skyline, thereby enacting my part of the accord.
Or so they thought. "Yes, looks like it's my turn to take the plunge," I remarked, deviously grinning because, thanks to my move to New York last year, I was safe from Primanti's grasp.
Until realizing I was covering this year's U.S. Open at Oakmont Country Club, which sits just outside of -- DING DING DING! -- Pittsburgh. I was heading into the belly of the beast.
On my first day on the Oakmont grounds, I noticed a Primanti's concession stand by the third hole. Good, I thought. Not only could I expense the meal, but I will have thousands of witnesses when this sandwich takes me out.
In the early Tuesday afternoon, the bell tolled for thee. I courageously marched across Oakmont, my personal Trail of Tears. I not only ordered the pastrami, but added a "Pitts-burger," built with the same ingredients on a burger foundation. Just typing that clogged my arteries.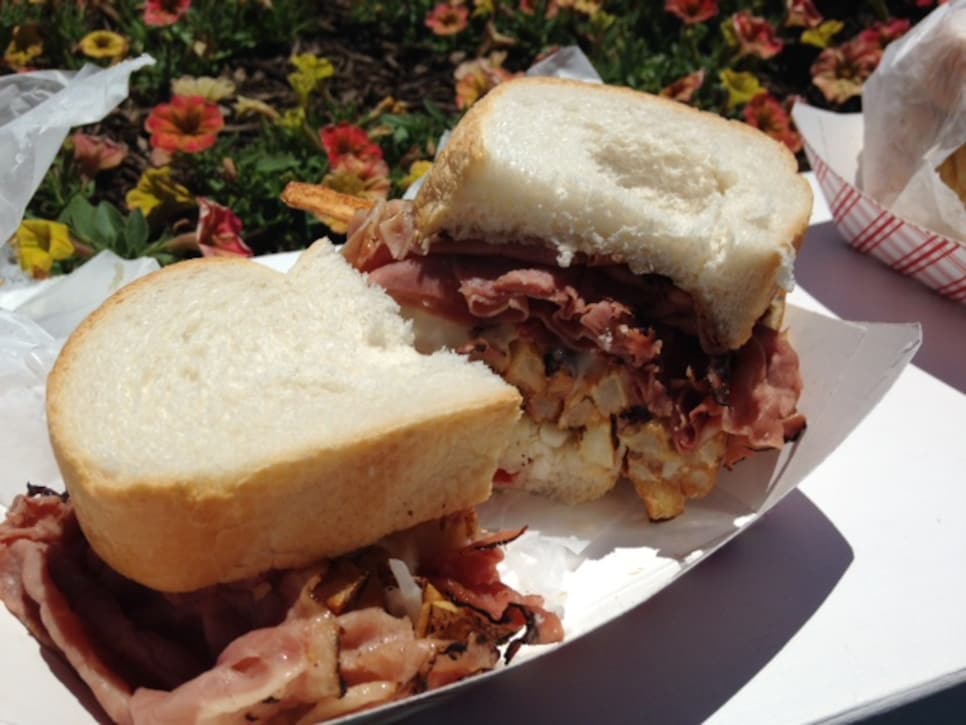 My boss Sam sat by in awe and disgust -- mostly disgust -- as I began to devour Primanti's. And the horrified looks of multiple onlookers -- at the sandwich or me, one can't be sure -- was a tad disconcerting.
However, I say this with complete sincerity: It wasn't half bad. (Note to Primanti's: Feel free to use that endorsement. "Primanti's: Not that awful!" says unknown assistant golf editor.)
The "American institution" label is a tad hyperbolic, and how the sandwiches were simultaneously greasy and dry defies reason. That I felt pregnant after my meal wasn't particularly enjoyable, nor was the ensuing case of meat sweats.
But the sandwiches were unique, and there's something laudable about the area's delight in it's idea. Better yet, I was able to face a life-long fear and conquer it.
Now if you'll excuse me, I apparently have to go give birth.