The Loop
Faced with questions on Sunday, Rory McIlroy provided all the right answers
HOYLAKE, England -- Three down, one to go. In the eight decades that have passed since the evolution of the Masters Tournament, only five men have so far annexed all of golf's four most important events -- Gene Sarazen, Ben Hogan, Gary Player, Jack Nicklaus and Tiger Woods. But a sixth is on the horizon. With victory in the 143rd Open Championship at Hoylake, Rory McIlroy needs only a win at Augusta National to join one of the game's most exclusive clubs.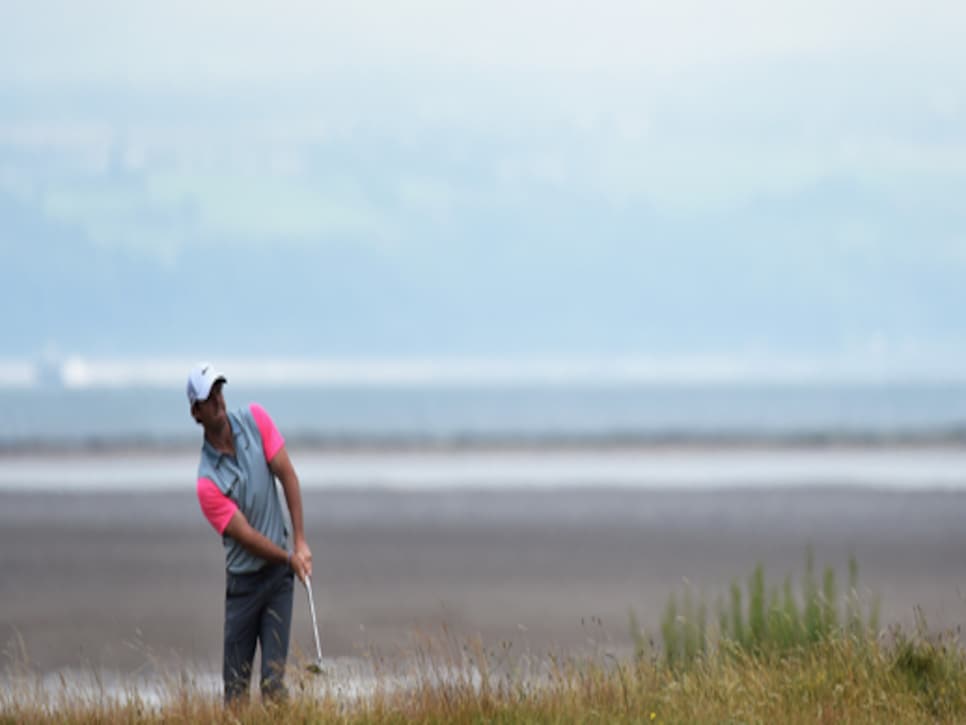 A McIlroy Grand Slam will "definitely happen," Phil Mickelson said. "And probably soon." Photo by Getty Images
With a closing 71, the Irishman finished at 17-under par, two shots clear of Sergio Garcia (66) and Rickie Fowler (67), having started the day with a six-stroke edge over the equally youthful American. So it was a fourth round not without incident or doubt -- with five holes to play Garcia was within two -- but ultimately the new champion provided the necessary answers to even the most pressing questions.
"I'm immensely proud of myself," was McIlroy's initial reaction after adding the oldest of the four majors to his U.S. Open victory in 2011 and PGA win a year later. "To sit here 25 years of age with my third major and be three-quarters of the way to the Grand Slam is something I never dreamed I would achieve so quickly."
Not surprisingly, those trailing in McIlroy's considerable wake were quick to pay tribute to this latest confirmation of an amazing talent.
"When Rory is in a rhythm he is phenomenal," said world No. 1 Adam Scott, who was T-5 alongside compatriot Marc Leishman. "He doesn't have weaknesses and he has more strengths than anyone else."
"This game is hard," added McIlroy's fellow Northern Irishman Graeme McDowell, a fast-finishing T-9. "But you can't play much better than Rory does. He is as good as it gets."
And one man who should know about such things had no doubt that a green jacket -- the fourth quarter of what the great Bobby Jones once called "The Impregnable Quadrilateral" -- will shortly be part of the McIlroy wardrobe.
"With his length and the way he plays that course (Augusta National), it will definitely happen," said three-time Masters champion Phil Mickelson, whose Open defense ended in a T-23. "And probably soon. He's such a complete player at such a young age."
Of the two runners-up, it is Garcia who will perhaps leave the Royal Liverpool club with the bigger regrets. Not until his closing birdie to McIlroy's safely-played par was Fowler within three shots of his playing partner. But Garcia, playing one group ahead, had an opportunity to exert pressure on the eventual champion. That he did not is largely due to the wedge he pushed into sand on the relatively simple par-3 15th, followed by the attempted escape that did not. In the end, he did well to make bogey. But it was a crucial lapse.
"It is difficult when you are in a situation where you know you can't make a mistake," pointed out Garcia, who will move up to No. 5 in the world. "It just puts you under that little extra pressure. And the 15th was obviously a mistake. I was trying as hard as I could. I just got too cute. I could see the ball was on a little bit of down-slope, so I thought if I just get it a couple of yards out of the bunker it would run to the flag and I might even hole it. But I decelerated into it and left it in there."
None of which was any concern to the new champion. Indeed, asked to reveal the two "trigger" words he was using throughout the week, he was almost bashful in doing so.
"This is going to be a big letdown for everyone," he said with a smile. "It was process' and spot.' With my long shots I just wanted to stick to my process and stick to making good decisions and swings. I never wanted to be thinking about the end result.
"Then spot' was for my putting. I was just picking a spot on the green and trying to roll the ball over it every time. I wasn't thinking about holing it. I wasn't thinking about what it would mean or how many shots clear it would get me. I just wanted to roll the ball over that spot."
Perhaps the only jarring moment of the day came on the 16th tee when McIlroy had a spectator removed. "He was giving me grief all day," said the new champion golfer of the year.' "I put up with it for 16 holes but then he deliberately coughed on my downswing. So I turned round and got him chucked out. I didn't have him bothering me for the last two holes, which was nice."