The Loop
Extra work, and renewed confidence, pays off for Jimmy Walker at Baltusrol
SPRINGFIELD, N.J. -- It was a sweltering early afternoon on the eve of the year's final major, the sun beating down and humidity ratcheted up as Jimmy Walker worked his way through his bag beating one ball after another on the cramped makeshift driving range on the first hole of Baltusrol's Upper course. Standing nearby was his coach Butch Harmon, bouncing between a trio of clients. This went on for about an hour, with Walker getting the least amount of attention between more high profile players Rickie Fowler and Brandt Snedeker.
"He's swinging really good," Harmon said of Walker afterward. "He didn't need a lot of work."
In earnest, Walker had already done his work a few weeks earlier in Park City, Utah, where his wife Erin's parents have a home and where Harmon also has a vacation house.
"It's so relaxing for us," Erin said. "He has memberships to two courses there so he can go play and practice whenever he wants."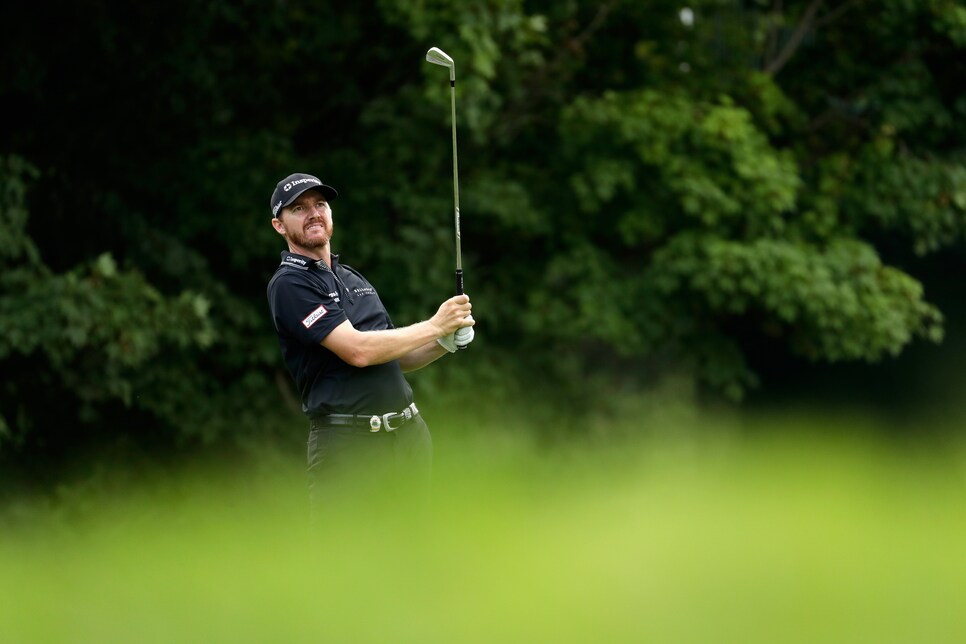 Harmon worked on getting Walker to stand a little closer to the ball as well as the posture of his right leg, which he was straightening and therefore causing him to get outside his right side on the swing.
The two also focused on the six-inch space between Walker's ears. His season hadn't exactly gone to plan with missed cuts in half of his last eight starts coming into the year's final major. Despite a career in which he had won five times in just over 18 months between the fall of 2013 and early 2015 after going 0-for-his-first-187-starts on tour, Walker was down on himself and his game.
It was the same story when Walker had first reached out to Harmon for help four years ago.
"There were some mechanical changes we had to make; those were easy," Harmon said. "I had to make him believe how good he was. He wasn't sure he was as good as I thought he could be. He kind of lost the faith in himself this year, too."
By the time he arrived at Baltusrol, though, he had re-gained it, along with a sense of calm that helped carry him to rounds of 68 and 67 in a wet and wild 36-hole finale that ended with a one-stroke victory over Jason Day for his first career major championship.
"I felt confident in my golf swing, my putting, my chipping," said Walker, who finished at 14-under 266. "Kind of tried to wrap myself around that; that everything was feeling good, and to go with that and trust what I was doing."
So good that in between rounds Walker retreated to his RV, which was parked across the street in a church parking lot, for a rub down and even a nap. "It was only 10 minutes," he said. "But it sure felt good."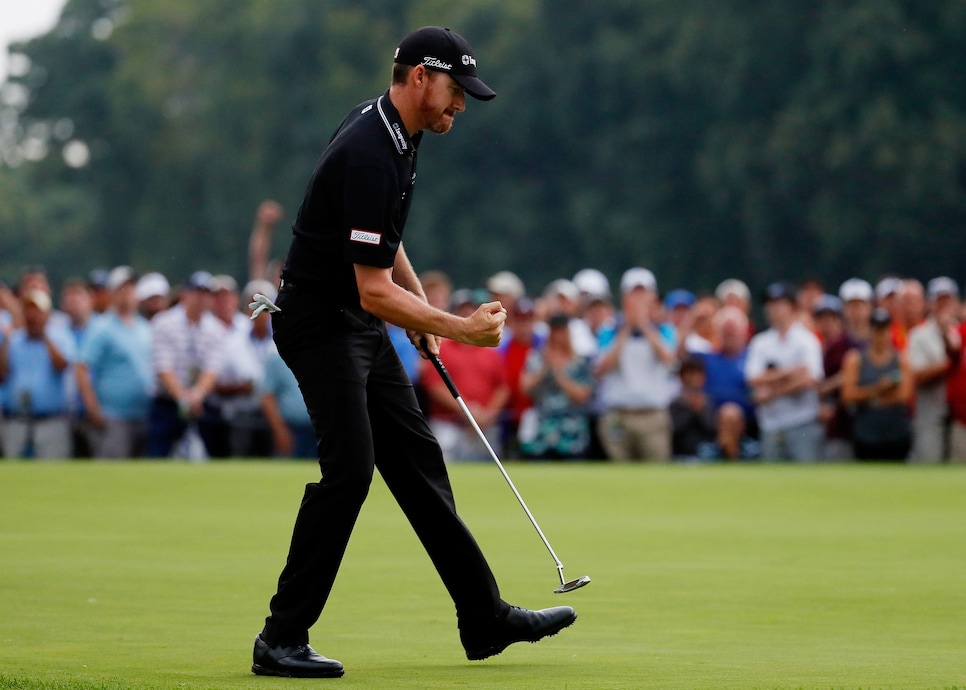 His swing was in an equally good place. For the week, Walker ranked fourth in strokes gained/tee-to-green. He also made seven birdies and no bogeys over his final 27 holes.
"I felt like some stuff kind of clicked last week, literally in the last like nine holes," he said. "Everything felt good. I kept it going."
That trust allowed him to stay calm in the cauldron of trying to fend off the No. 1 player in the world in Day, who eagled the par-5 18th to get within one of Walker's lead. A roar echoed across Baltusrol and Walker, one hole behind him, had to twice back off his 11-foot birdie putt. No big deal. He curled it in and let out a fist pump of his own.
Needing a par on the last to secure the win, Walker went for the green in two because he figured he would make par 19 out of 20 times in that situation. Even though he pushed his approach into the right rough, he safely pitched onto the green and coolly two-putted from 33 feet for par.
It was the kind of performance that made everyone from Walker's wife, to his caddy Andy Sanders whom Walker had first met at Baltusrol years ago, to Harmon proud. It also surprised none of them, despite the recent struggles.
Said Harmon, "The last thing I said to him before he left range today was 'Just go out and show them who Jimmy Walker is.'"