The Loop
Explainer: Understanding Rory McIlroy's court case against his former agents
Rory McIlroy's court case against Horizon Sports Management, Rory's former agency, keeps rumbling on, but some interesting new revelations came to light this week. With the case scheduled to go to court in February, there's no better time than the present to run though some of the key questions:
When Rory McIlroy turned professional, he did so with Andrew "Chubby" Chandler, the super agent who also represents Lee Westwood, Ernie Els, Charl Schwartzel and Louis Oosthuizen, among others. In October 2011, a few months after winning the U.S. Open, McIlroy moved to the Dublin-based company Horizon Sports Management, who had been representing his friend Graeme McDowell since 2007. Under Horizon, Rory won his second major, the 2012 PGA Championship, became the World No. 1 and signed a five year, $20 million-a-year equipment deal with Nike.
Sounds good so far, so what's the problem?
In May, the New York Times profiled McIlroy and Horizon, two weeks before he split with the company to form his own management agency. "I think it's a good thing for me that I'm with a smaller company," McIlroy said in the article. "They are always looking out for what's best for me."
What McIlroy didn't say was that he and the company were on the verge of splitting. The reasons for the move were at first unclear, with members of the McIlroy camp only saying that his father would play a more prominent role in the new company. Only when McIlroy filed suit against Horizon on October 14th was it revealed that the former World No. 1 felt he was coaxed into signed a "limiting" deal with the company (and at the office Christmas party, to make matters stranger -- more on that later). McIlroy also said in a statement that his agent, Conor Ridge (picture below), and Horizon were "primarily concerned with maximizing their own share of any commission." Translation: McIlroy felt he was unfairly paying too much money to his agents.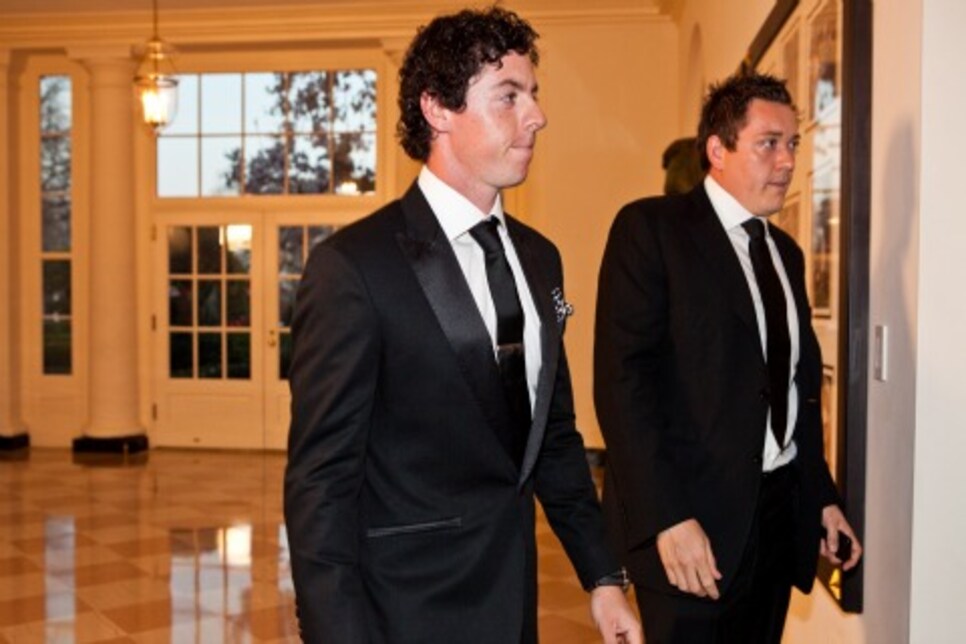 The contract with Horizon, which McIlroy calls "unconscionable" and says he was coaxed into signing, cost him about $6.8 million in fees. McIlroy also says that he was pushed to sign his deal with Horizon at an office Christmas party and that Horizon also made a $166,000 donation to UNICEF without his knowledge or consent. McIlroy is trying to break his contract and recoup the money he feels is owed to him by suing Horizon.
Horizon, on the other hand, is defending itself by pointing to its role in negotiating the Nike deal and other endorsements, worth about $130 million over the next five years. Horizon is also countersuing McIlroy for $2.4 million in unpaid fees.
What are the new revelations?
While preparing for the case, Horizon discovered that McIlroy had "wiped clean" up to eight different cell phones between 2011 and 2014. Horizon's lawyers said the revelations were "incredible for a person in his position", and put forward application that would allow them to further inspect the phones for evidence. The lawyers say the phones probably did -- and still might -- contain valuable information relevant to the case. McIlroy's camp defends itself by saying Rory periodically changed and reset the phones as a way of protecting himself from unwanted calls from journalists.
In October, Rory announced that the two sides had been unable to reach a settlement and that the case would go to trial. When the trial does begin on February 3rd, it is expected to last between six to eight weeks and Rory appears almost certainly to testify at some point. There's the looming question of how the case will affect Rory's playing schedule -- the Masters is in April, after all -- but specific answers on that point remain unclear.