Yealimi Noh has slowly begun to establish herself on the LPGA Tour. The former junior phenom from California who celebrates her 20th birthday next Monday has four top-three finishes and six top-15s in 37 career starts since joining the tour in 2020, including a T-3 at last week's Dow Great Lakes Bay Invitational while teamed with A Lim Kim.
Her run of impressive play continued on Thursday at the Amundi Evian Championship when Noh holed out from 126 yards for an eagle on her first hole, made five more birdies (offset by one bogey) and posted a six-under 65 to share the early clubhouse lead with Pajaree Anannarukarn.
I honestly just wanted to finish good because starting off with an eagle is always like -- you want to play well and take advantage of that early start," Noh said. "I hit a lot of greens. I made a few good putts and just played really consistent today. No big errors, just fairway, green, putting. It's always easier said, but it was good, yeah."
Casual golf fans might find Noh's name familiar thanks to an unusual moment earlier this year. At the Kia Classic in March, Noh was fined by the LPGA Tour for slow play, an incident that made national news given the amount of the fine: $10,000.
She paid it, of course, but the embarrassment of being involved in the incident lingered. "Every tournament I went to just got tougher for me mentally," Noh said last month at the KPMG Women's PGA Championship, "because, well, obviously results, but just getting a fine, too. That definitely ruined my mood, and I don't think I deserved it.
"It was just hard to come back from that mentally, watching my back and trying to do something that I don't normally do. And then [it has] just been hard for me to stay positive. I have been really working on it."
Learning how to process bad news is a complex affair that any rising star must face. Noh turned to the inner circle she's cultivated since her junior days—in the summer of 2018 she won the Junior PGA, U.S. Girls' Junior and the Canadian Women's Amateur in consecutive weeks—to get through the unforeseen emotional challenges created in the wake of the incident.
Specifically, Noh reconnected with her old sports psychologist, Dr. Mat Park, shortly after the Kia Classic. They first met in 2012, as Park and Noh played golf at Oakhurst Country Club in Clayton, Calif., where she still practices today.
"It's a really tough pill to swallow," Park said. "When it gets broadcast where you feel like all the attention, and the eyes are on you, in a negative way. You look around your shoulder, and you see someone looking at you, and it's almost like you create this narrative inside your mind: Oh wow, they're thinking that I'm a slow player now. You start creating this narrative even when it's not there. Yealimi and I talked about this. What you focus on grows, and what you search for you will find."
To switch what Noh focused on, Park helped challenge her belief that she was a slow player, getting her to think about what happened, talk through her concerns about what others might think and replace the negative thoughts with more positive ones. Instead of being defined by her fine, Park had Noh visualize where she wants her game to grow from where she is now.
"It's 'not fake it until you make it,' it's 'be it until you see it,' " Park said. "You become that ideal state, that essence form, you become it after the visualization, you become it, then you will see it."
In addition, Noh spent two weeks with her swing coach of 10 years, Erik Stone, over the LPGA's San Francisco swing at the U.S. Women's Open and the LPGA Mediheal Championship in late May through early June. Stone is based in the Bay Area and followed how Noh structured her practice rounds to managing herself in tournament play. An immediate learning opportunity presented itself at the beginning of the week at The Olympic Club when 2019 Women's Open champion Jeongeun Lee6 played a practice round with Noh.
"She [Lee6] shows up on the ninth tee box, and on the 10th tee box she owned the practice round," Stone explained. "She just took the tee. That is more of what she [Noh] needs to be like, and that will come with time."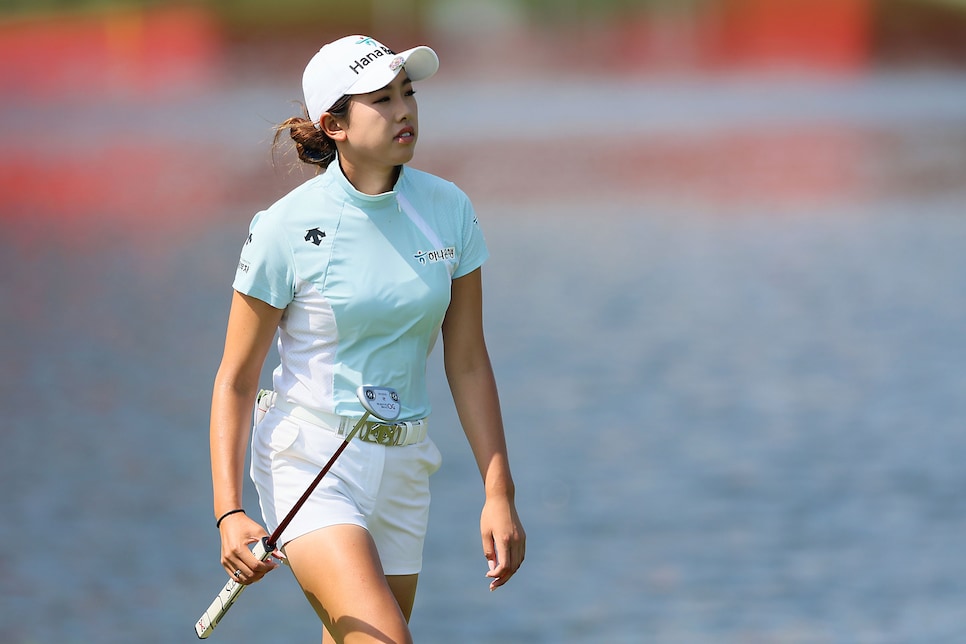 Noh spent time working with her sports psychologist and swing coach to try to rethink the slow-play incident and re-focus how she prepares and plays on the course.
NurPhoto
Stone's worked on Noh's confidence by encouraging her competitive side. They've bonded over baking, and during the LPGA Mediheal Championship, Noh and her caddie, Andy Moren, had a chocolate-chip bakeoff that Stone judged. Noh emerged the winner.
Her team added to the self-belief Noh needed to continue to improve by slowly tinkering with her approach on the course. During the Mediheal Championship, at Lake Merced Golf Club's ninth hole, a par 5 with a downhill tee shot into a left to right uphill approach, Noh teed up on the left side of the tee box with a left to right wind. Instead of playing with the wind by teeing up on the right side of the tee box and fading it, Noh fought it with a draw. As a result, she ended up in a difficult spot in the right rough and shrinking the size of the fairway she could hit. Those minor adjustments are the focus of her work with Stone as Noh grows into her game on the LPGA. They occasionally tweak her swing, but it's never substantial.
"I've seen the golf swing so much it's easy to get her back to where she needs to be," Stone said.
Noh applied her work with Stone and finished T-13 at Lake Merced, her best finish of the season to that point. She missed the cut at the Meijer LPGA Classic before flying to Atlanta, where Park is based, for the KPMG Women's PGA Championship. Noh had a lengthy meeting at the start of the major week with Park to further progress on her approach.
"When you're in the zone, it doesn't feel like a long time," Park said. "That's the experience. When we're doing the work, and when we're in it, hours can feel like minutes."
Their flow focused on bringing her ideal state of mind to the course, building a perfect pre-shot routine similar to a gymnast or ice skater before taking the stage.
"Every part of her routine is timed to perfection," Park said. "In that same vein, we try to just have her focus on her routine as if she's trying to get a 10 out of 10 every single time. By doing that, you're getting the mind to focus on what you can control."
It's an additional challenge to hone Noh's mind at a young age. Instead of being a sophomore at UCLA, where she passed on a scholarship opportunity to turn professional in 2019, she's fitting in what most teens do, such as getting her driver's permit, between tournaments while in her second year as an LPGA member. Noh's opportunities to develop and grow aren't in the closed environment of a college campus but rather shining in the public eye.
"Often times it's hard at 19," Park said. "You watch Tik Tok, social media, your friends partying and the things a 19-year-old should do. Look at all these young players on tour. They're all on this journey. She's no different in the same way, with great things comes great responsibility. She recognizes that it's not an easy journey. By recognizing that, she has a very realistic mindset of the trajectory of what it takes [to become elite.]"
The impact of her meeting with Park was immediate. Noh finished T-15 at the KPMG, her best major performance of her career.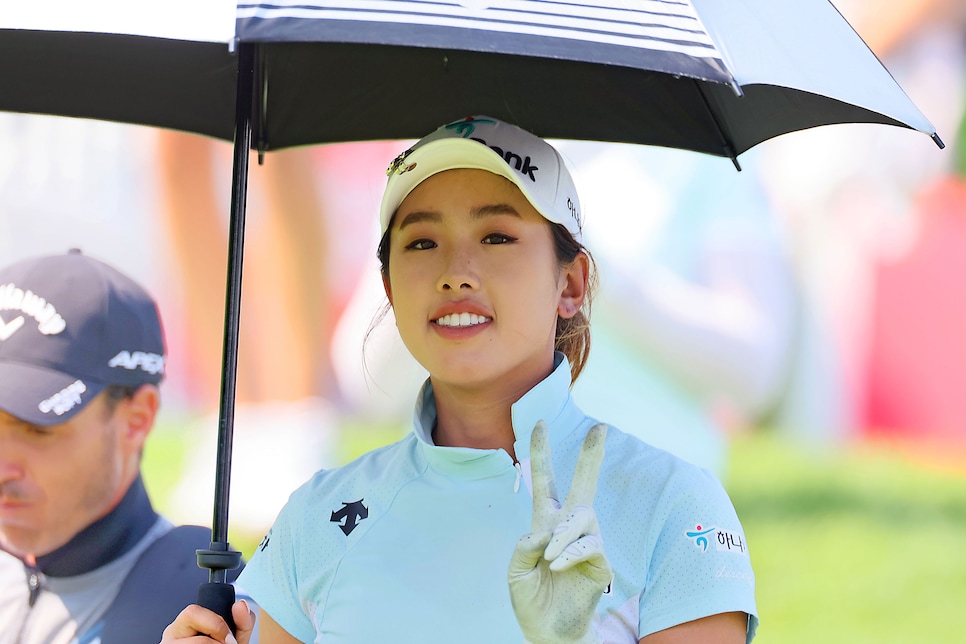 A happier Noh walks toward the 14th green during the final round of last week's Dow Great Lakes Bay Invitational.
NurPhoto
Playing with Kim, the 2020 U.S. Women's Open champ, last week also helped Noh increase her confidence. After making a bogey on the ninth in the final round's four-ball format, Kim turned to Noh and urged her to find inspiration for the next hole instead of getting mad over the mistake.
Noh internalized that message quickly, as the pair turned in a back nine five-under 30, surging up the leader board to finish T-3 for Noh's best performance of 2021.
"I think this is the most enjoyable round or week I've ever had on the golf course," Noh said Saturday at the Dow Great Lakes Bay Invitational. "I was thinking about that earlier, too, not just this year but overall. It was just so fun and like everything was so lighthearted and no stress, even though we're in tournament golf. It was just a nice visualization for me to see how well I can play while being happy and stress free, so it helped a lot this week."
As Noh continues to grow and learn more lessons on how to roll with the punches, Noh's team around her sees more greatness to come.
"With more maturity as she develops that belief in herself," Park said, "You're just going to start seeing her more and more."