Amundi Evian Championship
Jeongeun Lee6's 61 ties major-championship scoring record … and it could have been lower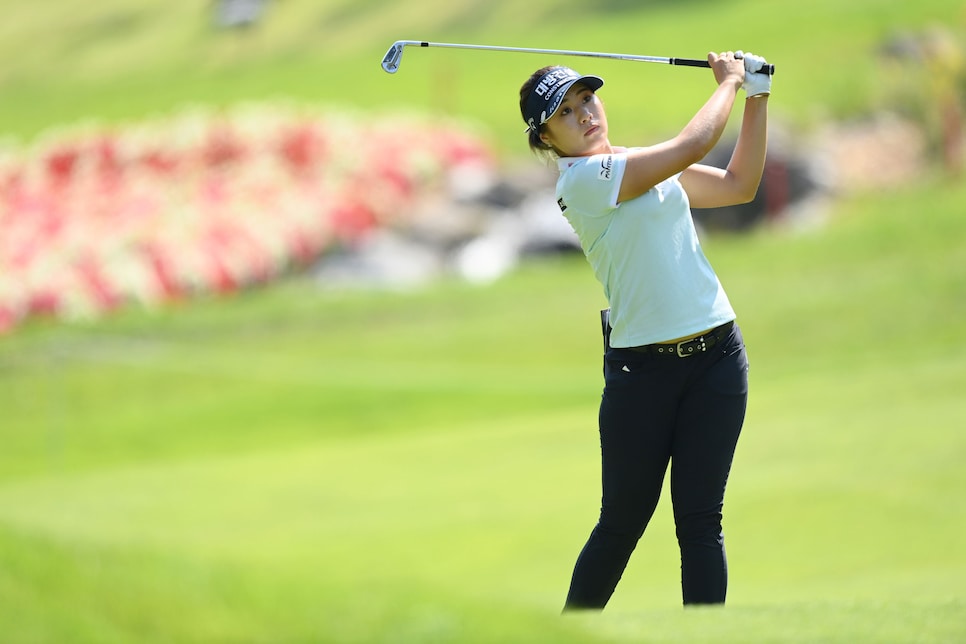 Jeongeun Lee6 plays a shot on the fourth hole during the second rround of the 2021 Amundi Evian Championship.
Stuart Franklin
Jeongeun Lee6 wrapped up her opening round at the Amundi Evian Championship on Thursday by birdieing four of her last five holes for a 66, and yet she walked off disappointed. She mentioned issues with her backswing, something she's been working on since last month's U.S. Women's Open. It's hardly the frame of mind you'd think would propel someone to a major championship record less than 24 hours later.
That said, the 25-year-old former U.S. Women's Open champion did birdie four of her last five holes, so something was going right. And that showed Friday when Lee6 returned to the Evian Resort Course and shot a bogey-free 10-under 61 to tie the all-time lowest score in major history. The round matched the 61 shot by Hyo Joo Kim at the Evian in 2014, and pushed Lee6 to the top of the leader board with a 15-under 127 after 36 holes.
Surprisingly, Lee6 still wasn't entirely satisfied with her performance. "I didn't feel my best," Lee6 said Friday. "My swing is still not perfect, but I tried to focus on one shot at a time and my backswing shape and rhythm. I focus on just process. I didn't dwell on the results."
Talk about your harsh critic.
Conversely, her caddie, David Buhai, noted a different air about Lee6 on Friday as they shared a breakfast of scrambled eggs and bread before getting out to the course. "To me, she seemed more focused than she's been all year," Buhai said. "It was incredible to watch."
Lee6 started on the 10th and made two birdies over her first three holes but faced a test that in hindsight was a turning point in making history. On the par-4 13th hole, her tee shot on the 13th landed near a lip in a fairway bunker. All she could do was pop the ball out of the fairway and try to scramble from there. She hit what Buhai describe as an "OK" wedge but it spun off the green, leaving her a lengthy putt that Lee6 buckled down to hole for a par.
"From there," Buhai said, "I think just built the momentum, kept the momentum going."
With two birdies on the 17th and 18th holes, Lee6 turned in four-under 32, then made another birdie on the first. She had makeable birdie looks from inside 10 feet on the second and third holes, only to miss them both, but turned it on again to close her round, birdieing five of her last six and making every birdie putt she had the rest of the day. She also got a little lucky, holing a chip-in from 70 feet on the 167-yard par-3 eighth.
Lee6 knew coming down the ninth, her final hole, she could tie Kim's all-time 18-hole score with a birdie. She missed the fairway on the par 5 off the tee, laying up for a wedge. She hit her third to 20 feet, setting up a left-to-right breaker to join Lorena Ochoa, Mirim Lee, Minea Blomqvist, Kim, and Lydia Ko with the all-time major scoring record in relation to par (10 under). Lee6 drew confidence to close from her 60 at the 2017 Se Ri Pak Invitational on the KLPGA, the lowest round in the tour's history.
After the putt dropped, Lee6 fist pumped with her right hand and hugged Buhai as the accomplishment sunk in.
"What an honor," Lee6 said. "It's amazing."
It's the second 10-under-par score in a major on the LPGA in 2021, with Ko carding a blistering 62 at the ANA Inspiration.
Lee6's historic round doesn't come without the effort she has been putting in off the course to work through issues she has had of late with her swing. This year, Lee6 has had two top-10 finishes, a pair of seventh-place finishes at the Hugel AIR-PREMIA LA Open in April and the Volunteers of America Classic less than a month ago. It's a drop off from her impressive 2019 season, in which she won the Women's Open, had 10 top-10 finishes and was the LPGA Rookie of the Year.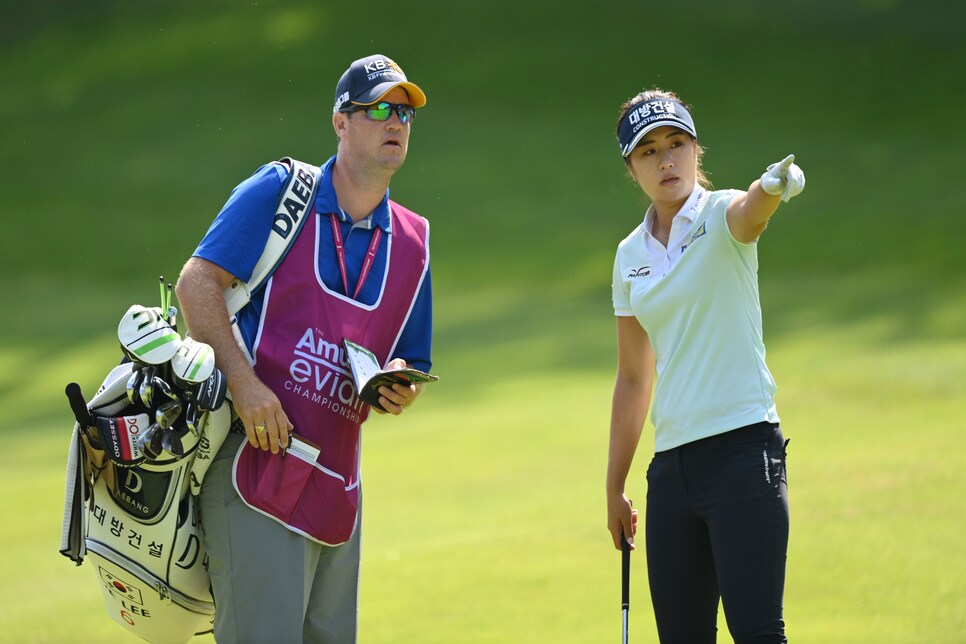 Lee6 and her caddie David Buhai talk during the record round at the Evian Resort Course.
Stuart Franklin
Buhai, who started caddieing for Lee6 this year, took a moment in his post-round interview to acknowledge her drive.
"She just every week made a baby step in the right direction. That's just through all her hard work and dedication. She really puts in the hours. Her coach being in Korea there has been a lot of challenging times for her personally. Her perseverance is incredible. Just never gives up the fight. We've had rounds where really haven't been on the planet and she manages to shoot level par and it's an incredible feat.
"For a round like this today is just the cherry on top of the season so far because all that hard work is finally paying off for her."