Ever dream of being published in a golf magazine?
Becoming a published golf writer is a dream of many golf fans.
We give our readers the chance to get a taste of that dream in every issue.
It's our Front 9 Facebook Punchline Contest, inspired by the New Yorker's cartoon-caption writing contest. On Sundays, we post a set-up line to our Facebook wall. Submit a punchline, and you have a chance at being published.
We received 110 entrants last week to appear in our Equipment Issue, and our editors picked a winner.
Here's the set-up line we offered up to you all last week:
"A 2,000-year-old human skull found in a bunker at Musselburgh Links."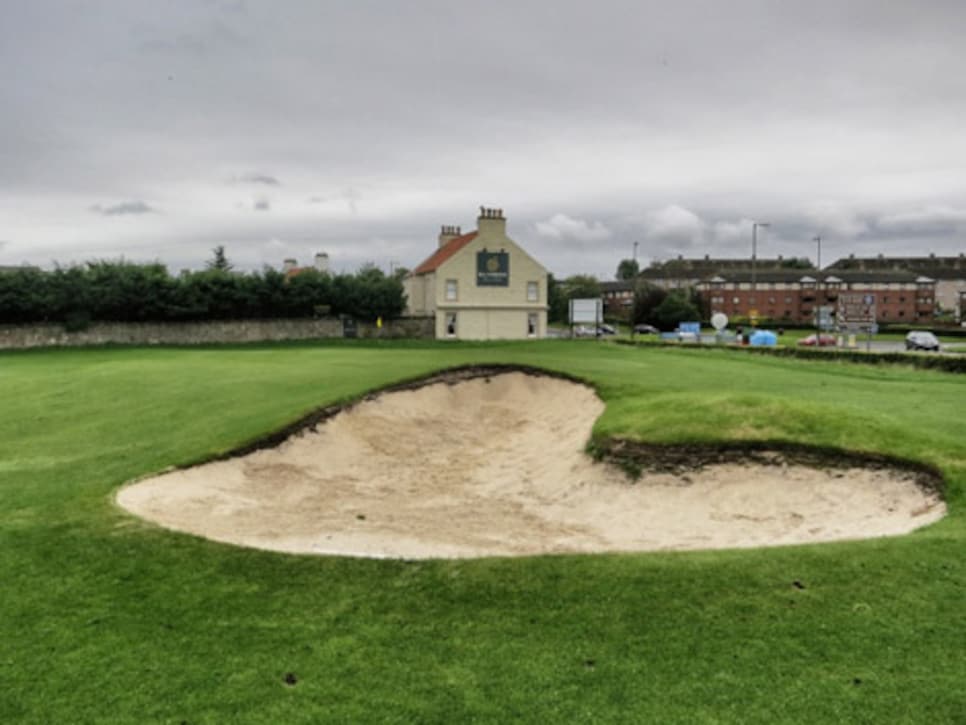 The eerie bunker in question (on Hole No. 4) at golf's oldest course, Musselburgh Golf Links. Courtesy of Geoff Shackelford.
The winning punchline, submitted by Bryan Smith of Deltona, Fla.:
"We've heard of golfers losing their heads in bunkers, but this is ridiculous."
The other finalists we considered:
Frank Imschweiler (Fairfield, Conn.): Giving new definition to the buried lie.
Mark Wehrman (Big Sky, Mont.) "Now that's a deadly hazard."
Thomas B. Allen: "It gives new meaning to the phrase "skulled it." (Middletown, Ohio)
Paul Bynane (Houston, Texas): Scottish bunkers, breaking hearts and taking skulls, since the iron age."
Our past winners from 2013:
February 25th issue: Our setup: "Snow halts first-round play at the WGC-Accenture Match Play in Arizona."
Winner: MT Diehl, Orange City, Iowa. Punchline: "Lift, clean, defrost."
February 18th issue: Our setup: "Bill Murray heads a starry gathering of pros, celebs and CEOs at Pebble Beach—and misses the Pro-Am cut."
Winner: Andy Peterson, Omaha. Punchline: "He remains the perennial fan favorite, so he's got that going for him, which is nice."
January 28th: Our setup: "Tiger Woods misses Abu Dhabi cut after taking illegal drop."
Winner: John Fox, Wyoming, Ohio. Punchline: "There's sand in Abu Dhabi? You're kidding me."
January 14th: Our setup: Wind, weather delays play havoc with Hyundai Tournament of Champions schedule.
Winner: Josh Krutchik, Encino, Calif. Punchline: "Apparently Mother Nature wasn't as excited about the start of the season as we were."