News
Even should Paul Casey win Tour Championship, he'll need help to win FedEx Cup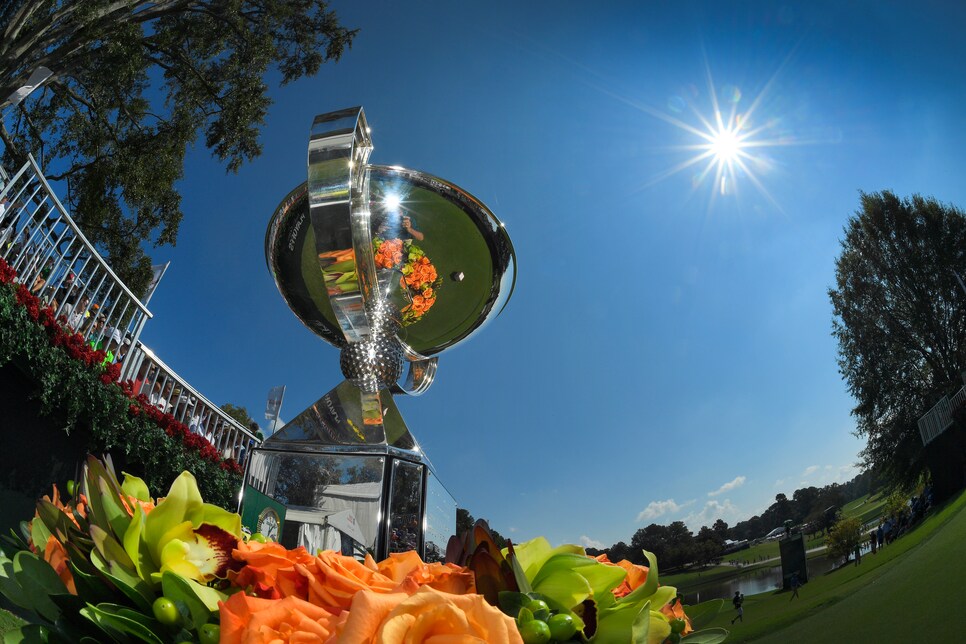 ATLANTA -- One day, two trophies. That's all that remains in the PGA Tour season.
And the final one could be a doozy.
Paul Casey is trying for his first win anywhere in three years, and looking to erase the nickname given to him by some of Mr. Thursday -- a dubious moniker related to the disparity between his first-round scoring average (a PGA Tour-best 68.77) and his final-round average (67th best 70.33).
A victory could also mean the FedEx Cup and the $10 million bonus that goes with it for the 40-year-old Englishman. But it could also go to Justin Thomas, Jordan Spieth or someone else even if Casey were to win the tournament, depending what happens in Sunday's final round of the Tour Championship.
"There's a lot of talk about the FedEx Cup, and for me the most important thing is trying to focus on trying to win the Tour Championship," said Casey, whose 65 on Saturday put him two clear of Kevin Kisner and Xander Schauffele with one round to go at East Lake. "The FedEx is an amazing by-product of hopefully doing that.
"I was even just told the scenarios that could possibly happen and I said it's all irrelevant if I don't get the job done."
It's something Casey has struggled with, despite playing well. Over the last three years, he has amassed 25 top 10s, including four runner-up finishes and three third-place finishes.
His last victory anywhere, however, came three years ago in the Netherlands. His last -- and only -- win on the PGA Tour was in 2009, in Houston.
Not that he hasn't had his chances. Last year at TPC Boston, Casey led by three going into the final round but shot 73 to finish in second two back. Other times, he ran into a buzz saw (Dustin Johnson at the Northern Trust, Hideki Matsuyama at the WGC-Bridgestone Invitational, etc.).
"Being two or three back is not good enough because it seems like everybody you're going up against -- Hideki, Dustin, Jordan, JT -- they're two ahead and they crack on and shoot 65, 64, 63," Casey said. "Unbeatable. So finally putting myself [in position] -- this is what I want, so we're getting somewhere.
"I think up until a few weeks ago looking at it going, why haven't I won this year, why didn't I win last year … it's like I truly haven't put myself in quite good enough position. So too much pressure on a Sunday to try to do something special, you know, even thinking you've got an -- I thought I had an outside chance at Bridgestone this year and you're looking at what Hideki was doing to the golf course, it's like kind of throw my hands up. So at that point need to be in a different position."
The last player to make the Tour Championship his lone win of the season was Bill Haas, who did so in 2011 and captured the FedEx Cup, too, thanks to a miracle shot from a hazard to save par in a sudden-death playoff that he won on the following hole.
Like Haas then, Casey needs a victory to have any chance of winning the FedEx Cup. He also needs Spieth to finish in a three-way tie for fourth or worse, Thomas to finish T-3 or worse, Johnson and Marc Leishman T-2 or worse and Jon Rahm second or worse.
Kisner and Schauffele, meanwhile, would each have to win the tournament and have several other dominos to fall to win the FedEx Cup.
As for Thomas and Spieth, they find themselves in the position of having to make up ground. One of them could still win the FedEx Cup without winning the tournament.
Thomas is tied for fourth five strokes back after an up-and-down even-par 70 on Saturday. With one round to go, he's projected to finish second in the FedEx Cup, but could cap his five-win season with one more trophy if he finishes second in the tournament and Spieth finishes third or worse, and Johnson, Leishman and Rahm finish T-2 or worse.
Spieth, meanwhile, is eight back after a 69 Saturday that has him in a tie for 13th. Like Thomas, he could also win the FedEx Cup without a victory this week. He would need to finish second and have Thomas, Johnson and Leishman all finish T-2 or worse.
Johnson, who is projected third in the FedEx Cup standings through 54 holes, also enters the final round T-13 on the leader board. He would also win the FedEx Cup with a victory, or by finishing second and if Spieth finishes T-3 or worse, Thomas in a three-way tie for third or worse and Leishman, Rahm, Rickie Fowler, Matsuyama and Justin Rose all finish second or worse.
Rahm, who is six back and tied for seventh going into the final round, would win the FedEx Cup with a victory. He could also do so by finishing second if Spieth finishes sixth or worse, Thomas T-3 or worse, Leishman T-2 or worse, and Fowler, Matsuyama, Rose and Brooks Koepka all finish second or worse.
"I'll set a goal for [Sunday] and I won't scoreboard watch at all," Spieth said. "I'll get done with the round and then see what kind of cheerleading I've got to do. That's kind of what it comes down to."