The Loop
Even in doing virtually nothing, Tiger Woods is still the biggest draw in golf (Updated)
LOUISVILLE, Ky. -- Once we saw Tiger on the 18th green lifting trophies. Now we see him in parking lots.
So there we were this morning in Valhalla Golf Club's contestant parking lot, waiting by an empty space reserved for ... TIGER WOODS____1999, 2000, 2006, 2007____PGA Champion
Would the winner of 14 major championships, now in his seventh season of chasing the 15th, play in the PGA Championship less than four days after back spasms forced him to limp into yet another waiting ambula . . . .er . . .  SUV?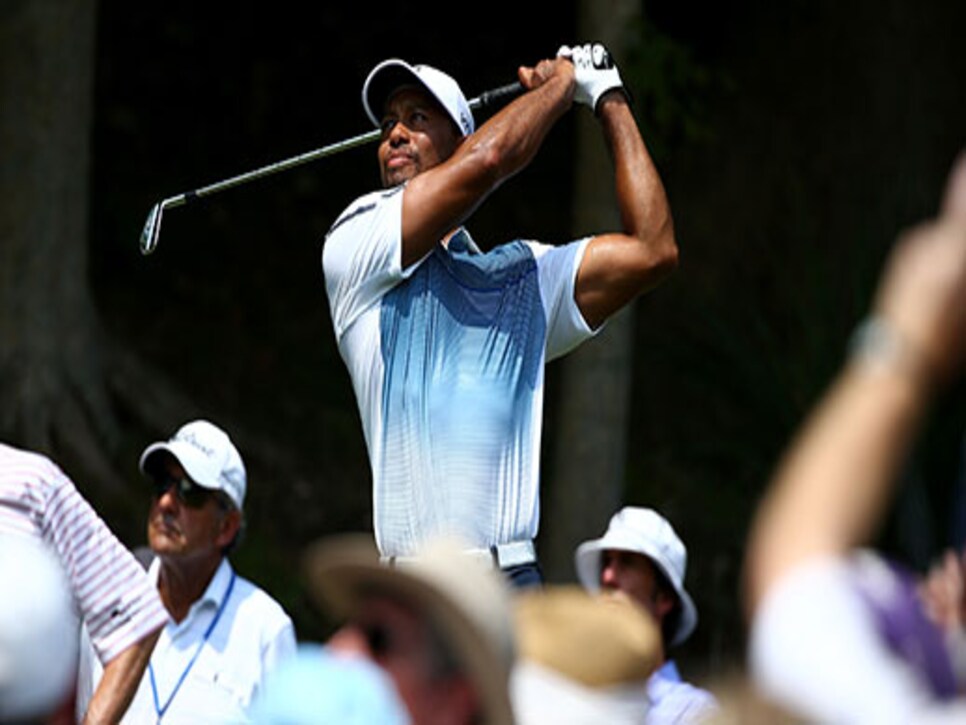 He hadn't withdrawn and his people had not said a word. Woodsologists reckoned the silence meant that Tiger would soon arrive. "There's a vanity to his injuries," one said. "He talks like he's a real athlete, a knee,' an Achilles,' a broken leg,' back spasms' -- spare me -- he'll be here."
Until then, television cameramen focused on the empty parking space.  Inkstained wretches, along with their pixilated digital pals, stood by. Golf fans waited on the steamy asphalt to be allowed a glimpse, maybe, of the greatest golfer they would ever see, unless, of course, they once saw Barbara Nicklaus, driving the family flivver, deliver Jack to Augusta National.
And what would happen if, say, Tiger arrived at noon? Would he walk directly to the practice range? Would he work through the wedge to the driver as if he had never heard of back spasms, let alone had one? Would he be that casual about showing up at the site of a major only at noon on the day before an 8:35 a.m. tee time? Then go play a practice round?
As unusual as all that is, that's how Tiger rolled on this day. Then he played nine holes of a practice round and walked the second nine, surveying the course he won on in 2000. Done with that minimal work -- he decided only Tuesday to come here and had not hit a full shot since Sunday -- he told the assembled media, "I played all right. All right. Nothing great. It's only Wednesday." He added, "I'm pain-free -- except for the headache of talking to you guys." Such a kidder, Tiger. He said the Sunday injury was a dislocation of the sacrum, the wedge-shaped bone at the base of the spine. Pinched nerves caused the pain. "Once it was put back in, I was fine," he said. He also said his physiologist is here and can "fix it" if the injury reoccurs. The sacrum dislocation, he said, had nothing to do with the previous back injury. "It's not at the site of the surgery," he said. "It's a different pain than I had experienced."
With the question of Tiger's arrival answered, the planet Earth could resume its normal rotations with the more important questions to be answered in the next four days, or fewer, depending on both muscle spasms and Tiger's recent tendency to accumulate double bogeys rather than birdies.
The first question is, can he win the 15th?
Second, will he be named to the U.S. Ryder Cup team?
I'd guess no and no. History is on my side. For a long time now, Woods has been just another guy who could win if he played sensationally the week of a major; but since winning the 2008 U.S. Open, he has not been able to muster even a suggestion of the mastery he once commanded. As for the Ryder Cup, unless he wins this PGA, his playing season is over and he will have no more chances to prove to the team captain, Tom Watson, that he deserves a spot on the American side -- and this is especially important because Watson has put two conditions on choosing Woods as a captain's pick: that he be playing well and that he be healthy. Woods, on what he needs to do this week to make the team: "Just play well. That's the only thing I can control. Go out there and try to win."
As far as Watson would go Wednesday in a press conference was to say he was "encouraged, yes," that Woods showed up here. "He said to me he really wants to make the team in the worst way . . . . . "
But now, someone said, it's hard to tell if he's truly healthy or not.
"Really, honestly, it's speculation what's going to happen. I can't tell you what's going to happen with Tiger. I don't know his physical condition right now."
Now, now, Mr. Captain Sir, permission to speak frankly: It's been in all the papers, the back surgery three months ago, the recuperation away from the practice range, the time out of real competition, the sudden Sunday spasms of last week. One need not be an orthopedist and/or Ryder Cup captain to recognize that this man soon to be 39 years old should not be asked to do heavy lifting. Easy for me to say, of course, but hardly the stuff of diplomacy -- for one must cover one's rear. Maybe the golfing gods in a fit of nostalgia, will sprinkle magic dust on Tiger one more time, for old time's sake, as they did for Nicklaus at age 46 in the Masters of '86.
Maybe. Asked after his practice nine if he could win, Woods said, "Yes." What does he need to do to win? "Hit it great and make every putt, like I did in 2000." That year, Rory McIroy was 11 years old. Now he's a grown-up and playing Tigerishly, which is to say sensationally. Rickie Fowler is healthy and playing well. Jimmy Walker, Matt Kuchar. Hell, Tiger now has knee scars almost as old as Jordan Spieth. Keegan Bradley is young and strong. Bubba Watson can fly. Suddenly, Sergio Garcia can putt. Henrik Stenson, Martin Kaymer, Louis Oosthuizen.
So maybe Tiger can win. All he has to do is beat all the world's best players. And he has to do it when he hasn't played well since this time a year ago, when he has had back surgery three months ago, when he is in his 35th year on stage -- remember the tyke impressing Merv Griffin? -- and when he has played the full four rounds in only two of his six events this season.
But I'm thinking Damon Runyon had it right. "The race is not always to the swift, nor the battle to the strong," the wise guy wrote, "that's the way to bet."