The Loop
Euros have been perfecting their party habits for 30 years
The champagne-spraying, back-slapping and ole-serenading Europeans who were doing their fun thing Sunday after another Ryder Cup victory over the United States only seem like they've been having fun like this for the entire çup history. That's how comfortable they look in their glory while the Americans bumble in their post-match commentary.
The party-hearty Euros actually got their celebration style started in 1985 when they won at The Belfry to break U.S. dominance and start their own overwhelming record. Back then, Europe won by the same score it did Sunday, 16 1/2—11 1/2, and they beat a U.S. captain, Lee Trevino, who like Tom Watson was a beloved Open champion.
In the nearly 30 years and 10 cup wins from the 1985 triumph, the Europeans have perfected the celebration style that consists of assembling on rooftops or balconies, champagne bottles in hand, and whipping up plenty of fan involvement. These photos show it was a modest genesis to the 2014 celebration.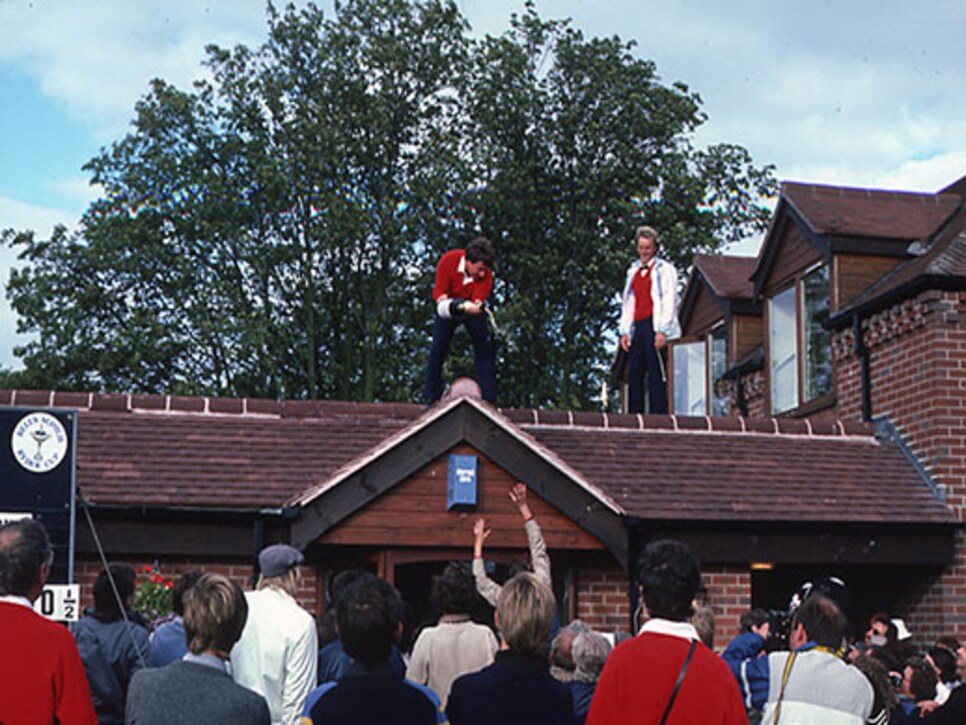 *Ian Woosnam appears to be trying to poor some bubbly into the hands of fans celebrating the 1985 Euro victory in the Ryder Cup. **
*[#image: /photos/55ad7abeb01eefe207f6fa2e]|||1985-Ryder-Cup-2.jpg|||
Ian Woosnam directs the crowd in its serenade of the Euro winners; Seve Ballesteros, Sam Torrance and Paul Way hoist captain Tony Jacklin.*
*[#image: /photos/55ad7abeb01eefe207f6fa31]|||1985-Ryder-Cup-3.jpg|||
*The drinking and spraying of champagne from lofty settings after European victories in the Ryder Cup was in its infancy in 1985. **
*[#image: /photos/55ad7abeadd713143b42ad7d]|||1985-Ryder-Cup-4.jpg|||
*Tony Jacklin raised the Ryder Cup in victory after the European victory in 1985. *