News
The European Tour finale makes happy winners out of Lee Westwood and Matt Fitzpatrick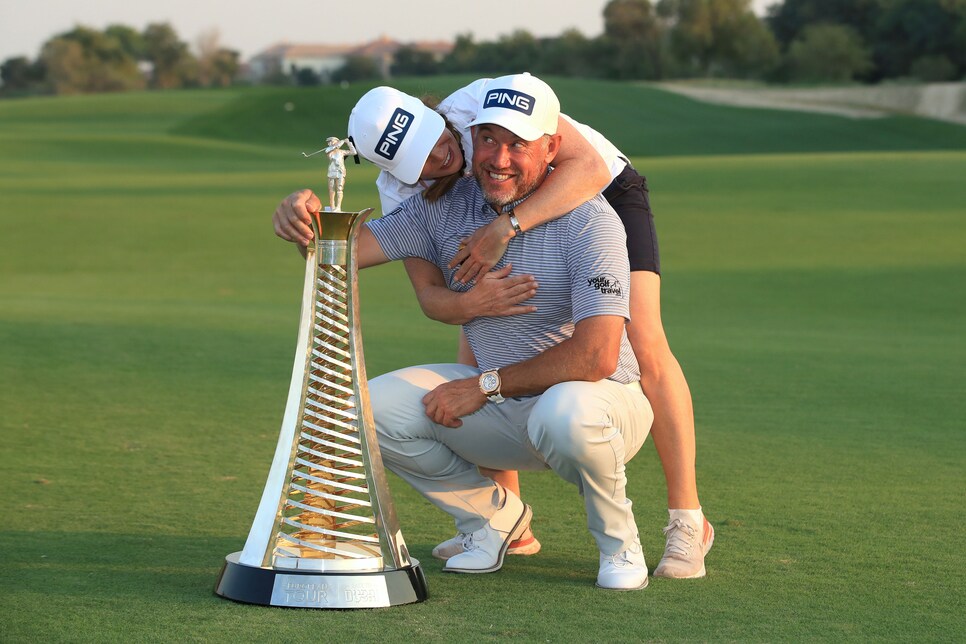 Lee Westwood gets a hug from his caddie/financee Helen Storey celebrate with the Race to Dubai Trophy following Sunday's final round of the DP World Tour Championship.
Andrew Redington
It was Matt Fitzpatrick's day. His week, too. But the year, in the end, belonged to Lee Westwood.
With a final-round 68, four under par over the Earth course at the Jumeirah Estates, Westwood claimed the runner-up spot one shot behind Fitzpatrick in the European Tour's season-ending DP World Tour Championship. More importantly, he clinched first place in the Race to Dubai along with the Vardon Trophy. It is the 47-year-old's third victory in the season-long competition, one he previously won in 2000 and 2009.
That fact alone is a tribute to Westwood's longevity. And his vast experience surely had much to do with this latest triumph. Towards the end of a final day dominated by Fitzpatrick, Westwood, a10-time Ryder Cup player, out-performed everyone when it really mattered. As those around him faltered over the closing three holes—no one else in the top six played them in better than level par—Westwood's birdies at the 16th and 18th represented the golf equivalent of breasting the tape across the track and, crucially, allowed him to head-up the pack of players chasing the eventual champion.
For the record, Viktor Hovland and Patrick Reed tied for third on 13 under par, one-shot adrift of Westwood and two back of Fitzpatrick, whose closing 68 clinched not only the tournament but the $3 million first-place check. Laurie Canter's double bogey at the par-3 17th dropped the Englishman to 12 under and a tie for fifth alongside Sami Valimaki, who will almost certainly be names the European Tour's rookie of the year for 2020.
Those are mere details, however. As even Fitzpatrick was quick to acknowledge, any and all historic significance attached to this day will inevitably focus on Westwood's performance. Bothered by a back injury all week and unsure if he would be able to play as last as Tuesday, the 25-time European Tour winner gave hope to 40-somethings everywhere with his play, making 21 birdies over 72 holes
"At the start of the week, I had no expectations," he said. "I had hit balls for about 45 minutes, maximum, at any one time for the previous 2½ weeks. The lads in the physio unit have done an incredible job on me. They have stretched me in places I didn't think I had, and they have given me a massage twice a day. They kept me going this week."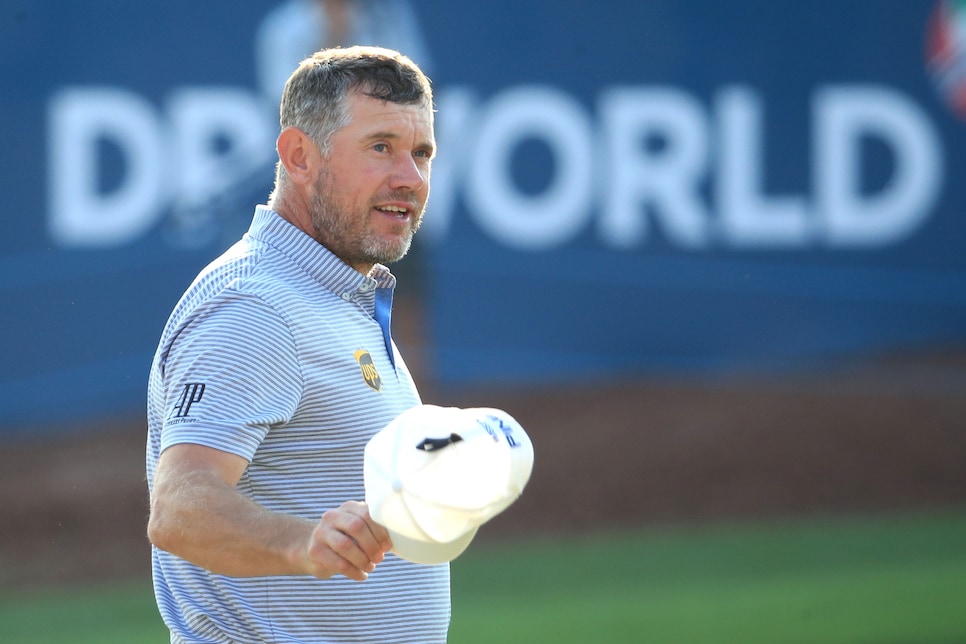 A sore back had Westwood worried that he might not even be able to compete in Dubai.
Andrew Redington
Still, simply being able to play and executing as well as Westwood eventually did are two very different things. Which is not to say he performed perfectly. Far from it. As he was honest enough to admit, he missed "a load of chances" in his final round before that strong finish. Indeed, a bogey 6 at the long 14th (where he found water with his second shot) and a missed four-footer for birdie on the 15th green had slimmed-down his prospects of ultimate success considerably.
But it was then that long experience kicked in.
"I needed a really big finish," he admitted. "But there are so many permutations that can happen on a day like today. It can all get too confusing if you let it. So I told myself going down 16, 'Look, just bang one down as far as you can.' I knew it was a tough flag. But if I hit a good drive, I would be going in with wedge, which I was and hit it to two-feet. Not much stress."
A 15-footer was required to rescue par at the short 17th, before a beautiful drive up the 18th fairway left a hybrid to the distant green. Slightly pushed, the ball found sand to the right of the putting surface.
"That trap is never a bad place to try to get up-and-down from," Westwood said. "I played a great bunker shot. When it came out, the ball was tracking. I actually thought it had a chance of going in, which was important. I figured I needed to finish 15 under to win the tournament. I didn't really have any thoughts of the Race to Dubai until I got into the scoring tent. I looked at it all and realized I still had a chance."
Inevitably, in the wake of what was only Westwood's second top-10 finish on the interrupted European Tour since his memorable victory in Abu Dhabi last January, the question of an 11th Ryder Cup cap is now relevant. A vice-captain under Thomas Bjorn at Paris National in 2018, Westwood has long been considered likely to succeed current skipper Padraig Harrington when the biennial contest goes to Italy in 2023. Which would leave time for one last start as a player at Whistling Straits next September. Not surprisingly though, Westwood was playing that prospect with a straight bat.
"I'd love to play again obviously," he said. "It beats watching. There's obviously a lot less pressure watching the lads when you're a vice captain. But if I do qualify for the team then I'm clearly good enough. That's the way I'm going to play it. I can still turn up to the biggest tournaments and compete as I proved at the start of the year in Abu Dhabi. And at the U.S. Open I'd have finished fifth if I hadn't bogeyed the last two holes. So I'm not going to say it's one of my goals for next year because you should never make the Ryder Cup one of your goals. But I could see it happening."
Like his older compatriot, Fitzpatrick was understandably happy at day's end, having recorded his first victory since the 2018 European Masters in Switzerland. Six times in the interim the 26-year-old had finished second, a position he was clearly fed up with. Five birdies in seven holes to open his final round distanced him from the previously tightly-packed field and signaled a clear intent.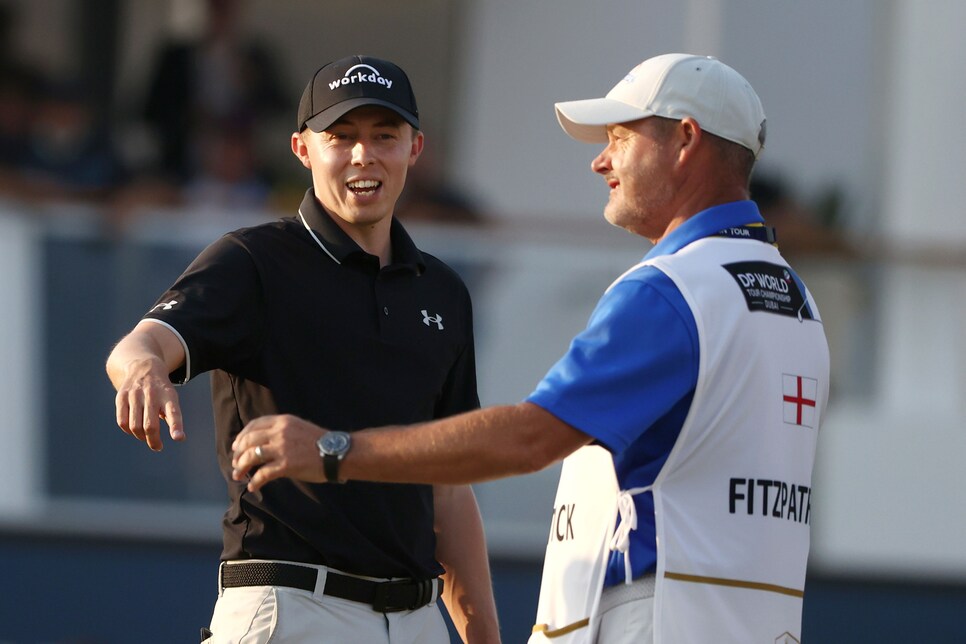 Matthew Fitzpatrick celebrates with his caddie, Billy Foste, on the 18th green following their Sunday win, the Englishman's first since 2018.
Francois Nel
Thereafter, however, the now six-time European Tour winner was somewhat becalmed. No more birdies followed, a dropped shot at the penultimate hole, where he had to hole from four feet to avoid a double bogey, his only deviation from par. Even the par-5 18th was far from straightforward. A pulled tee shot was followed by a lay-up and a wedge to maybe 30-feet. The first putt slipped four feet past, but the next one was never missing.
"It was a dream start," said the former World No. 1 amateur. "I managed to pull away and create some distance between me and the rest. The back-nine was bit of grind, if I'm honest. It was just about finishing one hole at a time and just getting through it. But all I was bothered about this week was winning. I turned up here 16th in Race to Dubai so that didn't really enter my head. I just wanted to win this week."