News
European Tour to restart 2020 season in July with six-event U.K. swing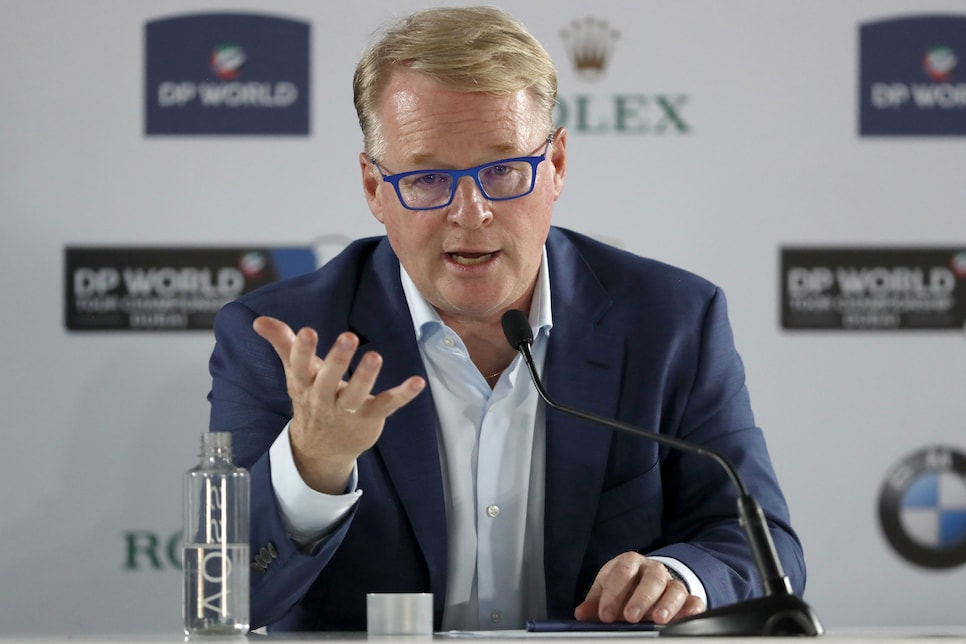 European Tour CEO Keith Pelley.
David Cannon
Confirming recent reports, Keith Pelley announced on Thursday that the European Tour, dormant since the Qatar Masters in March, will resume its 2020 season with the British Masters on July 22. A week earlier than originally scheduled, that tournament at Close House will be the first of a six-event run in Great Britain, what Pelley labelled his "U.K. swing and a glimpse into future." Next up is the English Open at the Marriott Forest of Arden, then the English Championship at Marriott Hanbury Manor, followed by the Celtic Classic and the Wales Open (both at Celtic Manor) and the U.K. Championship at The Belfry.
Funded by the European Tour, all six tournaments will be played without fans but with full fields of 144 competitors—subject to "government approval" and any lifting of the current two-week quarantine regulation for visitors to the United Kingdom. All will offer purses of €1 million. Importantly, each venue has a large hotel on-site and is no more than a three-hour drive from the previous host.
"We have been working with the department for culture, media and sport for the last two months," said the European Tour CEO. "We have had significant dialogue with them. And we are encouraged by the responses that have allowed us to make this announcement today. I'm optimistic."
While the tour is planning to play as many as 24 events between July and December, only four additional events are currently in place: the Scottish Open at the Renaissance Club (Oct. 8-11), the BMW PGA Championship at Wentworth, (Oct. 15-18), the Nedbank Challenge at Sun City in South Africa (Dec. 3-6) and the season-ending DP World Tour Championship in Dubai (Dec. 10-13). The remainder, according to Pelley, will hopefully be announced "within the next month."
Asked about the specter of playing closed-door events at the outset, Pelley noted: "We want to have fans at our events. But it is a fact that spectators and hospitality make up only 5 percent of our total revenue at an event. From a business perspective, it is not critical for us. But it is, of course, from an optics side. We hope to see the return of hospitality and galleries as soon as possible. But it is hard to imagine us seeing 30,000-40,000 people at Wentworth this year, as we did in 2019."
Still, despite this mini-revival, obvious questions remain over the financial state of a circuit that has had to cancel or postpone in excess of 20 events so far this year. Ironically, one of the tour's great strengths—its diversity—has actually become one of its biggest challenges. Dealing with so many different nations has clearly been challenging.
"Determining where and when we can play has been the biggest question," Pelley said. "We've had a plethora of conversations with all governments regarding quarantine, travel restriction and testing. But is the European Tour bankrupt or running out of money? Absolutely not. Of course we have been affected, like businesses the world over. But we have been extremely responsible in our approach to this global crisis. I'm not going to go into financial details, but we have created five tournaments from scratch. We have implemented a £500,000 bonus pool. We have made a significant investment in our medical health strategy.
"All in all, we have devised a plan that has allowed us to do three things," he said. "It has allowed us to navigate through this initial phase of the crisis and resurrect our 2020 schedule. It has helped us prepare for the short-term future. And it has helped us create a platform for the longer-term future."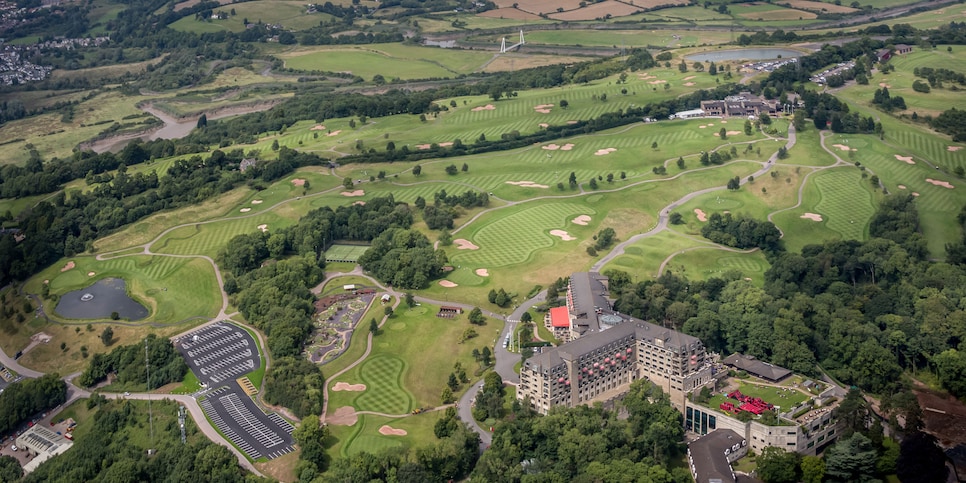 Celtic Manor in Wales, site of the 2010 Ryder Cup, will host back-to-back events in the European Tour's new U.K. swing.
David Goddard
Pelley was more reticent when it came to queries about the upcoming Ryder Cup at Whistling Straits. The possible postponement of the biennial contest between Europe and the United States and any implications for the qualifying system were met with polite denials.
"As has been the case with the European Tour over the past few months, we'll not be making any definitive statements or engaging in any further speculation about the Ryder Cup today," he said. "We still have to discuss every element. All I can say is that it is still on the schedule and that we will be having further dialogue with our friends at the PGA of America."
As will be the case when the PGA Tour resumes next month, the initial wave of six European Tour events will be subject to strict health-related regulations. All players will undergo a COVID testing before leaving home and again upon arrival at a tournament. Anyone developing symptoms will be tested more than twice.
"We have utilized robust health assessment regulations from the World Health Organization," said Dr. Andrew Murray, the tour's chief medical officer, who is a professor of immunology at the University of Edinburgh. "All measures in place will be based on international best practices and be right for golf. These include social distancing, enhanced hygiene, increased medical capacity and testing."
In all, no more than 500 people will be in attendance at any of the initial six events—all of which will be shown live on Sky Sports and Golf Channel—a figure that will not include any media representatives. Journalists will be able to cover the event via a "virtual media center."
"We have a few innovations in mind," Pelley said. "We see this as an opportunity to create a television product that is different to what we have seen in the past."