European Tour
Scoring was low on Day 1 at the Saudi International, unless you were among the Americans in the field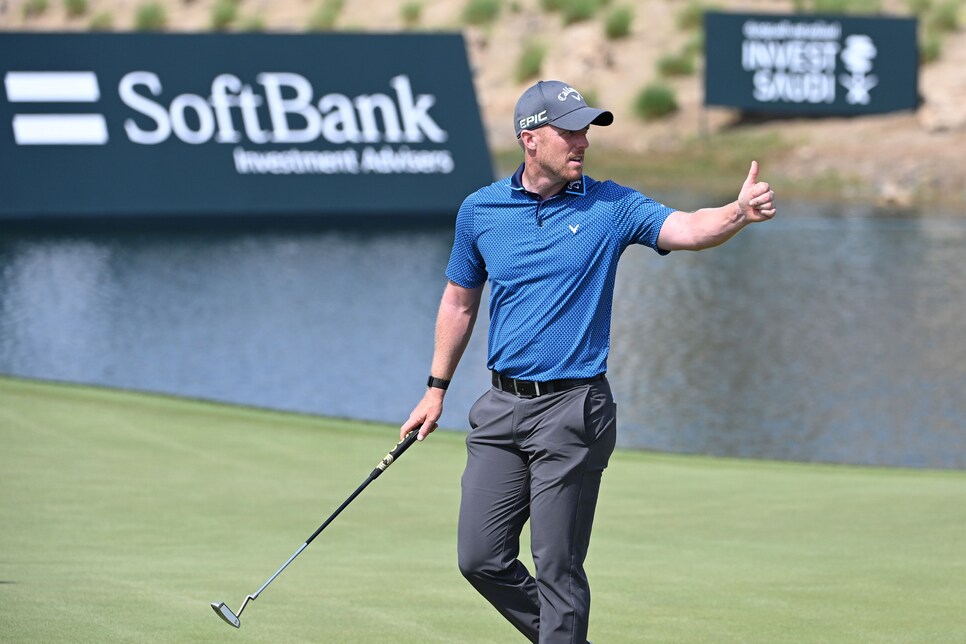 David Horsey took the Day 1 lead at the Saudi International with a nine-under 61.
Ross Kinnaird
In a week where much of golf's chitter-chatter has revolved around the on-going issue of driving distances at the elite level of the game, the opening day of the Saudi International confirmed the impression that a 7,000-yard course needs at least a stiffish breeze to challenge the very best players. Well over half of the 138-strong field ended the first round at even par or better over the 7,010-yard Royal Greens Golf & Country Club. Most of those good scores came during a largely windless morning, with Englishman David Horsey's nine-under-par 61 the best of all.
Only just though. In the 584th European Tour event, Stephen Gallacher shot the lowest-opening round of his long career. The 46-year-old Scot made 10 birdies in a 62 (despite a bogey on the 18th) that was two shots better than the bogey-free Bernd Wiesberger of Austria. Six men shot 65, a group that included the best of the 11-strong American contingent, U.S. Open champion Bryson DeChambeau.
DeChambeau professed himself "very pleased" with his score, although he did confess to "driving it all over the place" en route to making the seven birdies that easily outnumbered his two dropped shots. He also admitted to not feeling 100 percent in the wake the long journey from the States.
"I definitely struggled with the driver and a little bit of the irons," DeChambeau said. "I have to clean that up for tomorrow. Time and time again I hit really, really great wedge shots around the greens and a lot of nicely struck putts. If I can do that again and putt the way I did today, I'll certainly be pleased. I know that I'm putting well. I know that I can hit it far out here. I'm disappointed it's not as far as I would like. Once I started hitting some wayward shots my brain just kind of retracted to not wanting to swing as fast. I had to try to rein it in and control it better. I was able to do that for the most part and miss it in the right places."
Playing in what eventually became the much tougher afternoon conditions, Patrick Reed struggled round in one-under 69, a score that has the winner of last week's Farmers Insurance Open at Torrey Pines in a distant tie for 50th place. Four birdies and three bogeys were Reed's only deviations from par.
"I didn't really make any putts," Reed said. "It was the same here last year. The putter seems to beat me up on this course. Even though I hit a couple of loose shots, I still had putts from three or four feet that didn't go in. I felt like every putt was straight, but I was missing them on the high side mostly. It was just one of those days when I kept burning the edges. I hit my driver solid and some quality iron shots. But I feel like I left four or five shots out there just with basic stuff. I just wasn't making the putts. Three birdies isn't enough around here, even if the wind did get up on us towards the end. Maybe another night's sleep will help."
Elsewhere, as many as seven of the other Americans also finished under par. The 2019 Saudi champ and World No. 1 Dustin Johnson went bogey-free in a 67 that has him tied him with compatriot Kurt Kitayama and one-shot ahead of Phil Mickelson, Sean Crocker and Tony Finau. Kevin Na and Julian Suri both shot 69.
All in all, not a bad collective effort. But, on this day at least, no match for Horsey or Gallacher.