Solheim Cup
With six picks for the Solheim Cup, could Europe's Catriona Matthew go with a true wildcard in Annika?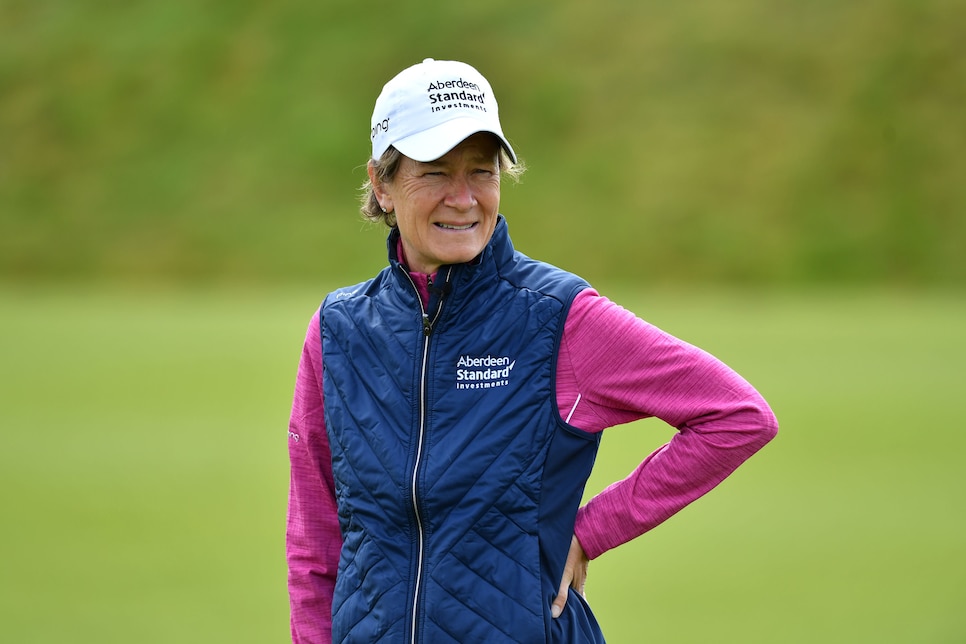 Catriona Matthew is set to make her six captain's picks for the Solheim Cup on Monday.
Mark Runnacles/R&A
CARNOUSTIE, Scotland — During any pauses in play at the AIG Women's Open the next four days, European Solheim Cup captain Catriona Matthew won't be short of things to think about. Come Monday morning, the Scot will add six captain's picks to the six automatic qualifiers for the side aiming to repeat its 2019 winning performance against the United States in two weeks at the Inverness Club in Toledo.
"It's quite nice to get on the golf course, where I can hopefully try and forget about it all a little bit," said Matthew in a pre-championship press conference at Carnoustie on Wednesday. "Obviously it's on my mind. The hardest bit is telling those two or three players that they have not quite made it. I'll be quite relieved when that's over. For now, though, I'm looking at stats and how players have been doing. I have a few I have my eye on."
Currently, Emily Kristine Pedersen and Sanna Nuutinen are the two qualifiers from the Ladies European Tour, and Sophia Popov, Carlota Ciganda, Charley Hull and Georgia Hall are the four who would make the side via the Rolex World Rankings.
Realistically, five of those women are all but certain to be teeing-up in Ohio. Only Nuutinen, ranked No. 209 in the world, is vulnerable. A top-15 finish from Hull this week at Carnoustie would bump Nuttinen from the LET points list, assuming she hasn't added to her own tally by Sunday. Should that occur, again as things stand, England's Mel Reid would assume the fourth spot from the World Ranking.
Not surprisingly, Matthew wasn't giving much away, other than claiming what is almost the European team's Solheim birthright—entering the fray as obvious "second bests."
"On paper the Americans are always the stronger team, but over 18 holes match play anyone can win," Matthew said. "I'm sure we'll probably go in as the underdogs, especially with it being an away game. But I think we are going to have a great team, a real mixture of some experienced players and some new, younger exciting players. I'm really looking forward to it."
Still, for all the captain's prevarication, when it comes to what is likely and what is not, even a cursory glance reveals five names who will almost certainly be foremost in Matthew's mind. It would come as something of a (big) surprise if Reid, Matilda Castren, Leona Maguire, Anna Nordqvist and Celine Boutier did not take their places in the line-up. Of those, only Reid, who served as an assistant captain, and Maguire were not part of the European team that won the Cup so memorably at Gleneagles two years ago. And only Maguire would be a rookie.
That leaves one place to be decided, perhaps two if Reid gets that world-ranking promotion. On paper, there would seem to be five main candidates: Nanna Koerstz Madsen, Caroline Masson, Madelene Sagstrom, Jodi Ewart Shadoff and Bronte Law. All have cases for inclusion, albeit none come under the heading "overwhelming."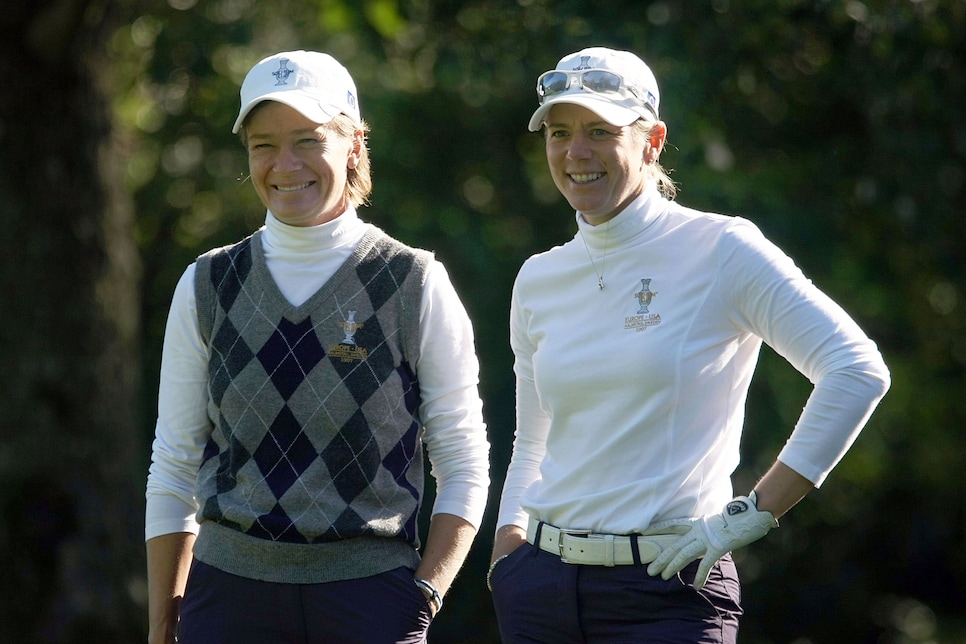 Catriona Matthew and Annika Sorenstam were teammates on the European Solheim Cup team in 2007.
Scott Halleran
It is an interesting idea although, as ever, there are two sides to the argument. On one hand, Sorenstam has played only minimally this year after more than a decade in retirement. On the other, her recent performance at Brooklawn Country Club in Connecticut belied both of those facts. In triumphing by eight shots over a field that included Matthew, the 50-year-old Swede appeared to be an extremely close facsimile of the metronomic golfer who dominated the women's game in the 1990s and early 2000s. Ten majors are included in her 72 LPGA victories.
Performing as she did against her direct contemporaries, Sorenstam, an eight-time LPGA player of the year between 1995 and 2005, would look far from out of place in a Solheim environment. The intimidation factor she could bring to the occasion alone makes her worthy of consideration. Who on the American side would fancy taking her on head-to-head? Not many one would wager.
Countering that fact is the notion that Sorenstam's high-profile presence might prove disruptive in a team environment. Matthew's typically quiet authority could be undermined, albeit unintentionally, by the sight of the former Solheim skipper sitting in the team room.
Then again, it would not be completely out of character for Matthew to think outside the box. Two years ago, she selected Suzann Pettersen, who had played just twice in the 18 months prior to the matches after giving birth to her son. But that didn't stop Pettersen from going on to make the cup-clinching putt before dramatically announcing her retirement from the game.
Whatever, it is known that the idea of picking Sorenstam has at least crossed the European captain's mind. Less clear is what both parties think of such a notion. But on an Old World side that, as ever, looks out-gunned on so many levels (at this moment only Popov would squeeze into an opposing team drawn from the top-12 American players on the World Ranking) it is surely an avenue deserving of careful consideration. Stay tuned.