The Loop
European Solheim Cup captain says Pettersen ignored her recommendation regarding "Gimmegate"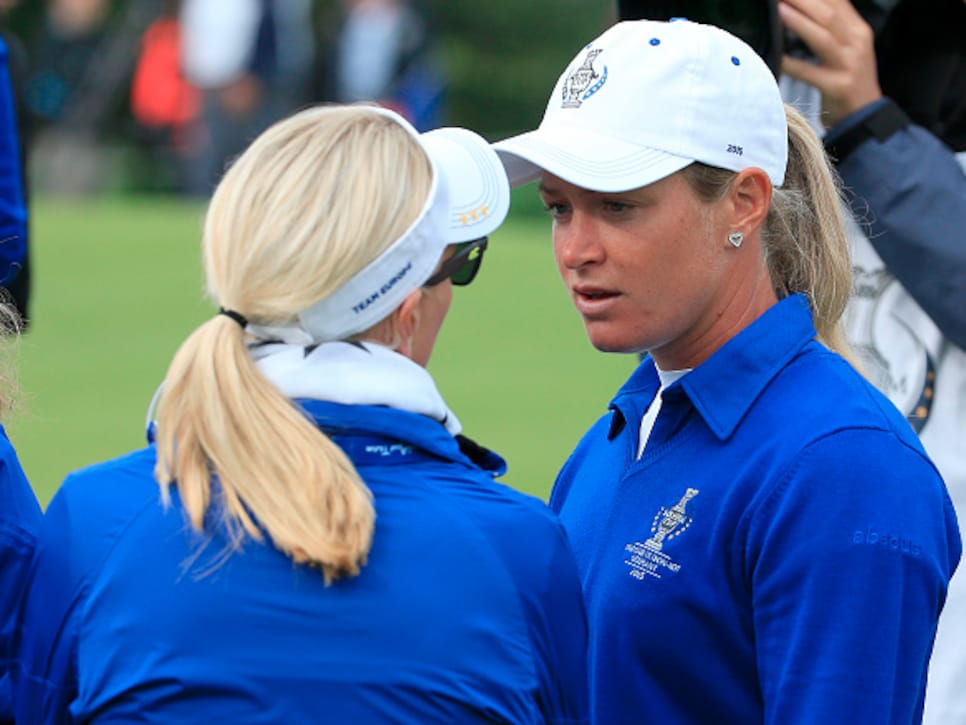 It's been three weeks since the Solheim Cup, and we've all moved on from "Gimmegate" to Phil Mickelson's rules controversy at the Presidents Cup. Right? Eh, not so fast.
"When I reached Suzann, I advised her to concede the 18th and halve the match, but she refused. She is my No 1 player so I had to back her."
So Pettersen refused to give Lee the putt after she picked up and then refused to concede the next hole as an act of sportsmanship? Hmm.
"I feared it would spur the American team on in the singles and that's obviously what happened," Koch said.
Yep. The U.S. claimed 8.5 of the 12 points available in singles to win 14.5 to 13.5.
What really saddens me is that this unfortunate incident tarnished the spirit of the match and how the team played, and all the brilliant shots and putts and incredible comebacks, and that is such a shame.
We played some amazing golf and I am so proud of how we played for all three days and this incident shouldn't overshadow the match. Everybody has had an opinion on what happened and any criticism obviously hurts.
I made the mistake of opening my Twitter account and I was devastated to read some of the messages on there. I know Suzann has had it a million times worse; that's the power of social media.
Pettersen wound up using the power of social media in her favor the day after Europe lost, posting a heartfelt apology on Instagram. She helped soften the perception of her as the villain in an interview on Golf Channel last week.
Still, despite her admission that she could have handled the situation better, Pettersen said she still would have wanted to see Lee make the short putt. She also hasn't apologized directly to Lee, who has stayed quiet in the aftermath.
Like Koch said, it's a shame this incident overshadowed a terrific event -- but it's also a shame Pettersen didn't listen to her captain. If she had, instead of the ordeal being remembered as a controversy, it could have gone down with Jack Nicklaus conceding the final putt at the 1969 Ryder Cup as one of the best displays of sportsmanship in golf history.