The Loop
European reaction to rowdy Ryder Cup fans 'feels…like shocked reaction of spoilt young men'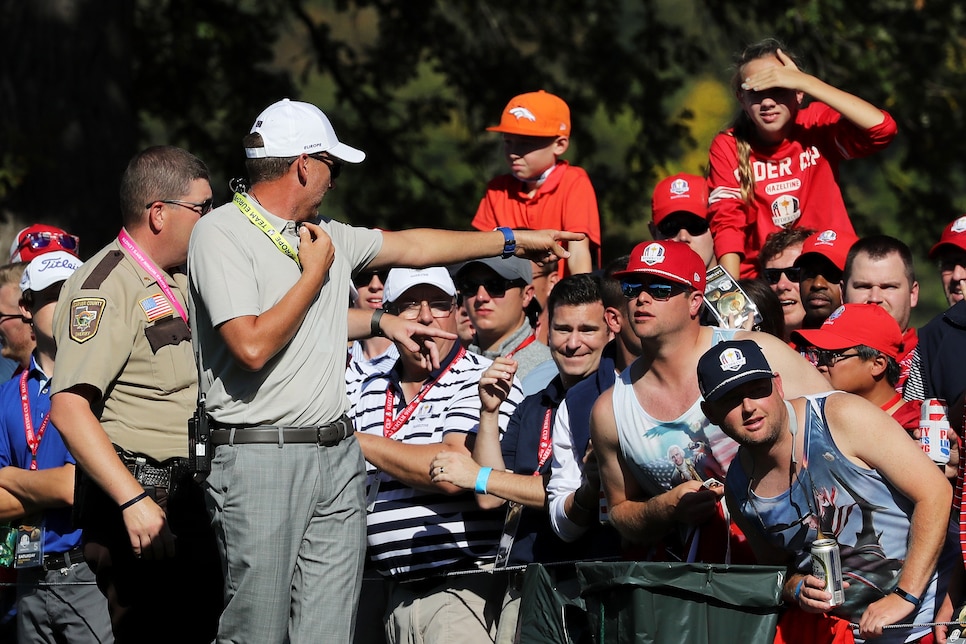 Stories of interest you might have missed…
The Ryder Cup crowds often were unruly at Hazeltine National Golf Club, but the European players overreacted, Alan Tyers of the Telegraph writes, noting that "Compared to the vitriol dished out by [soccer] crowds, it looks pretty tame stuff.
"It feels to me like the shocked reaction of spoilt young men who temporarily had a short break from everyone respectfully telling them how wonderful they are. An experience that they do not wish to repeat.
"Even compared to other sportspeople, golfers lead a gilded existence, hermetically sealed off from the world as they shuttle around from seven-star hotel to seven-star hotel playing on these beautiful courses where the great unwashed are kept away by fences and guards.
"The boorish, vulgar and nasty behaviour of the American fans is, in the greater scheme of things, still very tame stuff. But it is what makes the Ryder Cup what it is. The organisers know that: it's what gives the event its spice and makes it a hell of a lot more watchable than the usually prissy, polite competitions. For 727 days every two years, the likes of Danny Willett are surrounded by people telling them how brilliant they are: three days of the occasional taunt and they're crying foul? A bit of booing more often might toughen some of these guys up."
Ryder Cup now '18-hole international version of...16th at the Phoenix Open'
"Pull in that pinky finger and remove the linen napkin from your lap. It's a different event now," columnist Tom Powers of the St. Paul Pioneer Press writes. "The staid, starchy Ryder Cup has become the infield at Talladega, a seat with the Baseline Bums in San Antonio, an 18-hole international version of the madcap 16th at the Phoenix Open.
"Strawberries and cream? Oh, no — hot dogs and cheap beer all around…
"It's refreshing to hear something other than 'quiet, please' on a golf course. And it's much more fun seeing people raising their arms to encourage the spectators rather than gesturing palms down to silence them.
"The supposedly unrefined atmosphere did absolutely nothing to affect the quality of play. In fact, it was some of the best golf we've ever seen."
Bubba Watson 'came off looking like a good guy'
"For a guy who was somewhat controversially left off the U.S. Ryder Cup team, Bubba Watson took the high road and came off looking like a good guy for still being part of the team as a vice captain," Bob Harig of ESPN writes.
"Instead of pouting, he pleaded to come to Hazeltine as an assistant, Love obliged, and all were glad he came following a 17-11 victory over Europe.
"'Finally, I found my place on the team is to help,' said Watson, who sobbed openly when Team USA's victory was confirmed."