The Loop
11 reasons why Europe will win the Ryder Cup (and 11 more the U.S. could win)
Picking the winner of any Ryder Cup shouldn't be so difficult, of course. There's only two teams -- so a 50-50-chance of choosing correctly. It's an even money bet. But it's tougher than that. Take the last two matches. Both won narrowly by the European squad, both could just as easily have gone the other way. Invariably, it's too close to call with any certainty. And this one looks like being just as competitive.
So some thoughtful, intelligent and logical analysis is required. Or, instead, 11 top-of-the-head reasons why each side could, should or might win the 40th episode of golf's most eagerly anticipated biennial series at Gleneagles over the next three days. Here goes. WHY EUROPE WILL WIN
__1) __World number five Henrik Stenson is back for the first time since 2008. That's a pretty potent addition to a team that has won seven of the last nine Ryder Cups.
__2) __The best American golfer is absent. No Dustin Johnson is a huge and potentially fatal blow to the visitor's cause.
__3) __While it is true that a few of the Euros will be seeing the PGA Centenary Course for the first time in more than a wee while, the vast majority of the Americans will be casting their eyes over it for the first time ever. That's an edge. Not a big edge, but an edge nonetheless.
__4) __Four of the top-six players on the planet will be wearing Europe's colors this week. One of the top-six will be playing for the US.
__5) __The Caledonian crowd will be cheering very long and very loudly for the home side. Hey, we need a break from that Referendum stuff.
__6) __Paul McGinley has more assistants than does Tom Watson. So there.
__7) __The best golfer in the world is playing for Europe.
__8) __Stephen Gallacher is Scottish. As will be most of the spectators. (See 5)
__9) __Based on his play for most of this year, Sergio Garcia looks like he is (finally) making putts.
__10) __The highest-ranked American in the team has not won a tournament in four years.
__11) __The Europeans always win.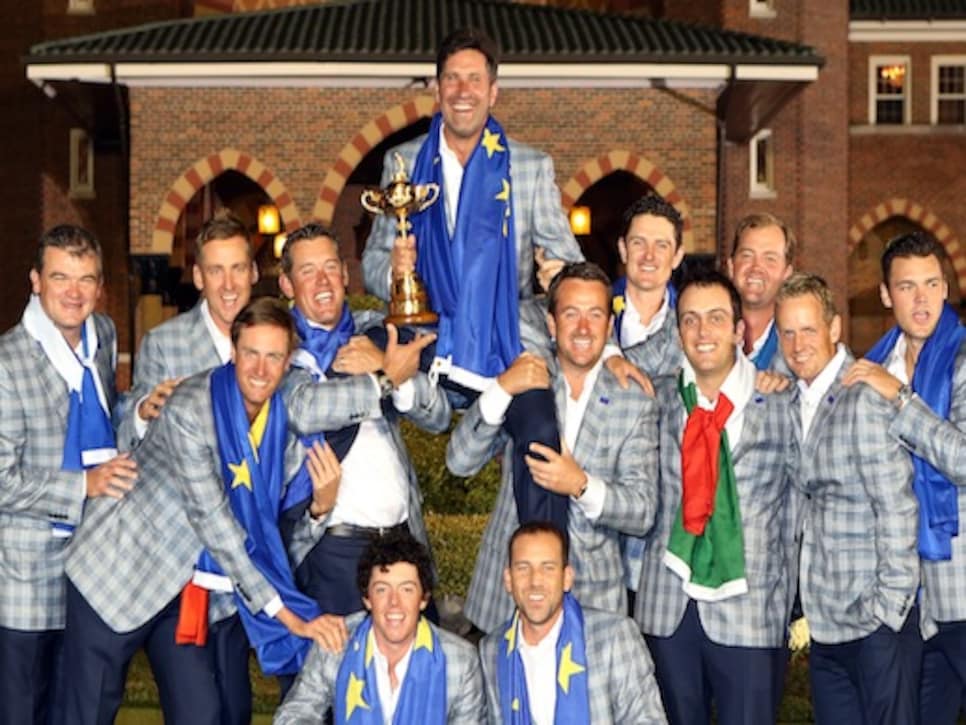 __1) __No cigar-puffing Michael Jordan, who last time tried to distract Ian Poulter. And we all know what happened then. The big dope.
__2) __The law of averages is on America's side. I mean, this can't go on forever can it? Can it?
__3) __No Tiger. The only time America has emerged victorious in this century, Woods was notably absent.
__4) __Rickie Fowler, patriotic haircut and all, is in town. At the end of a breakout year, he is a young man on the rise. And, as his Walker Cup record clearly shows, he is no dud when it comes to match play.
__5) __Jim Furyk is really pissed off. As he should be after losing the last two holes at Medinah to a brace of Garcia pars.
__6) __The course might be located in Scotland. But it plays like it is in Seattle.
__7) __Patrick Reed might just be right (top-five player).
__8) __The Scottish crowd will become confused by the presence of someone called "Jimmy Walker" and begin cheering for the "wrong" team.
__9) __If Jordan Spieth really is going to become a truly great player, now would be as good a time as any to prove it.
__10) __Tom Watson never loses in the Ryder Cup, not as a player or a captain. Never. And certainly not in Scotland.
__11) __As the late tennis great Vitas Gerulaitis might have said: "No one beats America eight times out of ten."