News
Europe announces 2019 Solheim Cup captain, and it's not Annika Sorenstam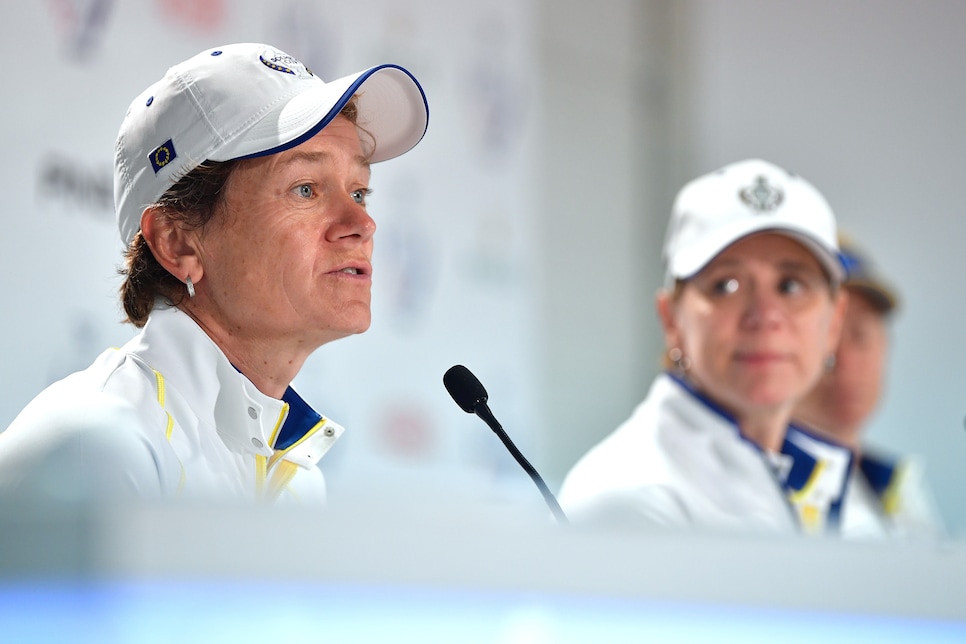 At the Solheim Cup, after the U.S. team defeated the Europeans, 16½- 11½, Captain Annika Sorenstam said she wouldn't be captain again. And she meant it. The European team has announced that Catriona Matthew of Scotland will serve as captain on home soil for the 2019 European team at the PGA Centenary Course at Gleneagles in Perthshire, Scotland.
"It's a great honor and a dream come true to be the captain at home in Scotland," said Matthew, who turned professional in 1995. "Since my first appearance in 1998, I have always loved playing in the Solheim Cup. It's always such an incredible atmosphere, and over the years that I've played, I've enjoyed it more and more. From the extremely high standard of play, to the enormous crowds, huge infrastructure and fantastic media coverage, the event just keeps getting bigger and better. Scotland will provide the perfect stage for the 2019 Solheim Cup and Gleneagles will be a terrific venue."
Matthew was the anticipated pick, and she's a logical one. She understands the Solheim Cup, having played in the event nine times, including last August at Des Moines Golf and Country Club. After Suzann Pettersen withdrew two days before competition with an injury, Matthew, the alternate, stepped in as her replacement. She was the oldest player in the field, and went 3-1-0. She's currently third on the all-time Solheim Cup points list.
And Matthew has some good vibes at Gleneagles: She won there in 1998 at the McDonald's WPGA Championship, a Ladies European Tour event.
The European Team announcing its captain forces an obvious question: Who's going to lead the U.S. team in two years?
Juli Inkster has successfully captained the Americans to back-to-back victories in 2015 and 2017. No one has ever captained more than twice for the Americans, but there are some who think Inkster would be the best choice to return again.
Of course, it's a sought-after position and Inkster knows it.
"I don't want to go there," said Inkster when she was asked if she'd captain again in the press conference after the U.S. win in Des Moines. "I would love to do it, but I think there's other people in line that deserve the chance. But I'll be there. I'll be there with some hugs."
So, if Inkster doesn't go for the three-peat, who will be at the helm for the American team?
Our pick is Dottie Pepper. Yes, we remember the infamous "choking freaking dogs" comment that she accidentally uttered on air at the 2007 Solheim Cup in reference to the U.S. squad. But that was a decade ago. We're all over it, right?
Pepper won 17 times on the LPGA Tour and played in six Solheim Cups. Two of her appearances were flawless: In 1994 she went 3-0-0 and in 1998 she went 4-0-0. Pepper has experience on the other side of the Solheim Cup as well. She was an assistant captain to Meg Mallon in 2013. The 52-year-old is a fierce competitor, and could be a good motivator for the American team.
You are using an unsupported version of Internet Explorer. Please upgrade to Internet Explorer 11 or use a different web browser.