News
Euro Tour's Made in Denmark has a tee box inside a hospitality tent and is giving away free beers on a drivable par 4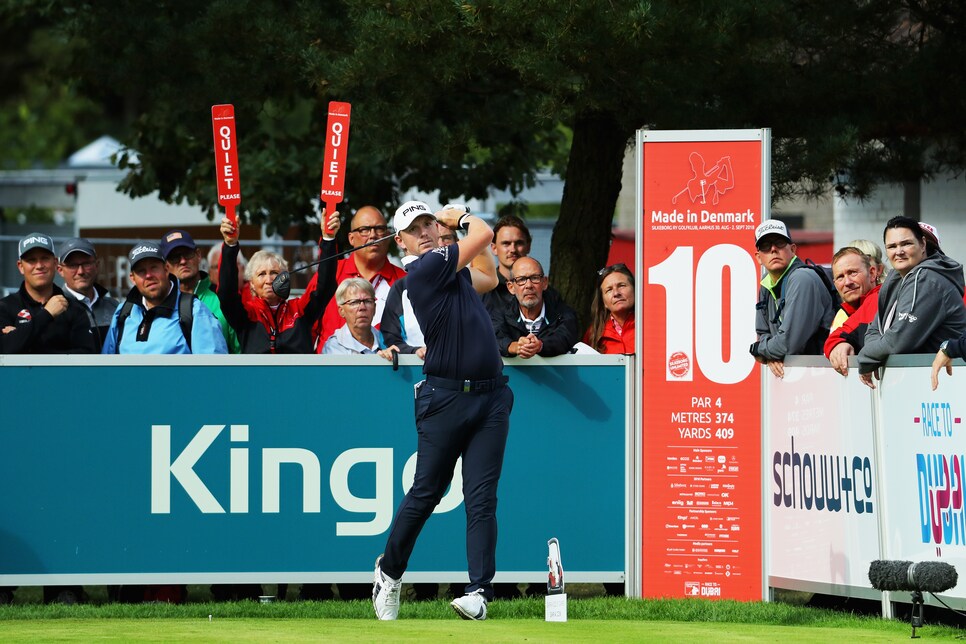 European Tour CEO Keith Pelley doesn't just think outside the box. He puts the box in dumpster, lights it on fire and tells his team to think of a shape that's exponentially more progressive than a box. From night events to first-tee entrance music to six-hole tournaments, Pelley has not been shy to shake things up. The Euro Tour's latest gifts: a tee box inside a hospitality tent and free booze for fans.
Let's start with the latter. At this week's Made in Denmark event, Heineken has teamed up with tournament organizers for a stunt on the drivable par-4 12th at the Himmerland course, which weighs in around 340 yards. If a player hits the green on Thursday and Friday, the player will win six beers for the fans, with that total doubled on the weekend. The player and caddie will distribute rubber balls once they reach the green which can be cashed in by spectators.
During Thursday's first round, 22-year-old Marcus Kinhult was a popular man among the crowd after his drive found the putting surface, offering the first free round of the week:
But it's just not big drives that warrant a toast. The tee box at the par-3 15th in encased by a hospitality tent and bar, letting a lucky few be this close to the action:
We pray for any player that records an ace at the 15th this week. Hard to duck the hole-in-one's "Drinks on me" custom when the pub's right there.
Give the Euros credit. Some of these ventures might come off as gimmicky, but there's an unmistakable passion at their core. Golf is a game of the people, and, at least at the Made in Denmark, the way to their hearts is through Heinekens.