News
Amateur Eun Jeong Seong makes ace, shoots 68 in bid to take another leap into Poppie's Pond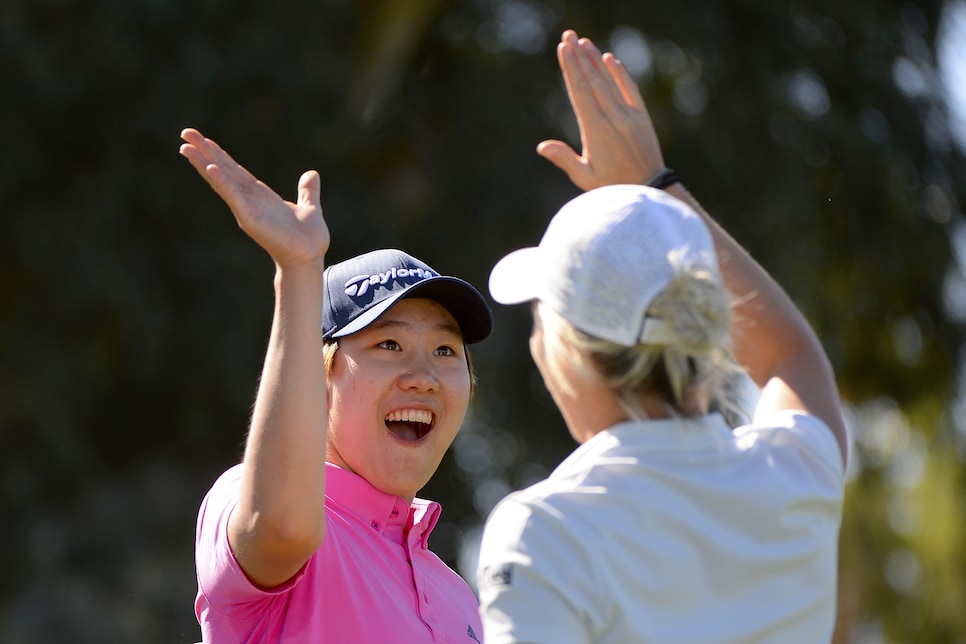 RANCHO MIRAGE, Calif. — The Dinah Shore Tournament Course at Mission Hills Country Club apparently appeals to South Korean amateur Eun Jeong Seong.
The victor's leap into Poppie's Pond adjacent to the 18th green of the Dinah Shore Tournament Course? Done that.
A hole in one? Done that.
In contention at the ANA Inspiration. Done that, too.
Seong, a 17-year-old South Korean who earned a start in the ANA Inspiration by virtue of her victory in the U.S. Women's Amateur last year, shot a four-under-par 68 in the first round on Thursday, one behind leader Karine Icher.
Her round included an ace on the par-3 fifth hole during a torrid start that also included three birdies on the front nine.
"I cannot see my ball, but my partner [Mel Reid] said, 'Oh, hole-in-one.' Oh, my God. This is my second hole-in-one in [a] tournament. That's why I'm really excited. My start is so good today. I just think about not much, just see the ball and I just aim and hit. Very simple today."
Seong's familiarity with the course came via her victory in the ClubCorp Mission Hills Desert Junior, an annual American Junior Golf Association tournament. She holed a long putt on the first playoff hole to win, then took the leap into Poppie's Pond, as do the winners of the ANA Inspiration.
"I have good memories of here," she said. "But different green speeds and different rough, very thick."
Last year, Seong became the first player to win the U.S. Girls' Junior and the U.S. Women's Amateur in the same year. She also became the first to win the Girls' Junior back to back since Hollis Stacy won three straight in the early 1970s.