Ernie Els honored with Heisman Humanitarian Award for his tireless work for autism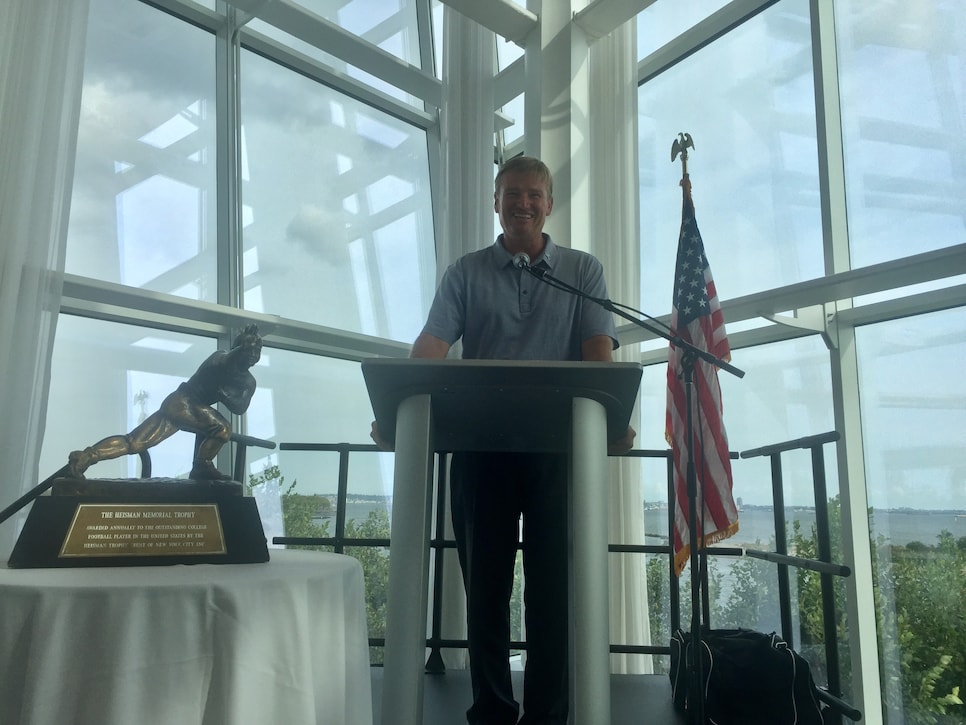 JERSEY CITY, N.J. -- Ernie Els was named the winner of the 2017 Heisman Humanitarian Award at Liberty National on Tuesday for the work of his foundation, Els for Autism. The four-time major winner will join the likes of Joey Cheek, Jeff Gordon, and Mia Hamm as the 12th recipient of the award.
"I'm a little bit embarrassed," Els said. "My name is up front but the whole movement, my wife, her staff, to everyone involved, it's a reflection of them. We've started to get awards now, but that's not what we're after."
They may not be after awards, but it is a testament to just how much of an impact Els for Autism is making by bettering the lives of autistic children. "This award makes us feel like we belong. It validates what we are doing."
The foundation has just put the finishing touches on a high school for autistic children, the Els Center For Excellence in Jupiter, Fla., and is raising money for three new projects: an Olympic-sized swimming pool, a track and field facility for Special Olympics, and an adult facility. "A lot of these kids are still not going to be able to get into normal society," Els said. "So [the adult facility] will create jobs and create things for them."
The event on Tuesday was part of "The Golf Challenge" that consists of 15 events across the U.S. and Canada to raise money for projects like those mentioned. The guests play top-rated courses and are often treated to guest appearances by Ernie or some of his fellow tour players. On Monday it was Branden Grace who came out to support the cause. "I really can't thank [the tour players] enough. I keep telling them they have to come to the school to see what they've helped us build." In fact, last year, Rickie Fowler made a hole-in-one to raise an extra million dollars for the foundation. "That is still the most unbelievable moment I've ever witnessed…right there I thought this is something incredible. This is God's gift to the center."
With Monday's event being held at Liberty National, Els didn't waste an opportunity to preview the venue that will be hosting the Presidents Cup next month. The 8-time International team member will act as an assistant captain. "I was out early this morning. Myself and Branden [Grace] played some holes…I'm trying to get the guys to have a strategy. Obviously, the length is pretty good, but you don't need to be really long around this place."
What will it be like being an assistant captain? "Very weird," Els says laughing. "I'm there to help the guys. I want to motivate them. Whatever that entails, I'll do."