The Loop
Els and Scott fall on opposite sides of a painfully-thin line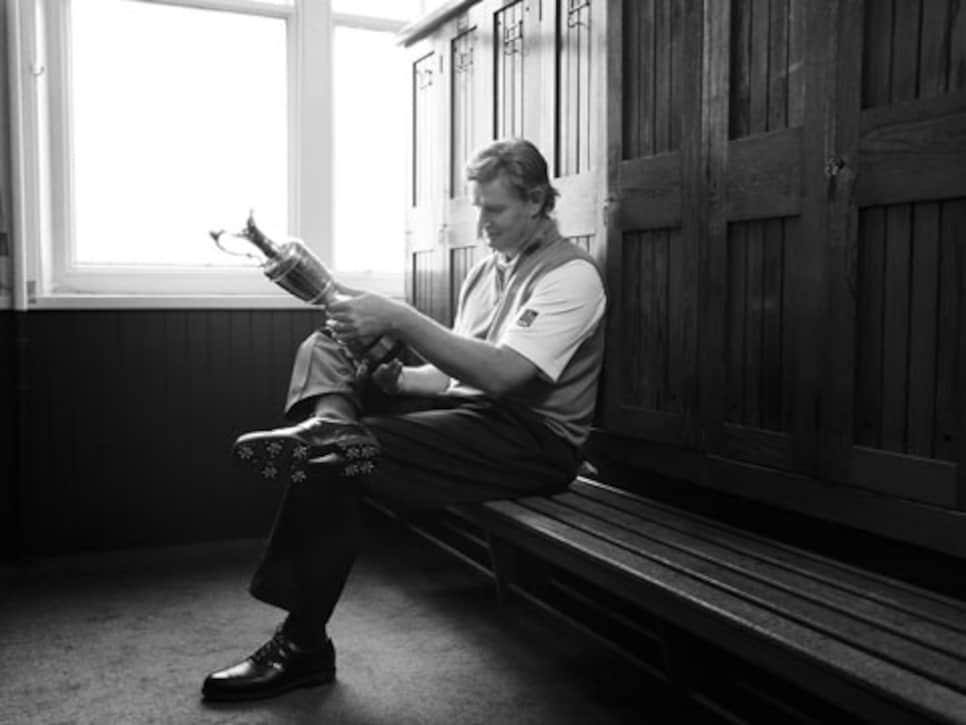 Ernie Els with the Claret Jug inside the men's locker room. Photo: Ian Walton/R&A
LYTHAM ST. ANNES, England -- It's one of the game's oldest aphorisms and it was never more apposite than on the final day of this 141st Open Championship at Royal Lytham: Every shot in golf pleases someone. So it was that, as Adam Scott stumbled and fumbled his way to four successive bogeys over the closing holes, the new "champion golfer of the year," Ernie Els, played the back nine in a startling 32 strokes to steal the title from the unfortunate Australian.
It was, as so often in golf at any level, first the gathering-pace of Scott's sad decline, then the dark inevitability of his loss that will stick in the memory. Armed with a four- stroke lead at the start of Sunday's bright and blustery round, Scott couldn't quite get it done and now finds himself grouped with the likes of Arnold Palmer (1966 U.S. Open), Ed Sneed (1979 Masters), Nick Price (1982 British Open), Greg Norman (1986 PGA and 1996 Masters), Mike Reid (1989 PGA) and Jean Van de Velde (1999 British Open) -- those who lost major championships they really should have won.
With four holes to play, Scott seemed to have everything under control. A birdie at the 444-yard 14th had restored his four-shot advantage and, with no one up ahead able to make anything like a telling move, ultimate victory seemed assured. But it wasn't. Dropping a shot into the wind at the brutal 15th -- it averaged 4.61 for the final day and was the hardest hole on the course -- was no big deal, but the same cannot be said of the three-putt bogey Scott perpetrated at the drivable 336-yard 16th. Suddenly, when Els made birdie at the closing hole, Scott needed two tough pars to win -- and wasn't up to either task.
"I know I've let a really great chance slip through my fingers today," he said afterwards. "But somehow I'll look back and take the positives from it. I don't think I've ever played this well in a major championship, so that's a good thing for me moving forward. All the stuff I'm doing is going in the right direction. Today is one of those days, and that's why they call it golf."
As you'd expect from a man of his experience, Els was both sympathetic and understanding of the younger man's pain. The pair are great friends -- and former Presidents Cup partners -- and the big South African has had his own share of major disappointment over the course of his 19-year professional career.
"The ones where you come close and don't win, those stay with you," he told Scotland on Sunday during last week's Scottish Open. "2004 was easily the worst year of my golfing life. And, at the same time, it was a great year. There were a few 'almosts.' I almost won all four majors and I was almost number one in the world.
"So, when it comes to the majors, I feel like I am maybe a little over par, given the level of my ability and talent. I'm hard on myself, but I feel like five or six wins would be more realistic. That would have put me in the Nick Faldo/Seve Ballesteros sort of area, which is where I feel like I belong."
Now, of course, Els has four majors to his name and is one notch closer to joining that illustrious duo, a fact he puts down to a much-improved general attitude and the work he has done with coach Sherylle Calder on his much-criticized putting stroke. Lest it be forgotten, only three months ago Els' stroke was the subject of public ridicule -- courtesy of CBS commentator David Feherty -- and failed to qualify for an invitation to this year's Masters.
"I started with Sherylle in the first week of January this year," he revealed. "When she saw my stroke she told me it was the worst she had ever seen in any professional she had ever worked with. So I've come a long way in a very short time."
Still, Els' victory was not solely down to improved technique. There was a little bit of inspiration in there too, courtesy of his ten-year old son, Ben, who suffers from autism.
"I made a lot of putts today with Ben in mind, because I know he's watching," said Els senior. "He loves it when I hit golf balls. He's always there. He comes with me. He loves the flight of the ball and the sound. I know he was watching today, and I was trying to keep him excited. I wanted to keep him excited, so I made a lot of putts for him today."