News
U.S. Open 2017: Erin Hills will be wide open, in more ways than one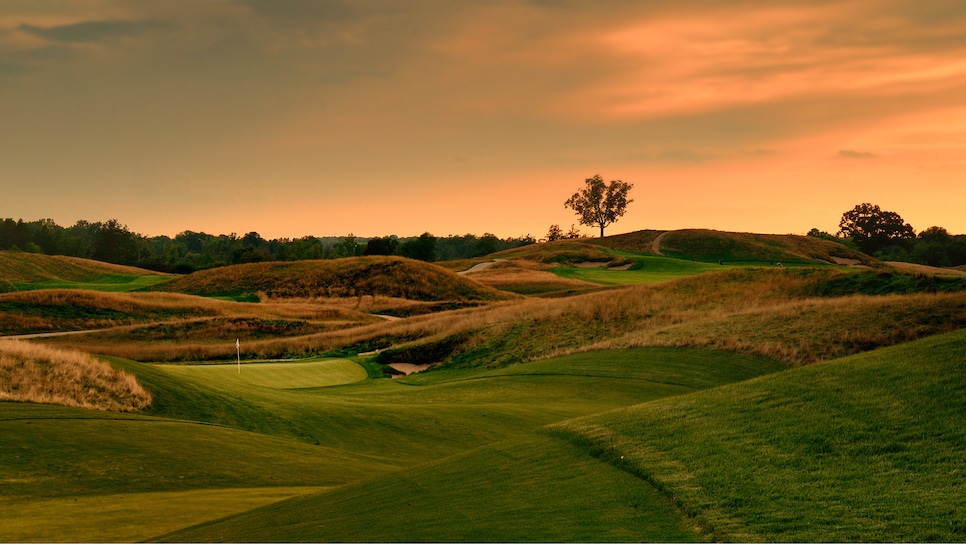 ERIN, Wis. – Let's call this one the Mystery Open. We're in the middle of nowhere, somewhere just northwest of Milwaukee. We're on a golf course called Erin Hills. To get here, you pass lots of barns. I saw a Snowmobile Crossing sign. In the Augusta National cathedral, we know the monuments in every niche. Winged Foot. Oakmont. Merion. We can quote Bobby Jones on them all. But Erin Hills, a mystery. No one can guess what will happen here because nothing has ever happened here. This U.S. Open, the 117th, is Erin Hills's debut in big-time golf. Therein lies the tournament's charm. Or its curse.
Erin Hill sits on land shaped by glaciers that collided on their way south. After God's work eons ago, men took over in the early 21st century. They transformed the kettle-moraine topography into a golf course that is vast, expansive, humongous, and really big. Erin Hills is a "mammoth rumpled blanket" of a place, to quote one of its designers, our Golf Digest colleague, Ron Whitten. The blanket covers 652 acres. The players' walk is said to be nine miles, up and down hills, on the second-longest Open track ever, 7,693 yards. There are no troublesome trees, but every fairway is lined by fescue so tall it tickles knees. Greens are bent grass, meaning putts will roll truly (a good thing) and, should the rolling be uninterrupted by the cup, they will keep rolling (uh-oh).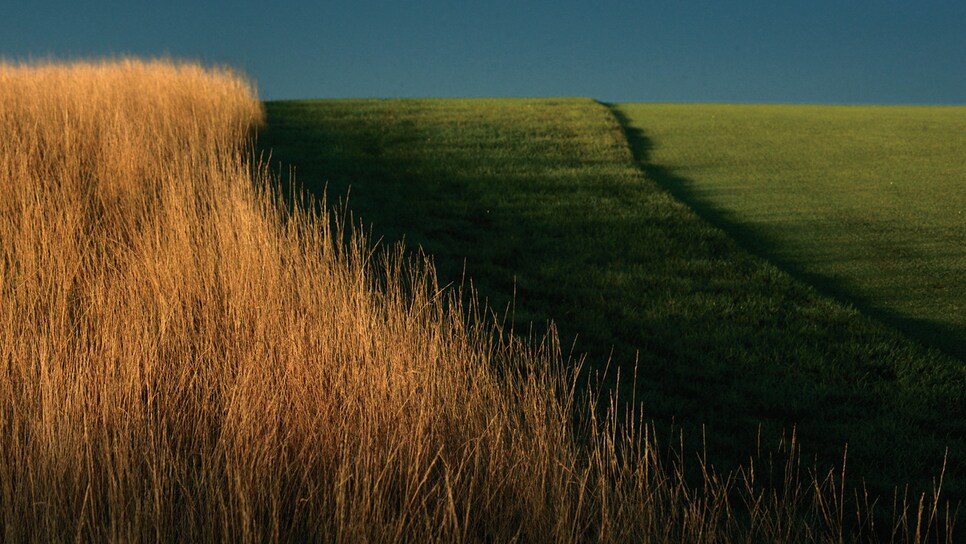 Maybe a bomber will overwhelm Erin Hills. Dustin Johnson has done it to better places. Maybe the most precise driver will win. Louis Oosthuizen comes to mind. Maybe Jordan Spieth's magic on the greens will return to give Erin Hills the shine he gave another rookie, Chambers Bay. Or maybe all 156 guys will be lost in fescue jungles, heard in raucous grouchings and never be seen again.
Rory McIlroy is excited. "I think it's going to be a huge success," he said.
Spieth thinks even-par 288 will not be good enough to win. "I see closer to 5- to 10-under."
Adam Scott said, "I don't really know what we're in for this week."
Scott does, however, know this: it's the U.S. Open and he has come to recognize the tournament as "just a brute." He has seen the event evolve from a driving contest – "I always thought a great driver … was going to be the one to win" – to a full examination with emphasis on the short game. That said, Scott believes this week's winner must first drive well – and not only long. "But you want to keep it inside those margins that we're given … very generous margins …"
The margins are the fescue infestations standing as fearsome reminders that an Open punishes wanderings of mind or body. Yes, those margins sometimes present fairways 60 yards wide. "But get to the first tee Thursday at a U.S. Open," Scott said, "those margins narrow a little bit for everyone with nerves and expectation. Conditions, if it gets windy, they get a little tighter then." Only the longest, most accurate drivers will contend here this week, he said.
If Scott can imagine Erin Hills's fairways as narrow alleyways growing darker by the day, McIlroy, for one, sees them as bright, wide avenues on which to dance.
"You can be aggressive off the tee," he said, adding, "I don't think it's a secret that I feel like my driver is one of my biggest weapons in my bag. If I can get that in my hands more regularly, and I think if the field has to hit driver more as well, that plays into my hands, too."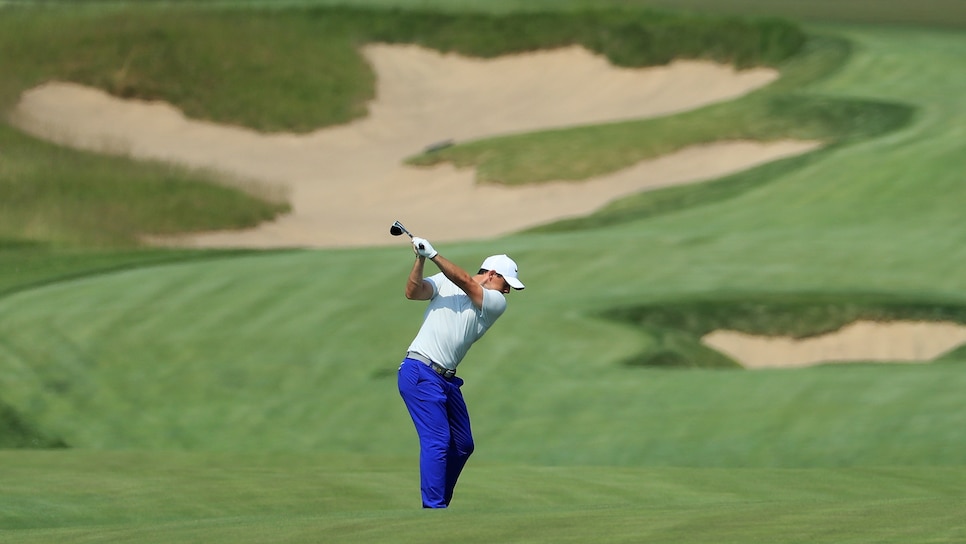 As for those margins so concerning to Scott, McIlroy said, in essence, "Why worry? I'm a great player." What he said, in fact, came in reply to news that some fescue was to be cut down. "Really?" he said. "We have 60 yards from left line to right line. You've got 156 of the best players in the world here. If we can't hit it within that avenue, you might as well pack your bags and go home. These are the widest fairways we've ever played in a U.S. Open."
"If you came for a stress-free tournament," Spieth said, "you didn't come to the right place."
Spieth is one of the few men who has played here previously, losing in the quarterfinals of the 2011 U.S. Amateur. "But it still feels like a pretty new golf course to me," he said. "It's going to play different with the fescue right off of the rough and the difficulty in staying extremely focused off the tee and not hitting any foul balls."
Sam Snead once told Ted Williams that the difference between great golfers and great baseball hitters is, "We have to play our foul balls." Ah, yes. Foul balls. Pushed right. Pulled left. Foul balls flying over those generous margins. Foul balls landing in fescue jungles, perhaps lost forever.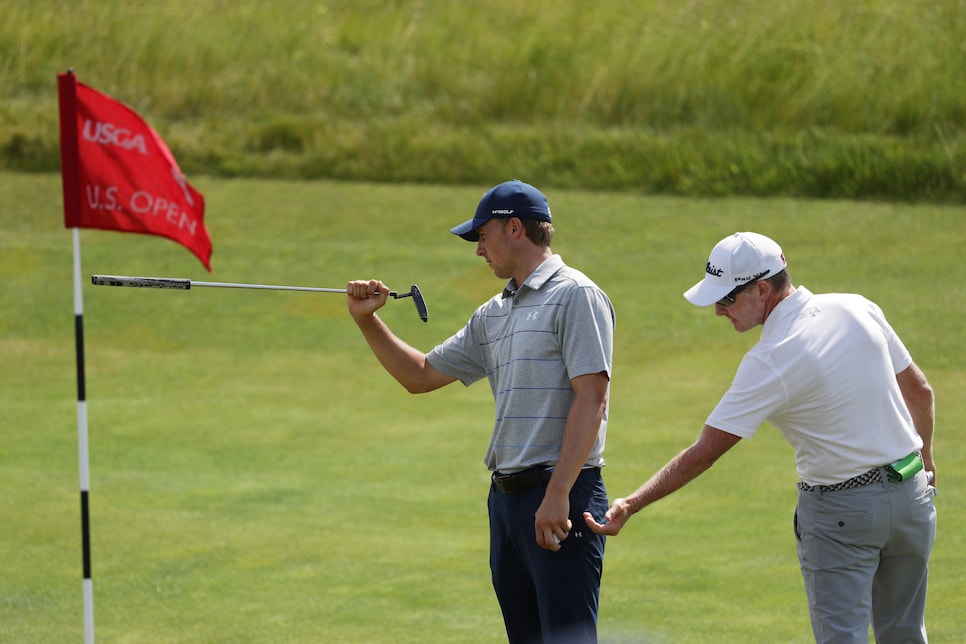 Streeter Lecka/Getty Images
"If you came for a stress-free tournament," Spieth said, "you didn't come to the right place."
We, the spectators, have in fact come to enjoy the stress of others. We also have come for an answer to the newest mystery in golf.