News
Erik Compton recalls memorable U.S. Open bid in 2014, while longing for one more similar run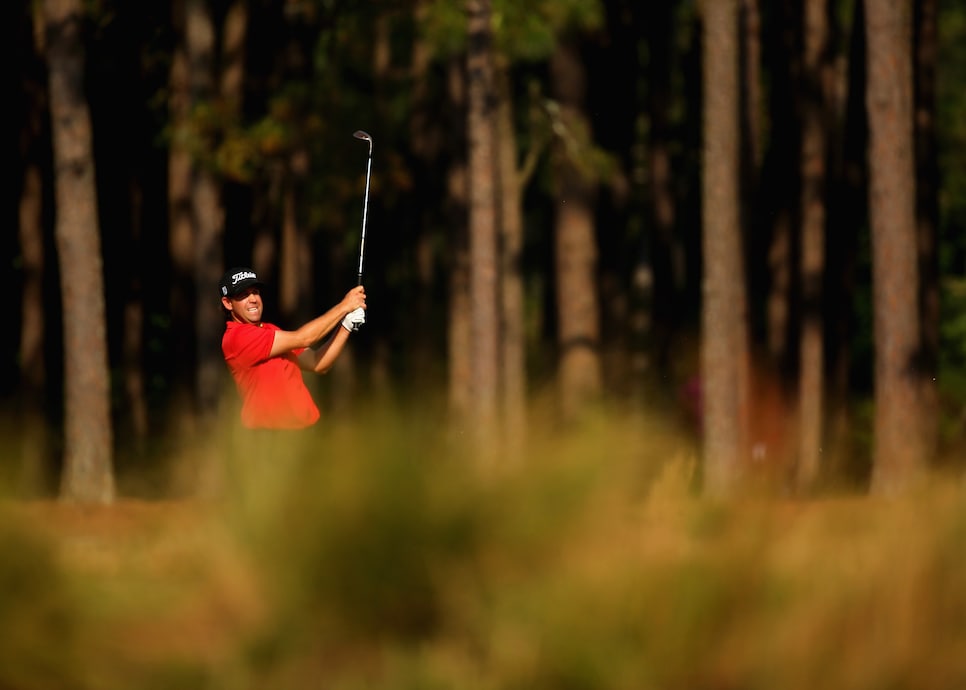 Walter Hagen supposedly once said no one remembers who came in second. Sir Walter certainly did it a lot. In addition to his 11 career major championships -- second-most all time until being eclipsed by Tiger Woods and his 14 -- he finished runner-up 23 times in his career, three of those in majors. He was also in his day a bit of a second fiddle (if there is such a thing with that kind of resume) to Bobby Jones. As late great golf writer Charles Price said, "Jones was center ring, while Walter was the sideshow."
At the 2014 U.S. Open, everyone else was the sideshow after Martin Kaymer blitzed a restored Pinehurst No. 2 with a pair of 65s to get to 10 under par to take a six-stroke lead into the weekend. A day later, the lead was down to five and it would never get closer than four in the final round. He shot 69 the last day and coasted to an eight-stroke victory, with his 72-hole 271 total the second-lowest in tournament history.
But who came in second that week was arguably just as big a story.
"I remember a lot of adrenaline and anxiety and not much sleep," Erik Compton recalls four years later. "I'd walk from the range to the tee and for the first few holes try to get control of my body. It was like trying to hit every shot with your heart going 170 beats a minute. The crowd was so loud that final round. I remember [playing partner] Henrik Stenson saying to me that he'd never heard the fans rooting for someone so hard, and this was a guy who had played in Ryder Cups.
"It almost felt like I won the U.S. Open when I made the putt on 18."
Professional golf is full of almosts and what ifs. All sports are. There's only one professional athlete in the world to have undergone a heart transplant, however, never mind having done it twice. Compton wasn't a sideshow that week. He was a miracle -- in the end just not the kind that movies are made of and books written about, thanks to Kaymer's extraordinary play over those four days. True story: A book publisher had interest in a big-name author penning Compton's improbable life story, until he found out that he finished runner-up. The Haig was ahead of his time, though he might have been a little off in this case.
Compton's performance won't soon be forgotten by anyone who watched that week. Henrik Stenson got goosebumps, he said, when the crowd roared as Compton converted a tricky up-and-down to save par on the sixth hole to keep within earshot of Kaymer. By 18, the outcome was determined but so was Compton to finish under par. Facing a difficult 50-yard sand shot at the last, he knocked the shot to seven feet and made the putt, with the overflowing crowd around the clubhouse green and in the stands giving a rousing standing ovation. In the chaotic aftermath, Rickie Fowler, who also tied for second, posed for a selfie with Compton. What a day.
The years since, however, haven't been as kind.
After five straight seasons at the highest level of the sport from 2012 through 2016, Compton lost his card and was relegated to the Web.com Tour, where, while trying to claw his way back to the bigs, he struggled even more.
Away from the course, things spiraled far worse.
There was a difficult divorce, one that dragged on for most of the last two years and proved emotionally heavy given his young daughter, Petra, being stuck in the middle of it. At one point, Compton found himself living at his parents' house while he got the complications of his new life sorted out. He even contemplated retirement but thought better of it and at the end of last year sent a check to the tour for Web.com q-school, until someone from headquarters called and informed him that he still had another year of eligibility on the circuit.
Then there were the health issues, of which there have been many. Last year, gout and arthritis at times sidelined Compton when he could ill afford to take time off. Earlier this year, he contracted cellulitis, a bacterial infection of the skin that was caused by athlete's foot, and wound up in the hospital near his home in South Florida. Such is the life of a two-time heart transplant recipient who still takes 25 to 30 pills a day.
Compton has never been much of a why-me person, but how much can one guy take?
"There are times I wonder, in some alternate universe, what my body would be like not going through all these transplants," he said. "What would that have done to my career if I wasn't battling some of these things?"
He doesn't wonder so much about that U.S. Open and what might have been, though he does concede one regret.
"I did say at the time that I don't have anything left to prove to myself," he says now. "I wish I wouldn't have said that. Maybe I should've kept going at that high of a level."
Instead, he finds himself toiling on the Web.com Tour, where in 12 starts this year he has four missed cuts and a WD, with his best finish a tie for 11th at the United Leasing & Finance Championship. He tried to qualify for this year's U.S. Open at Shinnecock but failed to make it out of the 36-hole sectional in Columbus, Ohio, where he opened with a 74 before withdrawing midway through the second round to save his legs for this week's Web.com event in Chicago.
It at least gave him the opportunity to catch up with some old friends. He saw Adam Scott, who came over before teeing off to ask how he and his family were doing. He played alongside Ryan Moore, who also failed to qualify but at least was able to head back to the comforts of the PGA Tour. And he continues to hear from the guys he used to compete against, including Tiger Woods, who is someone Compton says he can draw inspiration from given where Woods was a year ago.
"It doesn't feel that far removed," Compton says of the type of golf he played that week at Pinehurst. "A lot has happened in that time frame, but I'd like to make another run like that before my career is over.
"Finishing second [at Pinehurst], that was a huge monkey off my back. Everything else in my career that I have done I've never thought is good enough. I feel like I underachieved. That's what keeps me going."