News
Erik Compton's favorite movie? "Braveheart," he says. "I remember what I liked was the end, when he was willing to stand his ground for what he thought was right no matter what happened to him."
Erik Compton knew he was in trouble even before he got to the first tee. He had known that playing five weeks in a row was risky. Only on rare occasions does he play more than three tournaments in a row, but he had played so well earlier this year—including a career-best tie for fourth at the Honda Classic—that he thought he could get through it.
He wanted to play in Houston because he'd gotten one of those phone calls he gets all the time, the ones that are an important part of his life.
This one was about a 13-year-old girl who lives outside Houston. Anna King was waiting to undergo a heart transplant. Compton is one of a handful of people in the world who could know what Anna was going through, because, 21 years ago, he went through it. And five years ago, he went through it again.
"She was in exactly the place I was in when I was 12," he says. "I like to talk to people when I can in that situation because I want them to understand where they're going. It's a very scary time, but I can tell them first-hand that they're going to be OK."
The plan was for Anna to watch Compton play his first round and then meet with him for a talk and some picture-taking. As Compton warmed up, he had that feeling of dread he'd experienced many times before: He was too sick to play.
"If I withdrew from every golf tournament I play in when I'm not feeling well, I wouldn't finish half of them," he says. "That's why I always give it a shot, because sometimes I do start to feel better. When I won the Rolex [Junior Classic in 1997, the year before he was named the player of the year], I didn't think I could make it to the first tee. My dad said, 'Play one hole. If you still feel sick, we'll go home.' I played one hole, then another. I got through it. But it doesn't always happen that way. Some days it gets worse."
This was one of those days. "Any other day, I'd have just WD'd on the spot," he says, "but I couldn't do it. I had to finish. I didn't want Anna to see how badly I felt. I'm where she wants to go. I didn't want that thought to scare her."
He finished the round—shooting 80. He told Anna it had been one of those days, that he'd played a lot of golf—good golf—the previous month and just didn't have it on that day, something that happens to all golfers. "What separates me from other transplant survivors is that I play golf well," he says. "I know that I can inspire people to keep going at times. I want to do that every chance I get."
Anna King's Facebook page includes a photo of her with Compton that day soon after he'd signed his scorecard. Compton has his arm around her and is grinning as if he's having the time of his life.
"My head," he said later, "felt like it was about to explode."
Erik Compton is a dreamer. Some of the dreams are similar to those of any 33-year-old in his second full year on the PGA Tour: He dreams of winning a tournament, playing in the Masters, winning a major championship—even being the best player in the world.
When it comes to golf there are those—many, in fact—who describe him as cocky. "Supremely confident," says Camilo Villegas, a longtime friend going back to their college days when Villegas played at Florida and Compton at Georgia. "I think that's a nicer way to put it. He's always walked onto a golf course believing he can beat anyone."
But Compton has other dreams, too—the kind he would like to blot from his memory, and often does.
"I guess when you've been through what I've been through, you learn to do that," he says. "It wouldn't be a lot of fun to carry around some of the dreams I've had. I know about a lot of them because my friends remember them and tell me about them sometimes."
One of those friends is Dominic Fraser, a boyhood pal who spent most of two months with Compton at Jackson Memorial Hospital in Miami five years ago while Compton was awaiting his second transplant. Fraser remembers a lot of the dreams that Compton does not.
"I remember him telling me one morning that he knew what angels looked like, and it wasn't like I thought," Fraser says. "He said he'd dreamed there were four of them standing behind him, two on each side, and they looked, for the most part, like Shaquille O'Neal—only with all sorts of blood and stuff on them. He was right: It wasn't what I had pictured when I thought of angels."
Last year, before the first round of the Honda Classic, Compton had another one of those dreams. The way he told it that night—after shooting a three-under-par 67 even though he had awakened that day feeling a little sick and a little scared—he had walked onto the first tee in the dream ready to play. "It was a beautiful day," he said. "There were lots of people around the tee, and I walked up there, and the starter introduced me. I put my tee into the ground, stood up to take a practice swing and had a heart attack and died."
He paused in the re-telling. "That would have been embarrassing."
Compton did have a heart attack 5½years ago, and he did think he was going to die. He was playing on what was then the Nationwide Tour and had missed a cut in Boise. He flew home, and the next day was in his car when he felt his heart starting to shut down.
"I knew what was happening," he says. "I could feel it. I drove straight to the hospital as fast as I possibly could."
He walked into the emergency room and calmly told the nurses he was a transplant patient and he thought he was having a heart attack. He called his parents from the hospital so he could hear their voices, because he wasn't certain they would get there in time to see him.
They got there, but the news from the doctors was sobering: Time was about to run out on the heart that had been placed in Compton's chest 16 years earlier, after he had been diagnosed at the age of 9 with a condition called viral cardiomyopathy. Put simply, it inflames the heart so it can't pump blood hard enough to function long-term.
The amount of time a transplanted heart can last has increased greatly since the first transplant was performed in 1967. The average time is now about 15 years. The doctors told Compton and his family that he needed a second transplant to survive.
"My heart was working at about 20 percent of normal at that point," Compton says. "The question was whether they would be able to find a donor before it shut down completely."
The doctors put a defibrillator and a pacemaker in Compton's heart and sent him home several weeks later because there was nothing to be done for him at that point, and sitting in the hospital would increase the chances of infection—not to mention anxiety. Compton actually played some golf—winning a local pro-am by shooting a 66—and tried to act as if everything was fine.
his second transplant. | Jensen Larson Photography
Of course, it wasn't. He had no idea when his heart might shut down completely, and while he was in the hospital, he and his fiancee had decided to call it quits. "I think it was all just too much for her," he says. "I could hardly blame her."
Compton couldn't exercise very much, but he did wander down to the fitness room in his apartment building every now and then, if only for a change of scenery. One morning he noticed a stunning young woman working out and decided that meeting her would be a good idea.
"He's always been very confident [cocky?] socially," Fraser says, "although I'm not sure why. His opening line to Barbara was brutal."
Compton doesn't disagree. "I said, 'So, where are you from with that accent?' " he says, laughing at the memory.
Barbara Casco looked at the guy clearly hitting on her and smiled. "Where do you think I'm from?" she said.
"I don't know," Compton said. "Venezuela?"
He had the right continent. Casco and her mother had moved to Miami from Argentina seven years earlier. He was 28 and waiting for a heart transplant. She was 22 and going to fashion school.
"She was everything I wasn't," Compton says. "Smart, attractive and healthy."
And yet, willing to date him. "I think he charmed me because he wasn't trying to be charming," Barbara says. "Most guys try to come up with a line—try to sound smart or funny. He didn't do either. He was just being himself. I liked that."
Compton didn't bring up his medical condition right away. In fact, Barbara's major concern early on was the presence in Erik's apartment of his ex-fiancee's belongings. "She had left stuff behind," he says. "I just hadn't had the energy to get rid of it."
Their relationship flourished even after Erik told Barbara he was waiting for a heart transplant. "I cried a lot of nights after he told me," she says. "But I was already committed emotionally by then. I think the first thing I felt was sad for him—it was going to be so difficult no matter what happened. Honestly though, I never thought about leaving or running away. It really wasn't a choice at that point."
The first time Barbara met Erik's parents was at their house. After dinner, Peter Compton casually waved Barbara over to where he was sitting.
"He said, 'You know no one will judge you if all of this is too much for you. Everyone, including Erik, would understand.' I told him I loved his son, and I wasn't going anywhere."
Erik believes that Barbara's presence in his life played a major role in the fact that he survived until a heart was found for him.
"We were so different," he says. "Honestly, I wasn't in a very good place right then. The only thing that kept me sane was spending time with her. She was going to school during the day and working at night. I'd make her sandwiches, pick her up after work, and we'd spend time together. Part of me was in denial: I actually thought at times I could somehow reverse the damage and not need the transplant. Another part of me was thinking I was probably going to die. What was great about Barbara was that there was no damage in her outlook on life. I think she was completely convinced from the minute I told her what was going on that I was going to be fine."
He smiles. "Turned out, not all angels look like Shaquille O'Neal."
There were nights when what Compton faced hit him hard.
He knew a second transplant would be more difficult than the first—if he got that far. He would lie in bed, trying to sleep—unsuccessfully—then get up, walk to his balcony and wonder what was going to happen. On some nights he got into the BMW 650i that lifelong friend Michael Hanzman had leased for him. I-95, often a parking lot during the day, was empty well after midnight. Compton would put the car in gear and go—fast, faster, fastest.
"I got it over 150 on a number of occasions," he says. "There were moments when I was flat-out reckless. I thought the chances were good I was going to die anyway, so what difference did it make? "If you think about it, clearly I was nuts. Now when I go for a drive by myself, it's usually through neighborhoods where I think I might want to buy a house or a lot someday. I go very slowly because I'm studying the houses or the location. Now I'm like anyone with a family. I think about moving into my dream house someday. Back then, it was the farthest thing from my mind."
Happily married and the father of 4-year-old Petra, Compton understands that his future isn't as certain as that of many other young fathers. But he chooses not to focus on that because there isn't much point. On the one hand, he's only 33. On the other hand, it has been five years since his second transplant.
"When I look in the mirror, I don't see someone who's young looking back at me," he says. "I don't feel like I'm a young person. I've lived a lot of life—a lot more life than people might have thought I was going to live.
"I'm very happy to be who I am right now. There are plenty of days when I wake up and don't feel good [because of headaches, fatigue, allergies and sinus infections]. I have to constantly monitor myself and be aware of what my body is telling me. But for me, that's normal. It's been that way for years. I know that 100 percent for me doesn't feel the same as 100 percent for someone else. But it's enough.
"I'm lucky because the people in my life don't look at me as being physically handicapped in any way. If I miss a cut, no one makes excuses—least of all me. I met a guy recently who'd had a transplant, and I looked at him and was amazed at what great shape he was in. It was one of those things where I was asked to speak to someone to try to inspire him and he ended up inspiring me. I looked at him and thought, If he can be in that kind of shape, why can't I?
"Trust me, I know just how lucky I am. I know it every day when I wake up in the morning. Every single day."
That doesn't mean he doesn't joke about his past. When he got to Hilton Head in April, he was expecting improved Thursday-Friday tee times because of his excellent play early in the year. Compton had been in category 3 at the start of the year because his exempt status was based on finishing T-7 at PGA Tour Qualifying School in 2012. Because he was in the top 100 (65th) on the money list after the Masters, he had moved up a category, meaning he should not have been playing in the dreaded late groups the first two days of play.
When the tee times came out, Compton was in the second-to-last group on Thursday and the penultimate threesome of the morning wave on Friday. Andy Pazder, the tour's chief of operations, felt bad enough to call Compton and explain that a computer glitch had failed to note all four players in the field who should have been moved up.
"I'm really sorry, Erik," he said. "It was a mistake. Just a bad break."
"Bad break?" Compton said. "Don't you think I've had enough bad breaks in my life?"
He was laughing when he said it. Pazder laughed, too.
Approximately 3,000 people in the United States are on the waiting list for a heart transplant. After a wait of eight months, Compton had his second heart transplant on May 20, 2008. The surgery took about nine hours, but he was on the table for closer to 13 hours because doctors were afraid his body might reject the new heart.
The donor was Isaac Klosterman, a former volleyball player at the University of Dayton who died at 26 when his motorcycle was hit from behind by a hit-and-run driver. Compton's first donor was Jannine, 15, killed with her mother after a drunk driver hit their car from behind.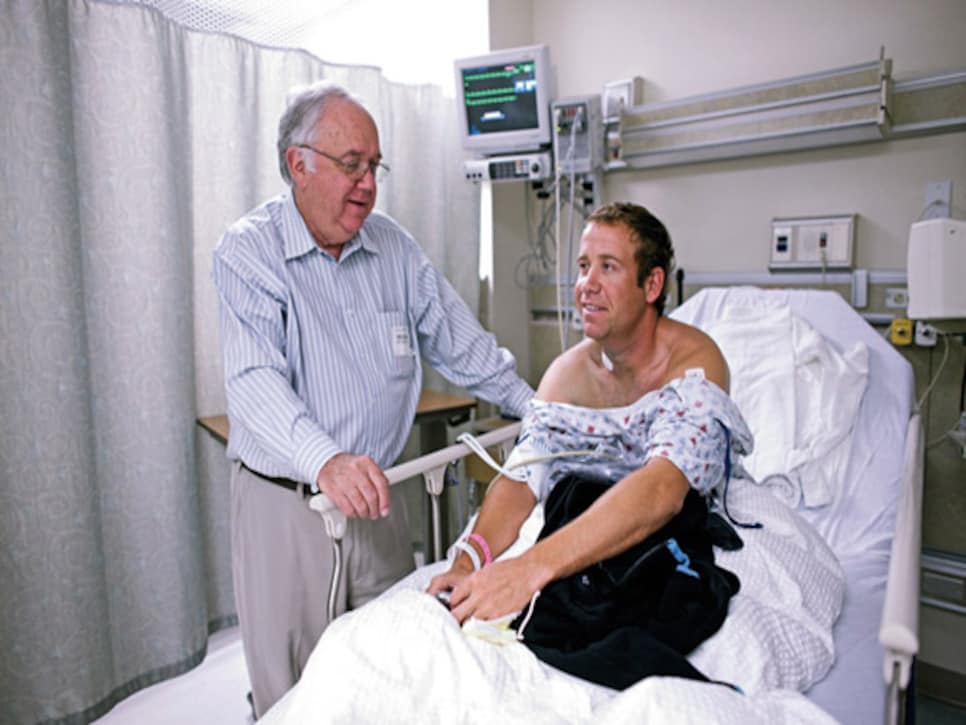 Jensen Larson Photography
With his third heart, Compton was up walking in two days, out of the hospital in nine and playing golf in about two months. In November he played in the Children's Miracle Network Hospitals Classic and made the cut, finishing T-60. By then he and Barbara were engaged, and Petra, who was born in February 2009, was on the way.
He began to sleep again. The late-night trips to I-95 ended.
"My life started again," he says. "Things began to go in the right direction."
There were setbacks. Late in the year, he saw Villegas at an Ikea near Fort Lauderdale. Compton was happy to have played in one golf tournament, making the cut. Villegas had just won back-to-back tournaments—including the Tour Championship—to finish the year with more than $4 million in earnings.
Driving home, Compton felt a wave of dejection.
"We were rivals in college," he says. "He was good, and I was good, too. I never doubted that I could be as good a player as Camilo. I thought about where his career was and where mine was, and even though I was happy for him, it brought me down a little. I believed I could be that good."
Compton smiles. "I still believe it."
He has made steady progress since then. He had earned conditional status for the Nationwide Tour for 2011 by finishing T-100 at Q school. Then, in 2011, he won in Mexico. The first-place check helped him clinch a spot on the PGA Tour for 2012, where he made 16 of 26 cuts and ranked 34th on tour in driving distance at 297.6 yards despite being only 5-feet-8. He's now 160 pounds, up from 142 after treatments in late 2011 to thwart a mild to moderate rejection of heart No. 3. This year, he has earned more than $500,000 in 11 tournaments through April.
"I always believed I was good enough to play on tour," he says. "But it's never been my goal. My goal is to win—and then win again. I guess that does sound cocky. But I believe I can do it. I believe I will do it."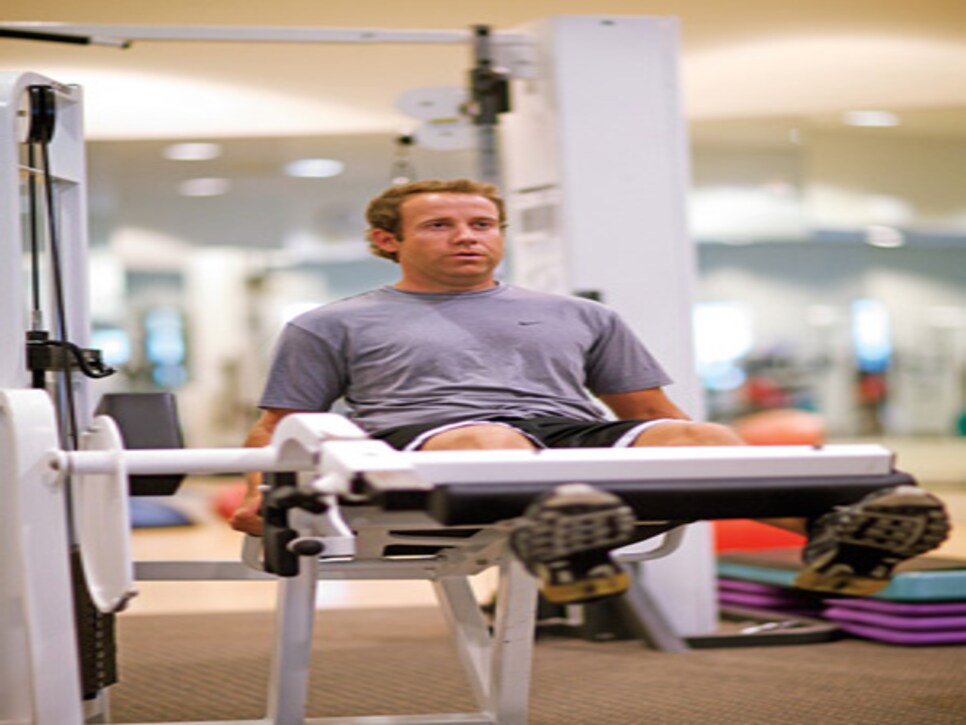 for competition. | Jensen Larson Photography
Jason day came to the United States from Australia as a teenager and met Compton on the Nationwide Tour. They became friends. Though every golfer on tour knows who Compton is and the basics of his story, only a handful know how tough it is for him day-to-day.
"The guy starts the day in pain every single morning," Day says. "He doesn't like to talk about it, but there are days out there when you can see it in his face. Most of us out here get pissy when we have a runny nose. I've never heard him complain. Sometimes you can just see it in his eyes, but that's it."
Day pauses. "Sometimes I think about what he's been through, and I realize it's amazing that he's alive. To play on the PGA Tour is extremely difficult to do if you're in perfect health all the time. But when he's on the golf course, he oozes confidence. It's as if he becomes a different guy."
Compton doesn't disagree with that. "That's what I've always been good at my whole life. I was a good little athlete before my first transplant. I was the quarterback on my pee-wee football team and a good baseball player. I have good hand-eye coordination. When I'm on a golf course, I'm in a complete comfort zone. Unless I really feel terrible on a given day, I feel like I'm exactly where I belong. It's been that way my whole life.
"When I had the first transplant, my father said, 'You can look at yourself as a victim, or you can look at yourself as lucky.' I've always tried to remember that."
Every day when he wakes up, Compton takes 10 pills. He takes three more at dinnertime and 10 more before he goes to bed. Occasionally, if he has a sinus headache or an allergy attack, he'll take an over-the-counter painkiller, but the pain has to be very bad for him to add to the meds he's already taking. Stamina is sometimes a problem, which is why he was so proud for finishing T-7 at Q school last December. He had to play six rounds under the pressure of knowing he needed to play well or land back on the Web.com Tour.
He's more relaxed about his golf. He doesn't practice as much as he once did because he understands he needs all of his strength—mentally and physically—for the golf course. "There's a line between practicing hard and making yourself crazy," he says. "I think this year I've finally found the line."
And he no longer beats himself up every week when he realizes he's not going to win.
He makes himself available to talk to transplant patients—past and future—whenever asked, and he has worked to raise organ-donor awareness through an annual charity outing in Miami that he was asked to lend his name to in 2012 after he first reached the tour. "I played in the event [previously known as the Transplant Classic] since I was a kid," he says. "When they asked to change the name to the Erik Compton Golf Classic, I was thrilled."
The future is just that—something down the road. "There are times when I think about it," Barbara says. "Nothing is guaranteed for any of us day-to-day. But Erik has a different history than most people. I want him to see Petra get married. I want him around a long time. For now, though, we just enjoy our life. That's all we can do."
Compton's dreams at night are less troubled. His golf dreams remain very much alive.
While Compton was working to get his golf game back into shape after his second transplant, Tiger Woods invited him to play in the AT&T National, the tour event Woods hosts. The two men played a practice round together. At one point, as they walked down a fairway, Woods asked Compton the question that people want to ask all the time but often don't because of how it might sound."How long," Tiger asked, "do you think this heart will last?"
Compton never missed a beat—heart or otherwise—in response.
"Long enough to beat you," he said.
Compton smiled when he said it, but he wasn't kidding. Not even a little bit.