LPGA
As 10 Epson Tour players lock up 2023 LPGA cards, the odd woman out has a feeling of déjà vu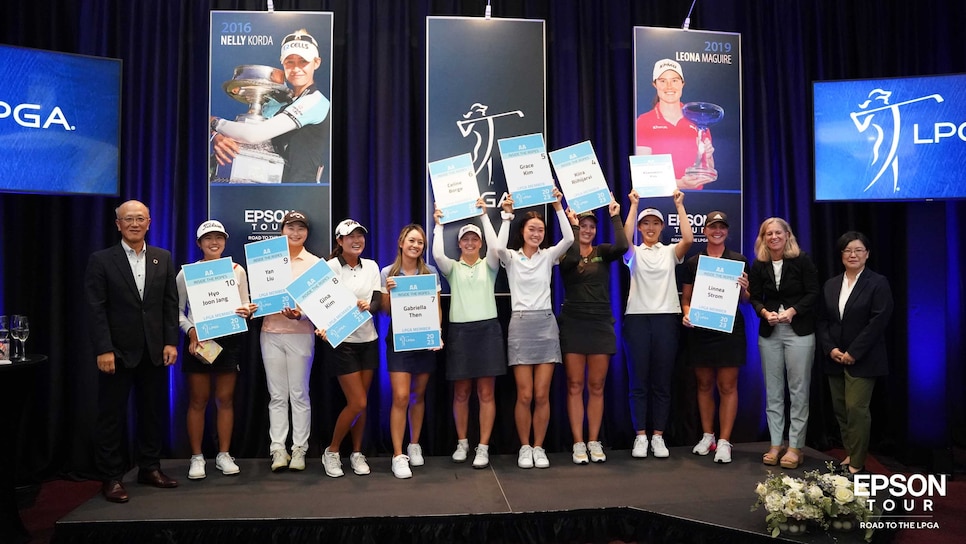 Players celebrate earning their 2023 LPGA cards after finishing in the top 10 on the Epson Tour money list in 2022.
Bailey Tardy knows what happens now, but it doesn't make the situation any less frustrating. There is nothing that can truly ease the disappointment of being the odd player out when you're trying to secure an LPGA Tour card.
Tardy, 26, finished third on Sunday at Epson Tour's season-ending Tour Championship. That allowed the former All-American at Georgia to jump from 18th on the Race for the Card money list to 11th in the final standings. It's a notable accomplishment for sure, except when you learn that Nos. 1-10 gain playing privileges on the LPGA Tour for 2023.
Tardy made $17,541 on Sunday, to get to $76,846 for the 2022 season, but that was $1,765 less than Hyo Joon Jang's season earnings. Jang moved up from 11th on the money list at the start of the week to 10th with a T-11 finish (good for $4,409) at the Jones Course at LPGA International in Daytona Beach.
When we say Tardy knows what happens now, it's unfortunately because only two years ago she also finished 11th on the Epson Tour (then called the Symetra Tour) money list. That year she came up $343 short of the coveted 10th spot.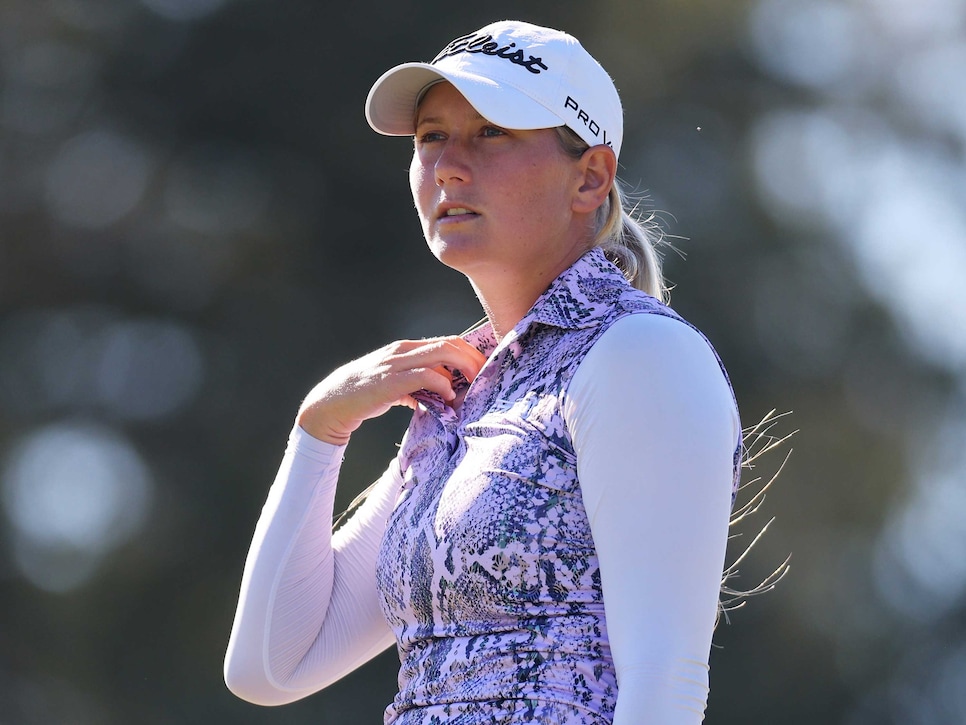 Bailey Tardy made a Sunday charge at the Epson Tour Championship in hopes of locking up a LPGA card for 2023, but finished 11th on the season money list and must now return to LPGA Q Series.
Mike Stobe
There is some solace in the fact Tardy played some fantastic golf on Sunday to even give herself a chance. She made five birdies on the front nine. Bogeys on the 12th and 17th holes slowed things down, but a birdie on 18 allowed her to know she gave it her best shot. She had also entered the week on a roll, having finished second and fourth in her two previous Epson Tour starts. But Tardy has another opportunity to earn her LPGA card. Rather than avoid playing in LPGA Q Series later this fall, Tardy will be in attendance as she hopes to get status on the LPGA Tour for 2023.
Meanwhile, there are some interesting stories among the 10 players who did earn LPGA cards via the Epson Tour money list. Lucy Li is a name familiar to many from her days as an overachieving teen amateur. The 20-year-old had locked up her spot in the top 10 with two Epson wins early in 2022 (ultimately finishing in third place on the money list) and had been getting in some early practice in LPGA events via sponsor's exemptions of late, recording two top-10 finishes.
Linnea Storm led the year-long standings with with $119,190 in earnings. The 25-year-old Swede advanced through the developmental tour previously in 2018 but lost her LPGA card in 2021.
Xiaowen Yin, a 17-year-old from China, finished second on the money list ($118,860) and is the youngest player to earn LPGA status via the Epson Tour.
Gabriella Then, who finished seventh, is a former USGA champion as an amateur. She gave up the game after college at USC in 2019 and was working sales and marketing for a skin care company. After taking a two-year break, she decided to return to the game in 2021.
There might be one player in the field more disappointed than Tardy: Alexa Pano. The 18-year-old former amateur prodigy was 10th on the money list at the start of the week, $1,076 ahead of Jang, but struggled with a 72-75 weekend that had her finish T-58 in the tournament, falling to 13th in the final money list.