News & Tours
Epson Tour announces 2022 schedule, setting multiple purse records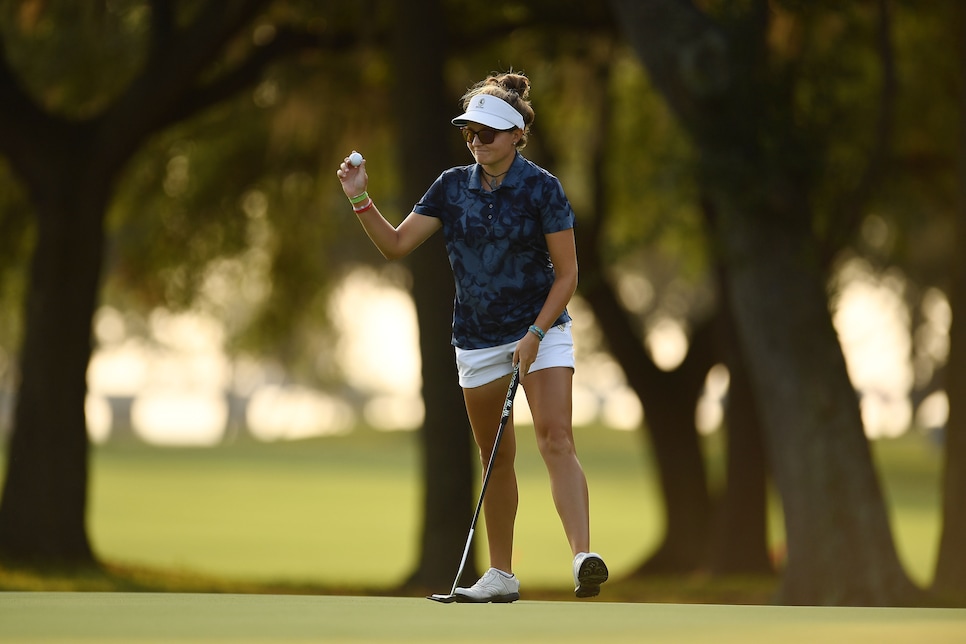 Fatima Cano is the first representative of the Epson Ambassador Program, which is helping players make the transition from the developmental tour to the LPGA>
Stacy Revere
With the new year came a new title sponsor for the LPGA developmental tour. Epson has replaced Symetra, and on Tuesday, officials released the tour's 2022 schedule, making good on a promise of significant purse increases throughout the season.
A total of 21 events are on the new schedule, and not one event has a purse lower than $200,000. The average purse size is $210,000, exceeding the previous highest average purse of $194,000. Players are competing for a total of $4.41 million over the course of the season, bettering the past record for highest season purse total of $4 million.
Perhaps the best example of the financial improvements on the developmental tour comes in the biggest winner's check being offered in 2022. The French Lick Resort Charity Championship has the largest overall purse and will pay out to the winner $50,000. To put that in perspective, in 2013 the No. 1 player on the qualifying tour made $47,283 over the course of the entire season. Players are in a better financial position than they've ever been to compete and fund their dream of making it to the LPGA Tour.
The season wraps up at the Epson Tour Championship, to be played at LPGA International in Daytona Beach, Fla., from Oct. 6-9. At the end of that tournament, the top 10 players on the money list will get LPGA Tour cards for the 2023 season. Those 10 players will also get a $10,000 sponsorship from Epson and the Epson logo on their sleeve for the next year as part of the Epson Tour Ambassador Program. The money is to help ease players' transition to the LPGA Tour. A few players from the 2021 graduating class were also given the $10,000 sponsorship.
"Somebody like me, I'm new to the tour. There's many expenses, everything is new, and for them to support me not just through the Epson Tour but also on to the next level, that's just huge," said Fatima Cano, Epson Tour graduate and the Epson Tour Ambassador Program's first representative.
Florida's Natural Charity Classic
Country Club of Winter Haven, Winter Haven, Fla.
Carlisle Arizona Women's Golf Classic
Longbow Golf Club, Mesa, Arizona
IOA Championship pres. by Morongo Casino Resort & Spa
Morongo Golf Club at Tukwet Canyon (Champions Course), Beaumont, Calif.
Casino Del Sol Golf Classic
Sewailo Golf Club, Tucson
Copper Rock Golf Course, Hurricane, Utah
Garden City Charity Classic
Buffalo Dunes Golf Club, Garden City, Kan.
IOA Golf Classic pres. by RP Funding
Alaqua Country Club, Longwood, Fla.
Inova Mission Inn Championship
Mission Inn Resort (El Campeon), Howey-In-The-Hills, Florida
Carolina Golf Classic pres. by Blue Cross and Blue Shield of N.C.
Kinston Country Club, Kinston, N.C.
Ann Arbor's Road to the LPGA powered by the A2 Sports Commission
Travis Pointe Country Club, Ann Arbor, Mich.
Island Resort Championship
Sweetgrass Golf Club, Harris, Mich.
Twin Bridges Championship
Pinehaven Country Club, Guilderland, N.Y.
FireKeepers Casino Hotel Championship
Battle Creek Country Club, Battle Creek, Mich,
French Lick Resort Charity Championship
The Pete Dye Course at French Lick Resort, French Lick, Ind.
South Bend Country Club, South Bend, Ind.
Circling Raven Championship
Circling Raven Golf Club, Worley, Idaho
Wildhorse Golf Course, Pendleton, Ore.
RTJ Golf Trail at Capitol Hill (Senator Course), Prattville, Ala.
Murphy USA El Dorado Shootout
Mystic Creek Golf Club, El Dorado, Ark.
Ol' Colony Golf Course, Tuscaloosa, Ala.
LPGA International (Jones Course), Daytona Beach, Fla.