The Loop
Els sticking with caddie platoon despite wins
ORLANDO -- Fresh off his second victory in as many starts, Ernie Els planned to fly to Augusta National GC today for a quick refresher and to introduce his caddie to the storied layout before heading to Texas for the Shell Houston Open.
Sure, countryman Ricci Roberts has been to the Masters with Els nearly 20 times, but Roberts, who has caddied for Els in his consecutive victories at the CA Championship and Arnold Palmer, won't be on the bag when Els seeks to attain the one golfing prize he covets more than any other: a green jacket.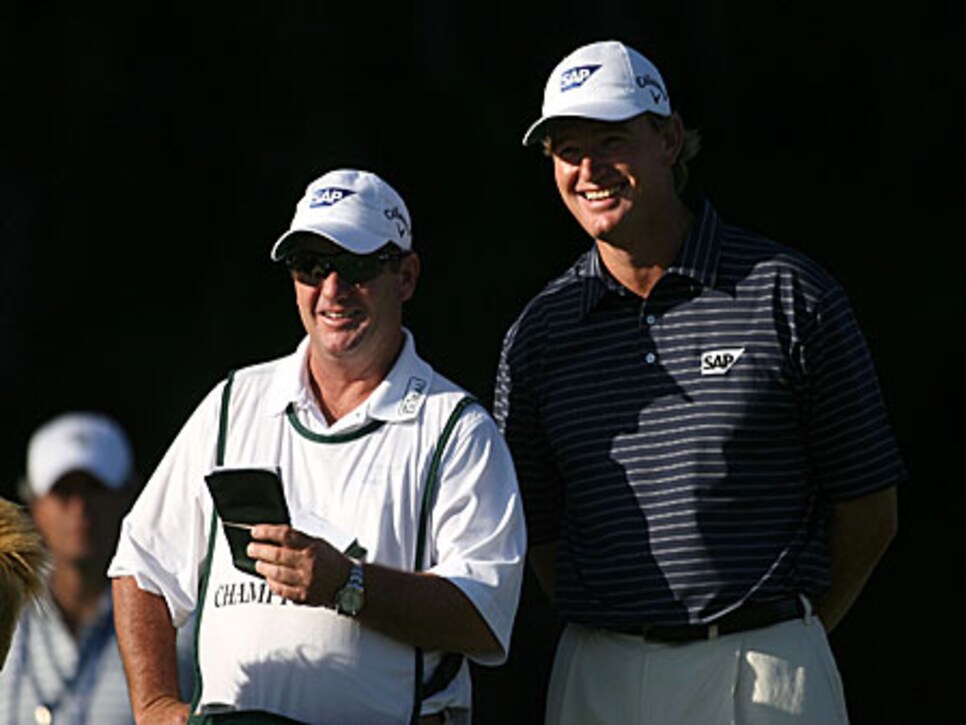 No, former NHL player Dan Quinn, who caddied for Els earlier this year, is getting the call for the year's first major, even though Roberts and Els are clearly on a hot streak.
"Yeah, I'd like to take Dan up there tomorrow and just show him around a little bit," Els said Monday after his nervy two-stroke victory over Kevin Na and Edoardo Molinari at rain-drenched Bay Hill Club. "I've been there so many times. I know a lot of guys said I should take Ricci, but we have made a decision. I've spoken to Ricci and Dan about it, and they are happy, and we'll stick with it."
The rejuvenated Els, who turned 40 in October, has decided to retain his two-caddie system despite his recent success with Roberts. Els made three par-saving putts of 6 feet or longer in the four holes he completed Monday to win his 18th PGA Tour title and move up to No. 7 in the world rankings.
Roberts was a key to Els managing to hang on after he let a five-shot lead through 12 holes Sunday slip away with a double-bogey and bogey on his last two holes before nearly three inches of rain began to douse the Championship Course at Bay Hill Club.
"I just told him this morning to take a couple of deep breaths and stay focused, because remember that you're leading," Roberts said before taking a drag on a cigarette outside the scoring trailer after Els posted a 1-under 71 and 277 total. "He just nodded. He had to remember that he was still two shots in front, with just four holes to go. I told him, 'They have to come and get you. So just make them.' He should have buried them by seven shots, but we still got it done."
Roberts and Quinn split all the earnings between them, but Roberts is up 2-0 in victories and the golfing cognescenti rightfully wonders whether it's wise for Els to switch now.
"You know, I don't think anybody can tell me anything more about Augusta than I already know," the Big Easy argued. "I've had local caddies take me through there. I've had everybody take me through there. So I know exactly where everything goes."
Roberts isn't inclined to disagree with his boss and friend.
"We are rolling; that's one way to look at it," Roberts allowed. "The other way to look at it is that I've been with him [at Augusta] almost every time that he's been there except the odd year or two when we split. Maybe something new might change it. With this other guy, maybe Ernie has to do a little more thinking, and that actually might help him. I don't know. Only time will tell.
"But the decision is made, so what is there left to talk about?"
Roberts said he will be back on the bag two weeks after the Masters when Els travels to an event in Korea, and he expects to work with him through the U.S. Open at Pebble Beach GL.
In the meantime, he'll watch Els from home and collect half of whatever Quinn earns in his two-week stint. Regardless of who is handing Els the clubs, Roberts knows one thing for certain. Els is a changed golfer these days, but not a new man, per se.
"This is how I remember his game back in 2003," Roberts said. "This is how he played, how he putted. If he'd have played like this last year, we'd have won four or five times. It's fun to see. I think this is as good as he's ever been."