Courses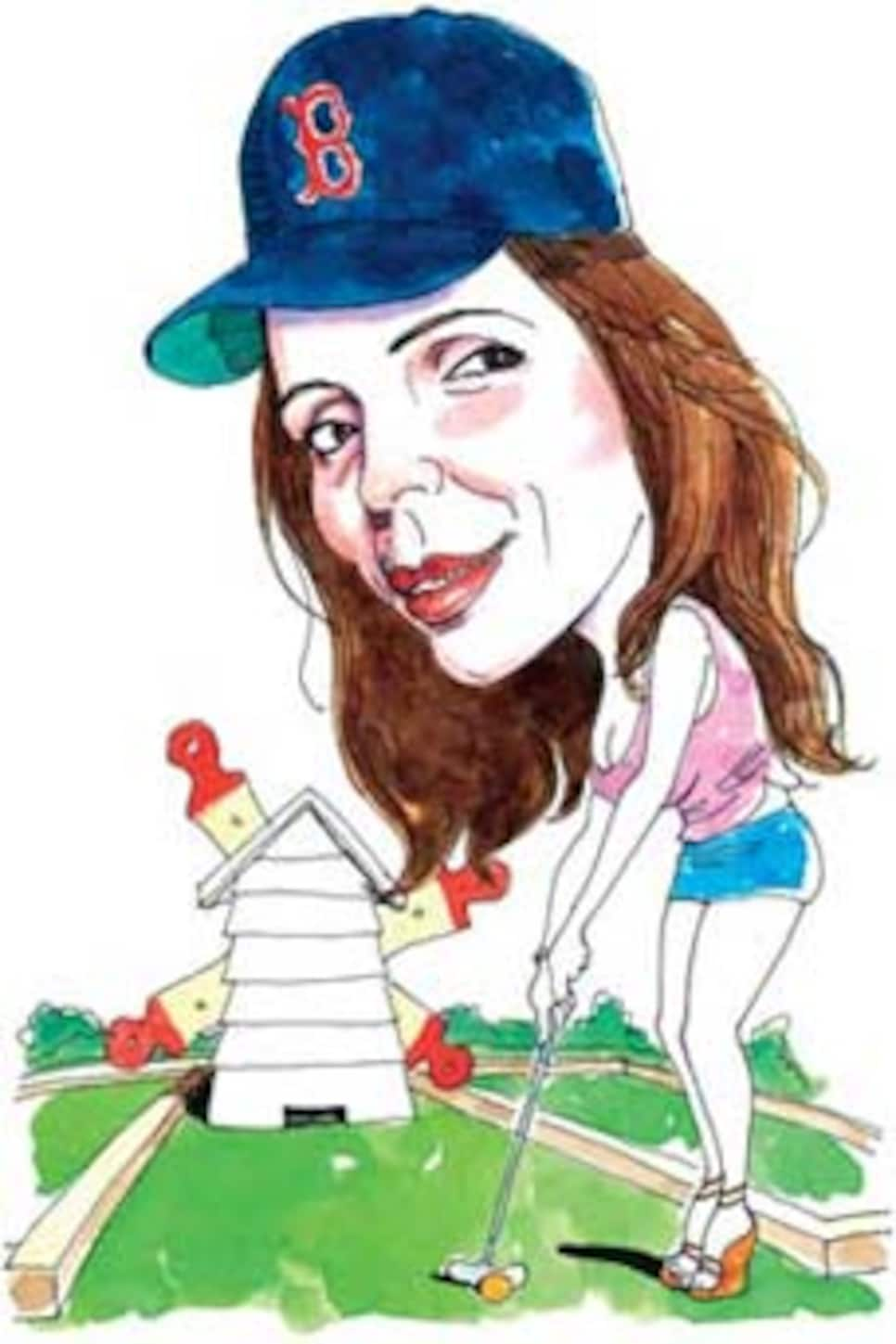 "I can have wild, wild drives and I can have funky drives sometimes, so putting is more my strength," Eliza Dushku says. "And that ties into my roots with mini-golf."
Eliza Dushku, 28, grew up across the street from a country club in Boston, where she admits to a checkered childhood of stealing golf balls and sneaking on the golf course at night. In a recent Q&A, the star of the Fox TV series "Dollhouse," talks about her touch around the greens, her passion for exploring new places, and why she's the last person who should be giving LPGA Tour players fashion advice.
What's your first memory of golf?
As far as I remember because I grew up across the street from a beautiful golf course in Boston -- the Oakley Country Club
. As far as I can remember we had golf balls coming through our windows and into our yard -- beaning people in the head on our back porch. I have three older brothers and we would climb fences and trees and watch golfers, we'd run out and steal golf balls and then run up to the green and try to sell them back to them. We'd ask them their names and then we'd say, 'Wow, it's your lucky day, this golf ball has your initials on it.' Most of the time we'd get chased off. And then I remember at Christmas, when I was about seven, my three brothers and I were all gifted a nice, but novice, set of clubs. And we thought we were pretty fancy. We'd go out at night and play when no one was on the course.
Who's the best golfer in your family? Can you keep up with your brothers?
No. I'd love to say that I could, because I'm a tomboy, and I've always said, 'Anything they can do, I can do better.' But I'd probably say my brother Nate, he was always the natural athlete. My brother Ben is also pretty good.
Do you take golf trips as a family?
It has been awhile. I know this is Golf Digest, so I don't know how much you cover mini-golf, but my family's more inclined to do the mini-golf thing. We have nieces and nephews now and it's a lot easier, and that's the way we did it as kids.
Do you have an established handicap? Are you a member at a course?
I'm not. But my friend and honey is a good golfer.
Your friend and honey... is this Rick Fox?
He golfs. I'm sure I can learn a few things. I like driving ranges as well. From my childhood, and from mini-golf or driving ranges over the years, there's definitely a sort of nice meditation that I experience -- there's a calm and yet a charged focus that I get from golf.
Should I lie and sound cool and say I've shot in the 70s?
I keep it in the 70s. [Laughs]
I had a boyfriend who was a groundskeeper on a golf course and he was quite a golfer. And I remember, at that time, I really followed the game and watched it on TV. I had a phase of being pretty into it.
Will you watch the Masters?
Sometimes. I have to admit -- I don't watch as much golf as I do other sports. It's always awe-inspiring to watch Tiger Woods. I love his story and I love that he blows everyone away.
If Tiger and Phil were in the final paring of the Masters, which one would you root for?
I root for Tiger. I think he's hard not to root for and not to watch.
Are you a better putter or a better driver?
I'm a better putter. I can have wild, wild drives and I can have funky drives sometimes, so putting is more my strength. And that ties into my roots with mini-golf. I have more practice putting.
Tiger was considered a golf prodigy. You got into acting when you were 10 years old. Would you consider yourself an acting prodigy?
I don't know. I sort of had dumb, but great luck. I definitely couldn't sit here and call myself an acting prodigy. I think I was in the right place at the right time and also, I always took direction very well, even though I was one of the most rebellious and precocious and wild children. I could always take direction if I wanted to.
Tiger had a focus and motivation at a young age to be a great golfer. Would you say you had motivation at a young age to be a great actor?
Yes. I had that, too. Honestly, for me, I don't remember it being so much that I was passionate of acting as a craft. But I remember being an unbelievably hard worker, and I loved doing it right, and I loved the satisfaction of having the director and the director of photography happy that I had hit my mark, found my light, and memorized my lines. Again, with three older brothers, I was always competitive. That got me through the early years and as I've gotten older, it has seeped into my bones a little more, but that was my foundation. I'm grateful for that and now I get to play more with my emotions.
Let's take the LPGA for a second. How would you help the image of the LPGA from a fashion perspective?
This tomboy? I'm not one to be giving fashion advice. I'm still learning myself. I'm just starting to have some fun with it. For a couple of years, it has been tell me what to wear, put me in something, and send me out there. So, I couldn't help the LPGA.
Who's in your ideal foursome for one round of golf, dead or alive?
Hands down, my grandfather would be there. My grandfather was a major golf fanatic. I actually don't remember playing with him, but looking back, I'm sure that I did. I would do anything to spend another four or five hours with him anywhere, but it would be fun doing something with him like that, in his element. That would be great. My father would also be there. My father and grandfather golfed together for years. It's tough on the fourth spot because I have three brothers and if I picked one, the other two would be insulted.
Yeah. I'd say bring Tiger -- as long as Rick understands.
Rick might caddie for you?
We would see about that. [Laughs]
Have you ever had a hole-in-one?
In mini-golf? Absolutely.
Let's talk travel now. How do you kill time on a long flight?
I'm good at sleeping on flights. I've mastered all of the tools and comforts of sleeping. From before take-off to after landing, so that's always one option. I also read, and on a plane, it's a good place to not have a distraction of cell phones or have someone in my ear. I get good reading done on flights.
Is there a book you're reading now?
When I travel internationally, I usually have my Lonely Planet to wherever I'm going so I'm studying up on places I will go. I love Lonely Planet. It's a family favorite. They have such great writers. They have fun with all the cities and countries and they have fun recommendations, while also being historical and serious.
What's your favorite place in the world?
I did a film in Australia years ago and I spent three months there. I love Australia and I'd love to go back and dive on the Great Barrier Reef. I was in Iran last year and I wasn't ready to leave. That was a really eye opening and welcoming place to me at the same time. This past year I was in Uganda and I'm looking forward to getting back there. I met so many beautiful, courageous and tenacious people. They're still rebuilding after a long war. The children and the child soldiers that came out of that war are beautiful to be around. I love Africa. My mother is an African-politics professor and she gave us a love for Africa.
When's the last time you flew coach?
I flew JetBlue last month. I have nothing against coach. We were raised flying cargo.
One movie for a long flight?
I'm not the kind of person who watches movies over and over again. Quentin Tarantino's movies are the type that you can catch something new every time you watch them. So I guess I'd say a Tarantino movie.
Give me your best travel advice.
My advice is always to relax and just do it. If you're thinking of going somewhere, just do it. We were raised to land in any country in the world and navigate around as if we were going to live there for a month. We never went to resorts or by way of super planning. My mother sent my brother and I to China for 40 days with $1,000 each and a Lonely Planet guide book, I was 14 and he was 18, and we found our way. We didn't have hotels booked or our trains booked and we went up to inner-Mongolia. It's the exploration and the unknown. Again, Lonely Planet, I'm a big advocate because they include safety precautions. You have to use your head, but if you know the rules and the red zones, you can navigate and have an unbelievable time.
You're a big fan of the Red Sox, and based on the way John Smoltz pitched for you guys, should he turn to golf full-time now?
Oh my gosh, that's a mean one. He was injured. I wish him the best. He really tried. You can't hate someone for being hurt.
You've been on Howard Stern. What's it like going into the belly of that beast? Do you know going in you're going to say things you've only told best friends?
I grew up listening to Howard and I went into it comfortable and confident. You treat Howard with respect and you show up on your toes and you show up ready to answer some difficult and racy questions, but, also, stick to who you are. It was a great time. I love those guys. They were very kind to me and it was one of the most fun interviews I had done in a long time. They were great.
I just checked out your Twitter page. You use phrases such as: "twit-zone," "twitter-tuned," "nitrous-tweeting," "my tweet had been depleted." How many followers do you have? What is this language you're creating?
I signed up and I just sort of started going and I've been told by many people that I speak my own language. Whether I'm sending e-mails or writing texts -- sometimes I get "please clarify," or, "translate." It's whatever is in my head, which can be scary, or it can by rhythmic. It depends on who you ask. I have fun with it. The media is constantly changing, so giving fans some sort of opportunity to walk through your day a little bit, to be a part of it, that's fun for them and fun for me. I'm amazed there really aren't a lot of haters. I've never received a hate-tweet. You can go on some of the other web engines and people say despicable things just for the sake of saying them. My Twitter followers are my homies. I think I have 70,000 right now, which is insane, and fun to me. Right now, I'm in a good tweet place.
Rank these four cities: Los Angeles, New York, Chicago and Boston.
Man... Boston is my favorite. Anything else I say I'm going to alienate an entire city. I'm going to say Boston is number one and LA, New York and Chicago are all in a tie.
That's ridiculous. Howard Stern would not let you off with that answer.
I would think, being a Boston fan, you'd put New York in last place.
No way. I have mad love for NY. I have mad love for Chicago and LA, too. I did a movie in Chicago -- Chi-town is fun. I remember hustling some cops when I was 18 in a pool game at a bar. I remember winning the officer's Chicago P.D. bomber jacket -- I still have it.
So I shouldn't play you in pool.
Apparently I'm a shark. I didn't know it at the time. I think I was so nervous they'd find out I was underage so I played like my life was dependent on it.
So you play well under pressure?
Good luck with Dollhouse, season two.
Thank you. We're having so much fun. We're shooting HD this year, the writers are unleashed, the tone and the stories are richer and darker…
Racier -- no doubt. Most people are going to be on board.
A three-foot putt for your life: Do you putt it, or do you ask Tiger to putt it for you?
I don't want my life in anyone else's hands but my own. I'd take it. I'd have a big resentment in the afterlife and I don't need that. [Laughs]
I'll see you on a putt-putt course in the near future.
Let's do it my man, let's do it.