The Loop
Eight surreal moments from Tiger Woods' weird Wednesday arrival at the PGA
LOUISVILLE, Ky. -- It was the closest the PGA Championship will ever get to its own Bronco chase. The media mob awaiting Tiger Woods' arrival in Valhalla's parking lot for a 2 p.m. practice round suggested the four-time champion was planning to play this week.
And it only got stranger from there.
For those not watching live on Golf Channel as the normally monotonous practice-round coverage turned into a dream TV spectacle, I give you the eight weirdest things about Tiger's wacky Wednesday arrival:
-- The same guy who could barely get out of Firestone on his own two legs Sunday drove himself into the Valhalla parking lot, got out of the car and opened the trunk to reveal . . . an Ogio travel bag? The Stanford-logoed piece included no fluorescent "HEAVY" tags, so we can rule out Tiger flying through O'Hare to get to Louisville. The travel bag did confirm, however, that Tiger does not keep his golf bag and buddy Frank the headcover in the G5's cabin, but instead slips a cover over to ensure his beloved headcover does not get cold.
-- Rickie Fowler photobombed the mob as it watched Tiger unpack his car.
-- Tiger put on his shoes in the parking lot, including the right shoe with just one hand. Quite adventurous for a man who could barely take off his shoes upon withdrawing Sunday.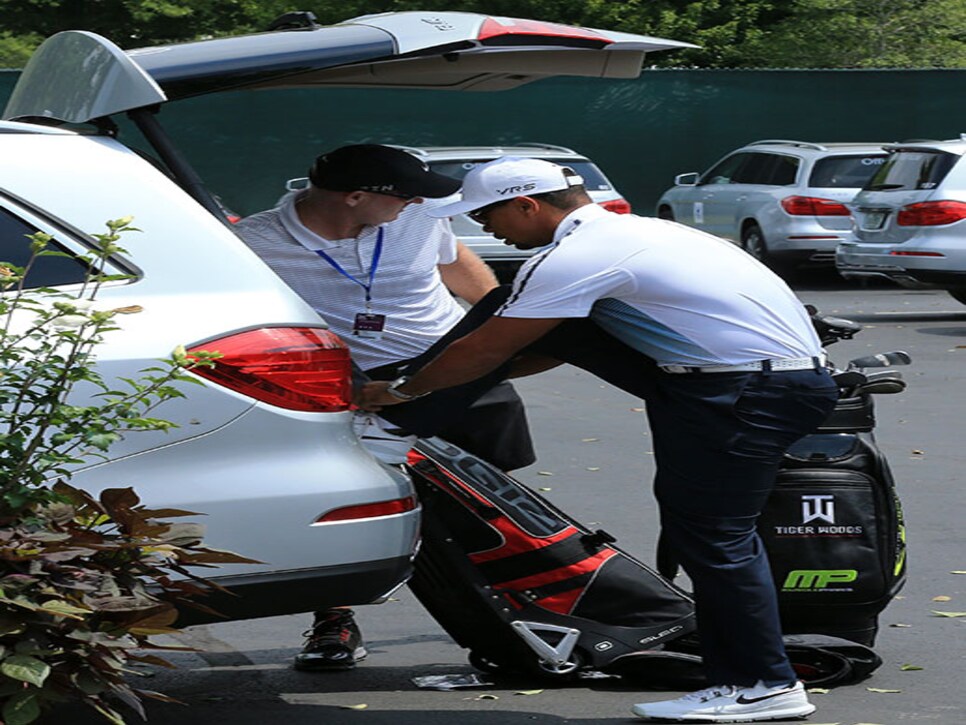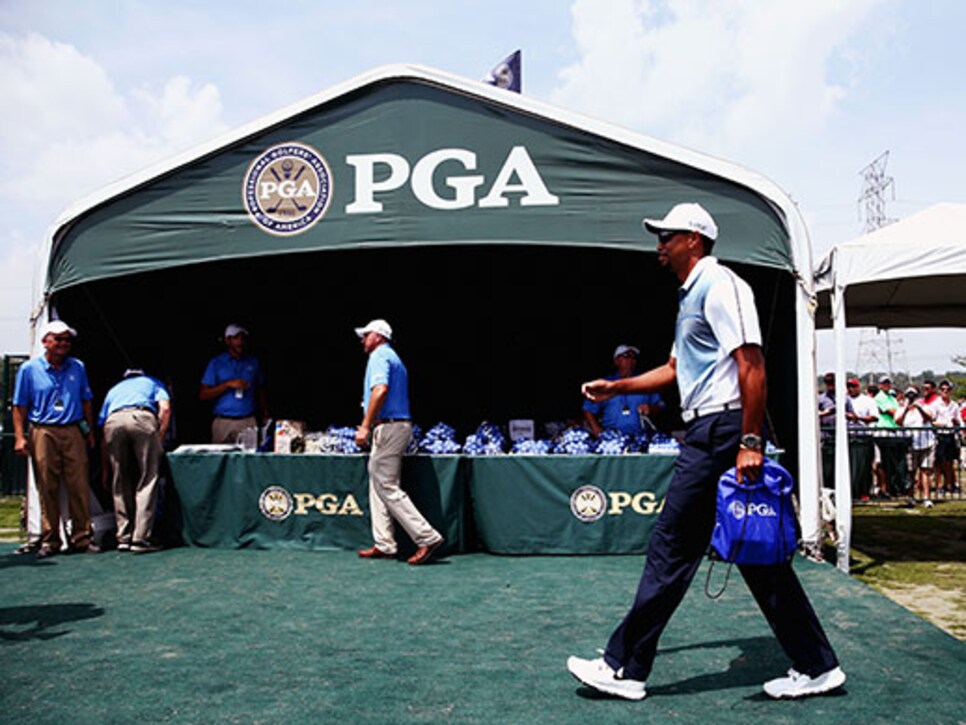 -- He arrived at the driving range and never stretched in any significant way or appeared to attempt to loosen up the "jammed" back that "spasmed" on him Sunday. It's warm here in Louisville, but not that warm.
-- Before he could hit two sand-wedge shots, Sean Foley was already talking to Tiger about the swing, emulating some sort of left-hand-leading-the-club-forward motion. Folsey, let the man warm up before filling him with thoughts! Unless of course you two have been working on his swing at a secret, undisclosed location! Do tell!
-- Tiger is sporting a goatee. He's never won a major with a goatee.
-- Tiger teed up all of his own drivers as a huge crowd looked on, then bent over and picked up tees and, in general, exhibited no apparent concern for re-injuring his back.
And off he went to the first tee. To be continued…