News
Did Jordan Spieth Blow His Grand Slam Chances?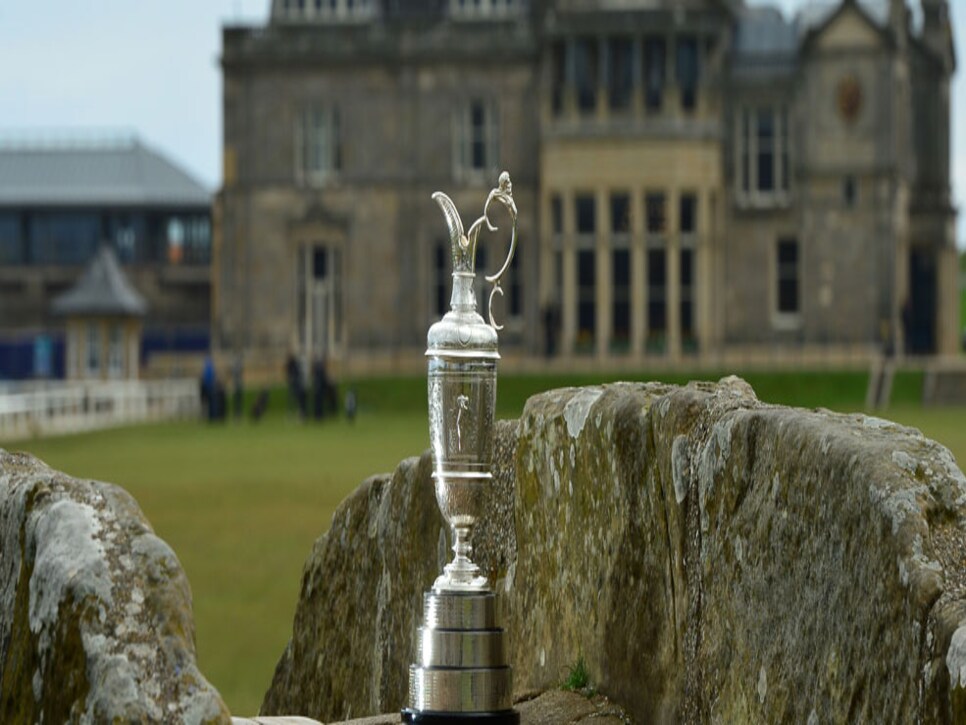 Who will leave St. Andrews with the claret jug?
Sam Weinman, Digital Editor, GolfDigest.com: Welcome, everyone, to a special GolfDigest.com British Open roundtable, where our esteemed panel looks to touch on some of the many story lines in advance of next week's Open at the Old Course.
There's a lot to cover, so we'll get right to it, starting with the fact that the defending champion and World No. 1 will not be in the field.
Rory McIlroy blows out an ankle playing soccer. Is this bad luck or reckless hubris?
Jaime Diaz, Editor-in-Chief, Golf World: Mostly bad luck, with a touch of recklessness. Seems like in previous eras, tour players gave up some of the sports from their youth more willingly, deciding there was just too much to lose. There used to an annual softball game at the BC Open that caddies almost all played in, but very few players would participate.
In this era, seems like there's more of a determination to live a full life and not let golf get so important that it takes away from happiness. Maybe it's a Millennial thing (says the old guy), or maybe it's today's top young pros having more money and pretty much being set for life.
Ryan Herrington, Deputy Editor, GolfDigest.com: I lean more toward bad luck. It wasn't like Rory went skydiving or was doing something particularly dangerous. He could have just as easily tripped on the stairs. If I have a mild wince on this, it's the timing. He's in the heart of his season. A year ago at this time, he was starting the most impressive run of his career. Now, he's on the sidelines.
Joel Beall, Assistant Editor, GolfDigest.com: Bad luck, in the sense that he is a soccer fan.
This wasn't Aaron Boone blowing his knee out during a full-court basketball game. Dude was in the backyard kicking a ball with his buds.
A host of tour players are avid skiers in the offseason, and most guys have an arduous workout routine. I'd say those endeavors are more hazardous than Rory's incident.
Besides, the only person Rory is accountable to is himself. If golf was a team sport, he should be more cautious with his body, but tour players are independent contractors. He is his own boss.
Alex Myers, Associate Editor, GolfDigest.com: I'll lean on the side of being an old man too. If you're not a pro, playing any sport other than golf over the age of 25 is reckless. I stopped playing pickup basketball around then and my livelihood doesn't revolve around being in top physical condition.
Of course, a typical Rory workout is probably more hazardous than kicking a soccer ball around with friends -- not to mention trying to reel in a 300-pound shark like Jordan Spieth last week -- but nine days before the Open, I'd expect the World No. 1 and defending champ to be a bit more careful. It's unfortunate he won't be at St. Andrews and that his absence will unfairly cloud whoever wins.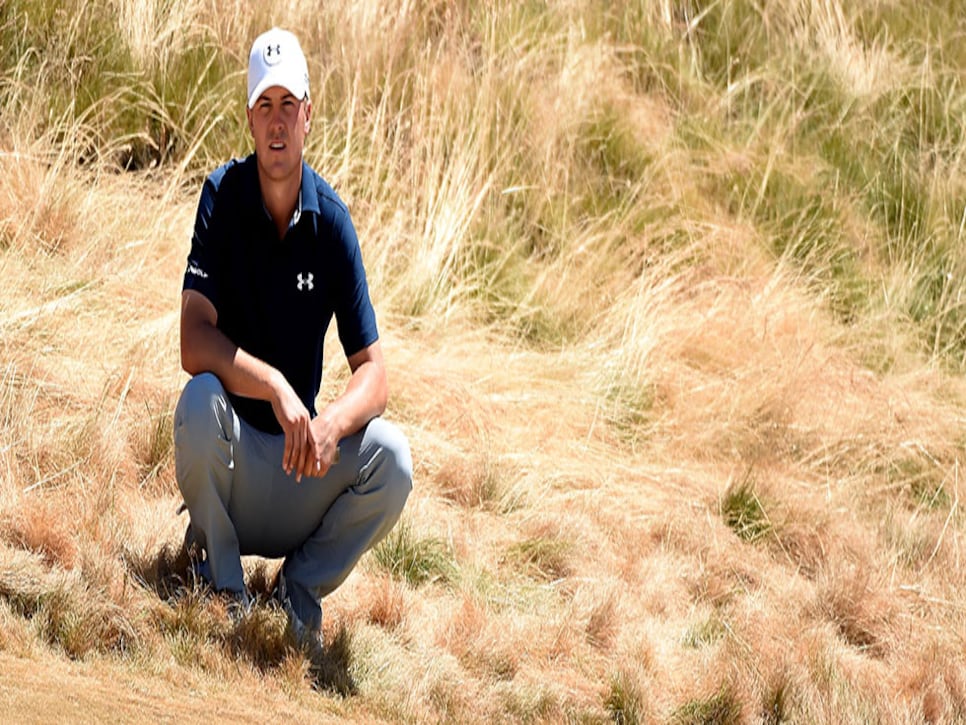 Weinman: I'm not sure I agree that his absence will detract from who wins. Maybe I'd feel differently if Rory was in the midst of one of his Tiger-like unbeatable runs, but whoever wins this week will still have to beat 155 other guys.
Which is a great segue into Jordan Spieth, who as we know won't be at St. Andrews until after he plays in the John Deere Classic. I'm of the belief this is a bit overblown since everyone prepares differently, but do we feel like Spieth is already hindering his chances by not showing up earlier?
Myers: Not at all. The guy has a fancy simulator in his house! He's probably "played" the Old Course more than Old Tom Morris ever did.
The problem, like you mentioned, is beating 155 guys, which is no small task. The great Nate Silver said Spieth's win probability rose 33 percent with McIlroy out of the field. That's good news for Jordan.
The bad? Silver gives him just about a 10 percent chance of winning each of the year's final two majors, and a 1.1 percent chance of winning both and completing the calendar Grand Slam.
Diaz: In an ideal situation, I think Spieth would have gone to St. Andrews earlier, or maybe even taken a week long Scottish links tour with his dad and Michael Greller, similar to what Mark O'Meara and Tiger Woods used to do.
However, Spieth's personal debt to the John Deere Classic is deep, and it's admirable that he is honoring it. You get the feeling the kid has a conscience, and if he had pulled out of the Deere, it would have bothered him and undermined his chances at St. Andrews.
Beall: The time difference can be like running into a brick wall, but it's not like Spieth is flying commercial with a three-hour layover at LaGuardia.
We hold athletes to ridiculously-high standards. Instead of grilling this kid for staying true to his word, we should be celebrating it.
If he throws up an 80 in the first round, we can circle back to this discussion. Until then, it's an inordinate and unnecessary amount of heat for a speculative premise.
Herrington: Here's where I'm going to sound like the old guy, but I think Spieth should have politely told the John Deere folks that he couldn't make it this year. They would have understood, and he can repay his debt to them many times over in the years to come being a multiple major winner who actually plays in the Quad Cities.
But I just think this circumstance is so unique -- only five guys have ever won the first two legs of the Grand Slam -- that anything that potentially could help improve his chances of winning the claret jug has to be done.
Beall: There's been a lot of "I know I sound like an old guy" prefaces. You fellas know you ARE old, right?
Weinman: Of course, they always say one way to diffuse the pressure of big events is to downplay their significance, and in a way, Spieth pulling out of the John Deere would signal to his brain, "THIS IS A REALLY BIG DEAL." Not sure that helps.
Given all that, is anyone curious to see how Spieth fares if he's even near the lead on Sunday? When would the magnitude of this thing start to register?
Myers: I think it will start the minute he shows up at St. Andrews. Spieth has been the center of attention before, but nothing like this, especially with Rory out and Tiger being almost an afterthought at this point. As good as Spieth is, he showed he's still vulnerable under pressure with that ugly double bogey on the 71st hole at Chambers Bay. Yes, he recovered by birdieing the par-5 18th, but had Dustin Johnson wound up winning, the narrative surrounding Spieth would be a lot different.
Diaz: He's a truly great competitor -- it's probably his best attribute -- but Spieth wouldn't be immune to leaking some oil. Seems on Sunday at majors, the two times when players are most vulnerable to the enormity of the moment are the beginning and end of the round. It's odd that in the two big tournaments in which Spieth has lost the lead on Sunday -- the 2014 Masters and 2014 Players -- he got shaky in the middle of the round.
However, if I had to pick someone in golf right now to make six-footers down the stretch, it would be Spieth.
Beall: The severity of the task at hand will rear its head on the Road Hole. Illustrated in past Open scores at the Old Course, St. Andrews is not the most difficult of layouts. Yet many a championship aspiration has vanished at the 17th. Circumventing the Road Hole will be imperative to Spieth's Grand Slam chances.
Herrington: I agree that there will be a unique pressure on him the moment he arrives, but it won't really ramp up until he finds himself in contention over the weekend. Then the pressure will increase exponentially. And, interestingly, I think that Spieth can handle that pressure, or at least handle it as best as any current player right now.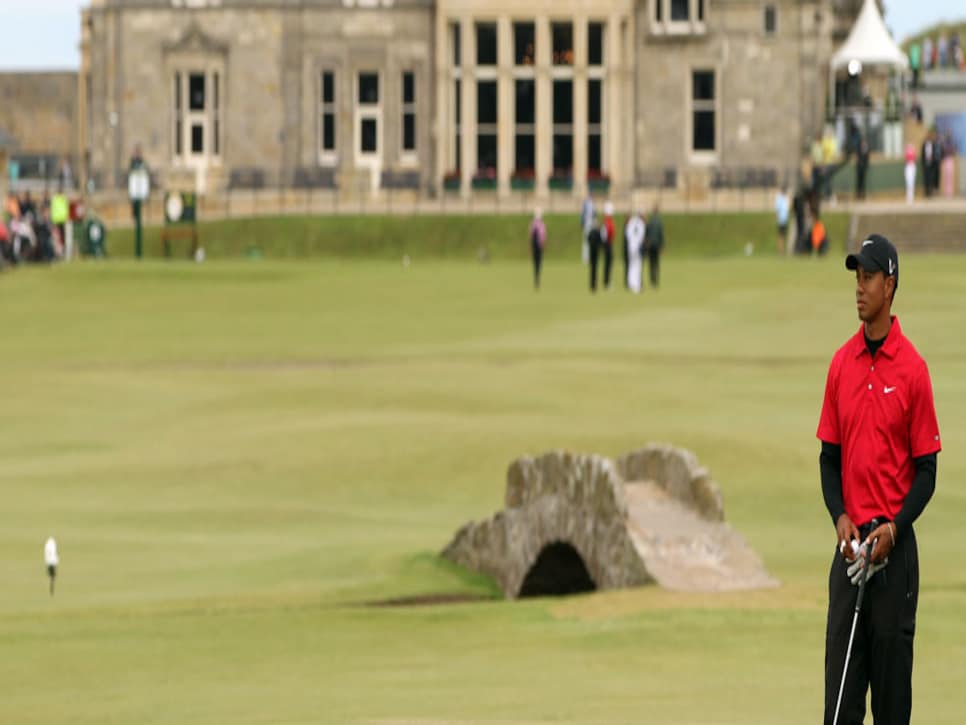 Weinman: Well, as we know the last guy to be in the position Spieth finds himself in was Tiger Woods in 2002 (segue alert!). Guys, I'm admittedly mystified by his last tournament. How much do we read into the fact that Tiger shot three rounds in 60s and actually looked halfway decent?
Diaz: Well, it was a relatively easy course, and very soft, which effectively made the fairways and greens easier to hit. That said, I thought Tiger leading the field in proximity to the hole on his approaches was striking.
Here's the thing with Tiger: if "it" -- that quality of mind and execution that made him so special -- somehow clicks on, then he's dangerous again.
Myers: It's sad we're getting excited about Tiger finishing T-32 at second-tier events, but let's get excited! It should be noted that Tiger also led the field in strokes gained on his approach shots last week. In other words, his iron game is on point.
Everything else, though, remains a mess.
Beall: Jaime mentioned the mental aspect of Tiger's game. Woods has stated that St. Andrews is his favorite venue in the world, which one would think aids his fortitude. Coupled with two previous Open wins at the Old Course, his confidence should be riding high.
St. Andrews' wide-open confines give Tiger a chance, and I don't think his putting woes are as bad as believed. Moreover, the Old Course's greens, set up to receive a pitch from the soil rather than the sky, may negate his chipping yips.
By no means am I circling him as a top-five contender, but Woods has a viable shot.
Herrington: How scary is it that we're questioning Tiger's ability to mentally handle a moment?
While Greenbrier is a very positive step for Woods, he needs to have a few more of them before I'm sold that he's making real progress. If anything, I could see being back there and him not having the same game that won for him in 2000 and 2005 becoming a huge point of frustration. When you just knew you could do no wrong at a place and now suddenly doing right is difficult, I can't imagine what that will do to him . . . wait for it . . . mentally.
Weinman: I'm starting to feel that Tiger is destined for a David Duval at Bethpage-type return to golf, which is to say he contends in and maybe wins another major mostly on muscle memory, then falls back to earth. I have nothing to base this on, of course. Just a hunch. OK, guys, last question: if it's not Tiger or Spieth, who's winning this thing?
Diaz: I don't think Dustin Johnson was broken at Chambers Bay. Honestly believe what happened will make him more determined. There's a strong feeling among the people around Johnson -- and most importantly DJ himself -- that it's him who's actually the best player in the game.
The other guy who intrigues me is Adam Scott, just because Steve Williams is on his bag as he was at Chambers Bay, where Scott closed with 64. Adam is a different player with Steve, and St. Andrews will inspire both of them.
Myers: I was going to pick DJ, but with Jaime taking him, I'll go with the guy who won this event by seven shots the last time it was played at St. Andrews, Louis Oosthuizen. The South African shot a combined 14-under in his two rounds at the Old Course at the Alfred Dunhill Links last year, showing he hasn't lost his touch at the Home of Golf. Oh, and that back-nine 29 on Sunday at Chambers Bay wasn't too shabby, either.
Beall: Rickie Fowler. He's not coming in hot, with his debacle at Chambers Bay and a missed cut at Memorial, but he's got the short game to make some magic happen.
Herrington: I'm going off the grid, so to speak, with my pick and taking Paul Casey. He's quietly had six top-10s this year, including a T-6 at the Masters. He just missed winning at the Travelers last month. He was in the final group on Sunday at St. Andrews in 2010 and while that didn't go his way, I think it's a course he seems familiar and comfortable with. Maybe we'll have an Oosthuizen-Casey rematch come Sunday! Not sure that's what the crowds will really be calling for, but could be interesting.
Weinman: Calling it a Oosthuizen-Casey "rematch" is a bit charitable to Casey, given Oosthuizen's runaway, but OK. I hear you. As for my pick, do I dare be so bold to pick Sergio? Sure, why not? He's played solid in majors this year, made a run in last year's Open, and it would be a dramatic venue for his long-awaited first major. I don't really think this is going to happen, by the way, but it'd be cool if it did.