The Loop
How He Hooked That: Bubba's gap-wedge slinger
*Editor's Note: Every Monday Kevin Hinton, Director of Instruction at Piping Rock Club in Locust Valley, N.Y. and one of Golf Digest's Best Young Teachers, tells you how a tour player hits a key shot. This week Kevin analyzes how Masters Champion Bubba Watson dramatically hooked a gap wedge from the right trees onto the 10th green in the second playoff hole. Of course, he two-putted for par to defeat Louis Oosthuizen and win his first major. Check out the two photos below, just for the sheer pleasure, then take note of Kevin's instructional points. **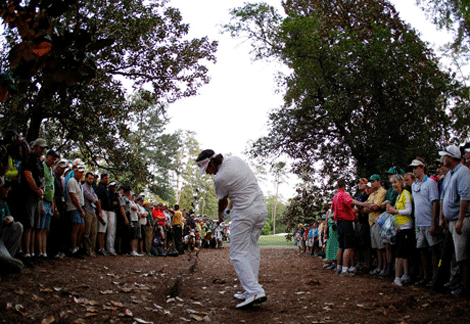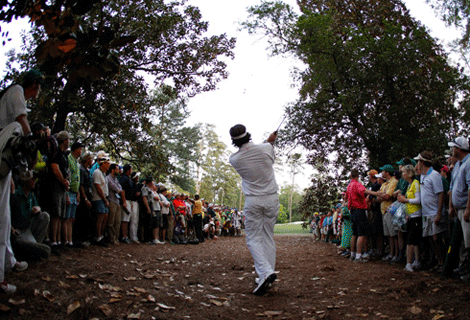 (Photos by Streeter Lecka/Getty Images)
Bubba's mind-bending hook on the second playoff hole of the Masters will go down as one of the most memorable shots in the tournament's history. If you somehow missed it, Bubba had 155 yards to the hole and was completely blocked out by trees. He simply stood up in nonchalant Bubba fashion, saw his shot shape as defined by the gallery positioned on both sides back to the fairway, then slung-hooked a gap wedge with 40 yards of curve to within 15 feet, solidifying the green jacket and his first major championship. Here are a few thoughts from Bubba when he really needs to hook the ball.
__1.Swing in to out and really focus on forearm rotation. Bubba wants his hands and forearms fast through impact, and as a lefty, he really focuses on whipping his left forearm over his right.
Here are four more ideas to consider when trying to hit a big draw...
What made Bubba's shot even more impressive is that his ball was lying on pine straw. The more interference you have between the ball and the clubface, the more difficult it is to predict the amount the ball will curve. This "buffer," be it pine straw, rough, or anything else, prevents the grooves of the club from making flush contact with the ball, thus making the flight more difficult to control. If you find yourself needing to hit a big curve and your ball is sitting in this situation, the sound advice would be to simply punch out back to the fairway. That is, of course, unless you can bend it like Bubba.
A passive body is essential to hit a big hook. Focusing on slowing your hip and torso rotation through impact will cause your hands and arms to "pass" your body, allowing the clubface to close. When Bubba is hooking it the most, you'll notice his body is quiet and has not fully rotated.
You can't get a golf ball to curve significantly by swinging slowly. The ball simply will not react enough to the impact conditions, especially with today's balls__
that don't spin as much. If you need to hit a big hook, it's better to take less club and apply more speed, specifically hand and arm speed. You'll find it easier to get the ball to curve more. The players who can curve the ball the most are typically the players with the most clubhead speed. Bubba, Tiger and Phil are prime examples.
Bubba is alluding to this when he says, "The farther I can start the ball away from the target, the easier it is to bend it back." If you're trying to get better at working the ball, start by hitting big curves. If you learn to hit 15- 20-yard hooks or slices in practice, you can lessen it pretty easily when needed. Bigger shapes are easier to visualize. *