Editor's Letter: The Kid and His Coach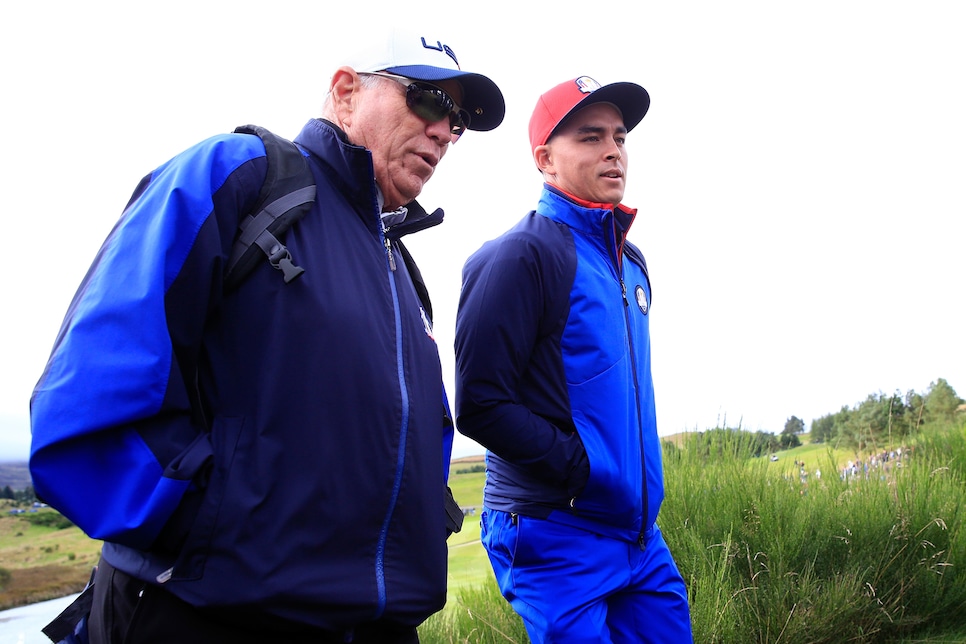 Jamie Squire/Getty Images
We started working with Greg Norman in 1992 and brought him back to No. 1 in the world by 1994. He started working with Tiger Woods in 1993 and took him to No. 1 in the world in 1997. He started working with Phil Mickelson in 2007 and helped him revive his career with 12 more PGA Tour victories, including a Masters and a British Open.
In late 2013, Butch Harmon started working with Rickie Fowler, the young kid who looked so promising after winning the 2012 Wells Fargo but couldn't repeat. Rickie picks it up from there: "I first met Butch playing with Phil in those [high-stakes] games Tuesdays on tour. Butch was easy to be around, fun, a great guy to hang with. So much history. I liked listening to the stories of his dad [1948 Masters champion Claude Harmon]. You know those stories—they usually involved Claude poking his finger into Butch's chest.
"I felt like I was getting the most out of my swing, but even though I'd won on tour, my swing had kind of maxed out. I wanted to become the best golfer I could be. I first hit with Butch for about two hours after missing the cut at Muirfield [in the 2013 British Open]. I hit a few, told him what was going on; he asked my caddie, Joe [Skovron], where the misses were. Butch said I was getting in the proper positions, but it felt forced to me. I knew it was going to be a process. We made it official at the end of the year.
"We now have a routine. I typically fly into Las Vegas in the morning, stop and get a burrito for us on the way to his school at Rio Secco, and we work until midafternoon. I hit balls outside, then we go inside and video my swing, then back outside—lots of rituals. When another tour pro is there, like Jimmy Walker, we make it a competition and hit to yardages. We work hard, but it's fun. Butch tells his random stories to keep us loose, make his points. Usually I stay on the Strip, so I go back to my hotel and get cleaned up for dinner with Butch, then sometimes we play blackjack. And get after it again the next morning."
It seems like a combination of hanging with Butch and playing the money games with Phil began to transform Rickie into a different player. He finished in the top five in all four majors in 2014, then won the 2015 Players Championship in heroic fashion (making three 2s on the 17th hole on Sunday), the Scottish Open and the Deutsche Bank in the season-ending playoffs. His driving distance and putting in the clutch have been prodigious.
"I'm feeling more comfort-able taking it to the next level, knowing I can handle it when I need to," Fowler says. "I can look back and remember the moments to draw upon."
What is it that makes Butch such a successful coach? "For one thing," Fowler says, "he's not going to suck up to anyone. He'll tell you how it is. He'll say to me, 'That's terrible! You need to work on this.' He's great around people, but he's the kind of guy who tells you the truth all the time. He's not a faker. He says he's not politically correct, but he's politically consistent. Hang out with us on the range a couple of days and you'll see why Butch deserves to be in the Hall of Fame."
Which brings us to the point that's so blatantly obvious. In the World Golf Hall of Fame, there are some acclaimed golf teachers like Paul Runyan and Tommy Armour, but they were inducted on their playing merits. Only Harvey Penick got in on his credentials as a teacher—a deserved honor, but he shouldn't be the only one.
In a poll of his peers by Golf Digest, Butch Harmon was first ranked America's No. 1 teaching pro in 2001 and has repeated as No. 1 in the biennial survey every time since—extending his lead to its largest this year at age 72 (See ranking, "The 50 Best Teachers In America"). He has taught at least eight Hall of Famers (Norman, Mickelson, Seve Ballesteros, Tom Watson, Nick Faldo, Ernie Els, Jose Maria Olazabal and Fred Couples) and one inevitable (Woods). Butch's success with Rickie is just the latest exhibit.
I think it's fair to say Butch is not only today's greatest teacher, but there's growing evidence he's the greatest of all time. His induction into the Hall of Fame seems inevitable.
TOP-10 TEACHERS BY TOUR-PRO VOTE