Jordan Draining Putts on Demand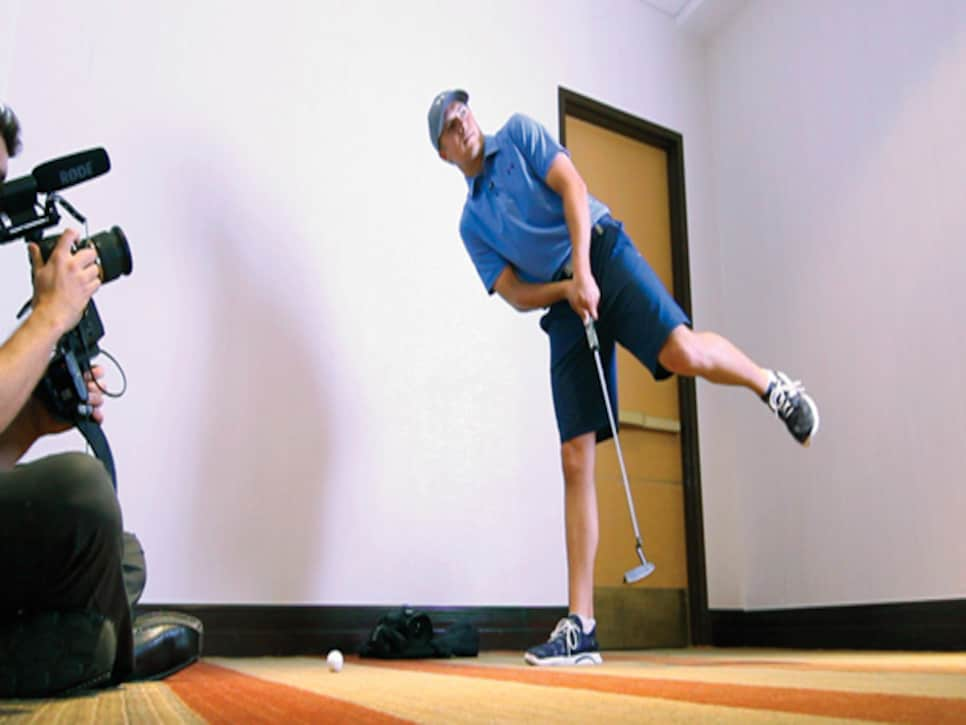 HE'S GOT GAME: Spieth took on our pop-culture quiz—and a putting test.
VOICE FROM OFF CAMERA: "Jennifer Lawrence or Scarlett Johansson?"
JORDAN SPIETH: "Scarlett Johansson"
Spieth just posed for our cover story this month and is doing a video for GolfDigest.com. His longest putt made all year on the PGA Tour is 45 feet, so we've put a highball glass about 90 feet down the hallway of the Sawgrass Marriott the week of the Players Championship. To disrupt his concentration, we're giving him a pop-culture quiz while he putts.
His first practice putt almost hits the lip of the glass. Honest. Really, I'm not kidding.
VOICE: "'The Hangover' or 'Anchorman'?"
SPIETH: "That's so tough. I gotta go 'Anchorman.' ... although I would take 'The Hangover II' or 'III' over 'Anchorman 2.' "
Golf Digest's newest Playing Editor hits a handful of putts with the video rolling but keeps sliding the ball millimeters by the glass, reacting with an aw-shucks body language that has vaulted the Masters champion to "Head of the Class" (see Jaime Diaz's story
VOICE: "Taylor Swift or Led Zeppelin?"
SPIETH, INSTANTLY: "Led Zeppelin. Don't know why I paused there." (He didn't.)
Finally, Jordan says in frustration: "Move the cup like that much to the left." There's an imperfection in the carpet, maybe a lump or something, that keeps kicking the ball to the left midway down the 90 feet. So the glass is moved one inch to the left.
He putts another. Down the banquet-hall carpet it trundles. Rolling, rolling, then turning slightly. Bang! Right in the jar. Jordan makes the sweet smile that just melts the heart of my college-age daughters and the rest of America, for that matter. You get a glimpse in this video of what makes Jordan so special.
VOICE: *"Chipotle or ... "
(The voice was going to say, "In-N-Out Burger," but Jordan answers immediately.)*
SPIETH: "Chipotle ... if I had to pick one the rest of my life."
The camera stops rolling, but Jordan keeps putting. He's getting a kick out of this. He slides three more putts past the glass, but then, bang-bang-bang! He hits it three times in a row. From 90 feet!
Video is a big part of what multimedia Golf Digest does these days. Many of the articles in the magazine have video versions on GolfDigest.com, in our digital tablet edition or on the Golf Digest Video Channel. All those tips from Butch, Hank, Watson and Foley have accompanying video lessons.
VOICE: "Steph Curry or LeBron James?"
). She's a comedian, actress, bartender and social-media rock star with 884,000 subscribers on YouTube. She's doing a series of videos on the do's and don'ts of drinking on the course. I just tried her cocktail with tea-infused tequila and lemonade on the rocks.
An Arnold Palmer never tasted so good.
We're also doing a topical video series called "The Waggle," with British pro Mark Crossfield, who just passed the 60-million-views mark. "There's too much stiffness and stuck-up golfers around the world, and I love challenging them," he says.
Senior Writer Guy Yocom interviews Williams at his farm 20 miles north of Auckland, New Zealand's largest city.
Yocom reports: "Williams' house is airy and spotless, with no evidence of a life in golf anywhere. Not one photo or signed flag, nothing. The lack of sentimentality is remarkable. Can you imagine having no interest in the game at all, given his experiences and maybe being the best caddie who ever lived?"
VOICE: "Tom Brady or Tony Romo?"
SPIETH, WITH A PAINED LOOK ON HIS FACE: "I will get in trouble if I answer that question. Either way. Both friends. Brady in the Super Bowl. Romo this year in the Super Bowl."
My favorite new videos are a series of high-definition, high-speed swing analyses of players, done in partnership with the PGA Tour. Among the first on the site, Golf Digest teacher David Leadbetter analyzes Jordan's swing:
"Look at that balance into the finish. It's a calm swing. It's a swing that doesn't get out of pace or rhythm..." Just like the man.
VOICE: "Golf Digest or ..."
BEFORE AN ALTERNATIVE COULD BE SAID, SPIETH, WITH EMPHASIS: *"Golf Digest." *
Honest. Really, no kidding.