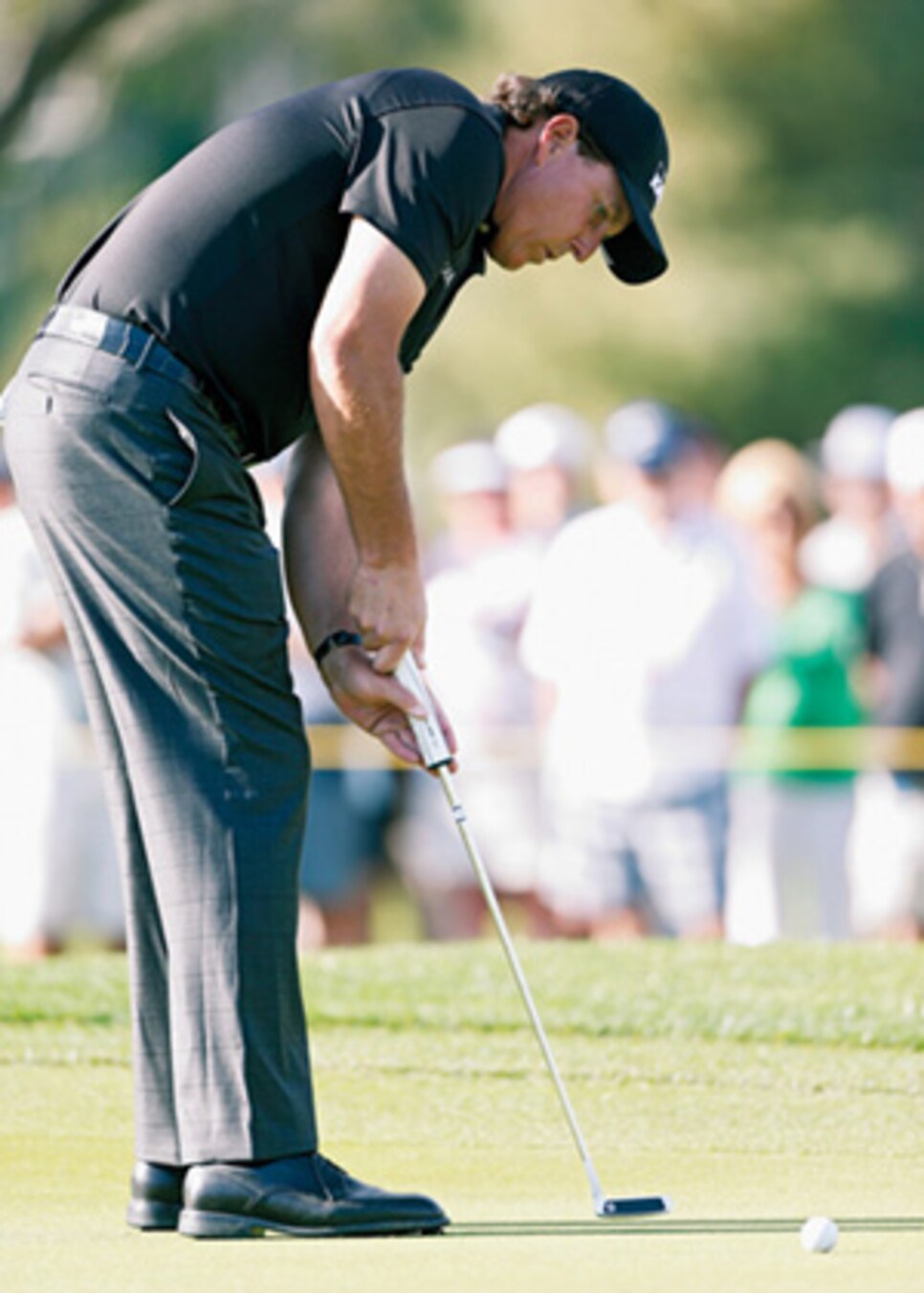 To claw or not to claw? That's the question for Phil Mickelson.
Early in the year, I like to catch up on the PGA Tour and play some golf out West for a couple of long weekends, if only to shake my Yankee cobwebs. Who knew you're allowed to check your email on a smartphone without getting tackled in the clubhouse? I saw live music on the practice range, gym shorts on the course and hats worn indoors while eating (a double negative).
My first trip was to the Madison Club in La Quinta, Calif., where I played with Phil Mickelson, who never looked so good. He'd lost about 15 pounds. For the first time ever I thought he resembled an athlete. Phil said he went gluten-free last year and sugar-free this year. His life is in balance, and he's even been able to reduce his arthritis meds.
At age 44, Phil probably has only a couple of years left for winning majors, but don't be surprised if he's a factor this summer. He spouted all the science on Callaway's new low-compression Chrome Soft ball and why a hack at 90 miles per hour (me) should play the same ball as a 115-mph pro (him). Lefty is never short on statistics, and it was fascinating to hear his latest putting revelation. He said he always considered himself a good long putter, but his weakness was short putting. Over the winter break, he practiced 1,000 putts from varying distances with coach Dave Pelz, and they determined that under six feet he makes 91 percent of putts using the claw grip and only 71 percent putting conventionally. "Twenty percent is a serious differential," he said, so his plan this year was to go conventional on long putts and claw anything under six feet. Before I could type the previous sentence, Tim Rosaforte sent Phil a text asking if he was sticking with the claw, and Phil texted back one word: "No." Sounds like golf.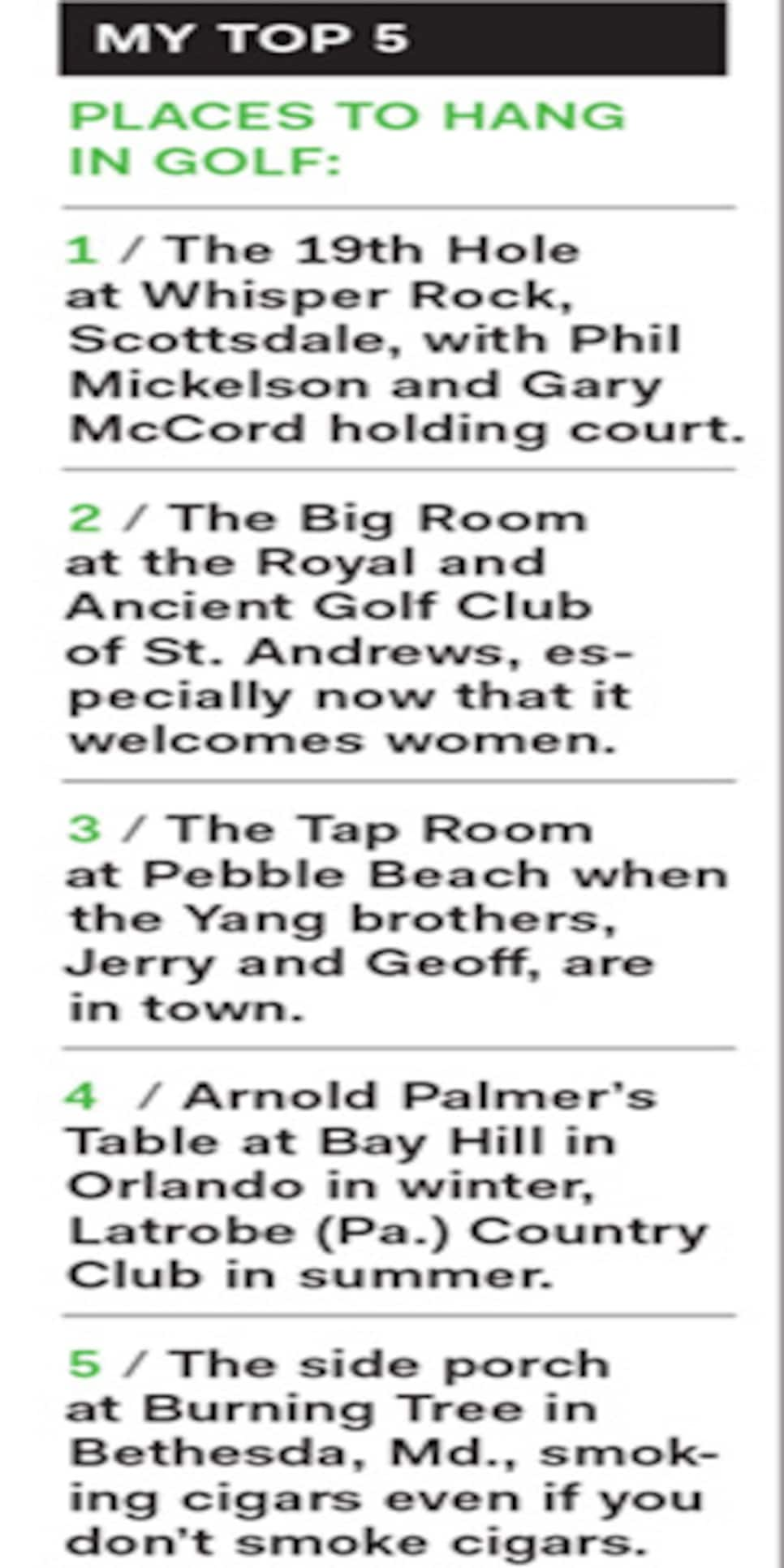 I played one day with Harry Styles of the British band One Direction, and the next day with Justin Thomas, who both rank with__Jordan Spieth__ in the 21-and-Awesome Category, according to my kids. Earlier we'd watched Mickelson and Keegan Bradley trash-talk each other at a driving contest (Phil won). Justin said in barely a stage whisper, "I'm longer than both of them, but I didn't want to get in the way." At 143 pounds and averaging over 303 yards, he's the longest driver pound-for-pound on the PGA Tour. "It makes no sense why I hit it as far as I do," Justin says. If he makes the Masters field, he'll be my dark-horse pick.
Where we played, the Madison Club, is solidly in the 1 percentile of America's Greatest, but the on-course food is even more impressive. Founder Mike Meldman of Discovery Land Co. and music mogul Irving Azoff realized when they took up golf that the game was a bit slow and they were hungry, so every four holes there's a Comfort Station with Kobe sliders, fish tacos, Meldman's brand of Casamigos Tequila frosties, dozens of exotic fruits and, well, you get the picture. If you stand over the ball long enough, you'll be served a three-course meal. Tommy Armour III called it "a five-pound round." My only disappointment was to learn that you're no longer met on the 18th green with a root-beer float. Instead, you choose between peach- or mint-scented hot towels to freshen up before entering the clubhouse. I played in a sixsome, or maybe it was a sevensome, with Jerry Weintraub, the movie producer who belongs to Royal Dornoch, and__Andy Garcia__, who's making a movie about__Ernest Hemingway__. When I stopped at a red light on the way to the course,Phil Knight jogged by my car. Are there no ordinary people in California?
The next week while the pros were at the Waste Management Phoenix Open next door, we got rained out at Whisper Rock in Scottsdale. Kind of a Casablanca line: "I came to the desert for the waters." All sorts of Mickelsons, Brandt Snedekers and Brandel Chamblees were hanging out there. I noticed Phil was a plus-8 on the handicap sheet in the locker room.
That's when I took my annual golf lesson from the World's Greatest Teacher You Probably Don't Know, Shelby Futch, at his Orange Tree Golf Club nearby. Shelby is a champion aerobatic pilot and owner of a gaggle of public courses in Arizona.
He told me to strengthen my left grip by holding the club more in my fingers than in the palm and rotating my left forearm on the backswing, slowly. Then keep my head centered as I turn through. My forward swing should feel as if the club is facing the sky all the way around to the left, like__Lee Trevino__. And he said to practice-swing with the clubhead about a foot above the ball. Best lesson I ever got. The results were immediate: higher trajectory with more snap. Hold on. Rosaforte is texting me.