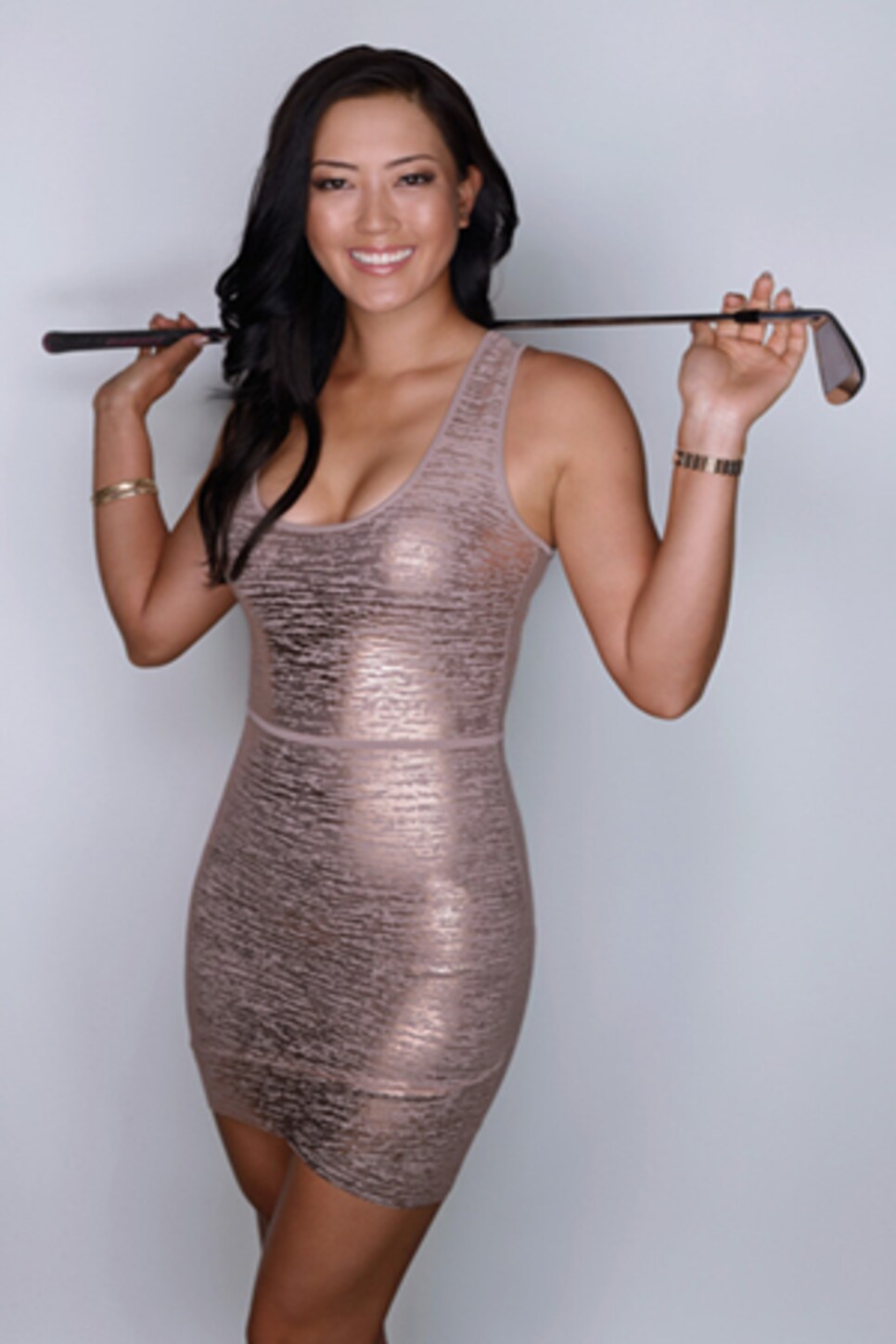 First, let me dispense with the details of this historic Golf Digest cover, although I might point out that Rory McIlroy wasn't wearing a shirt on last month's cover, either. (No, not a trend--just a sign of the fitness of today's top players.)
I was not there. Lexi Thompson's mother, Judy, was. The editors had cleared the room during what were called the delicate moments. But Lexi wasn't the least bit self-conscious. When our Photographer-at-Large, Walter Iooss Jr., a veteran of 43 years of Sports Illustrated Swimsuit issues, began working with Lexi, someone asked Judy if she was OK with the shoot. Mom's response was, "I am, but her middle brother won't be!" That's Curtis, the protective one, who attended LSU and plays the PGA Tour Canada.
Otherwise it was a pretty easy-going, drama-free shoot, all due to the confidence and self-assurance of our cover subject. As the saying goes, she looks like she can kick your butt and then kick your butt, which she did in a GolfDigest.com video series this month boxing with our interviewer while he peppered her with questions.
We've come a long way from a year ago when the LPGA condemned our choice of Paulina Gretzky (and Holly Sonders in 2013) as the cover images for Golf Digest's annual fitness issue. Mea culpa, ladies. You can have stunning beauty and the highest level of golf performance at the same time, as demonstrated this year by Lexi, Stacy Lewis, Cheyenne Woods and Michelle Wie (pictured): Have you ever seen anyone more fit in evening wear?
LPGA players not only outdrive the average guy by 20-plus yards, but they do it with the same clubhead speed we have. We can learn more from them not because they swing like us, but because we should swing like them. They don't just muscle the ball and make up for swing flaws with strength. And our whole staff concurs:
Associate Editor Steve Hennessey says, "You only have to spend five minutes on an LPGA range to recognize they hit the ball better than anybody you know on a first-name basis."
"The average LPGA player out-works and out-exercises the average PGA Tour player, because they have to," says Assistant Editor Keely Levins.
What else can we learn? Deputy Editor Max Adler, author of the cover story, says: "Have the audacity to put golf in perspective and go out on top, like Lorena Ochoa. Treat your fellow tour players like siblings, and life will be more fun. The sorority of the LPGA Tour puts the fraternity of the PGA Tour to shame. And don't be afraid to play the forward tees, even if you're really good."
Senior Writer Ron Sirak says: "I've probably seen Annika Sorenstam hit more shots in competition than either of her husbands, and I can say this: She won 72 times and was not able to work the ball either way and was an average putter. But she hit the straight ball better than anyone, and her swing repeated like Hogan's. And she forgot about poor shots or missed putts immediately and focused on the next shot."
Says Senior Writer Guy Yocom; "I haven't heard an LPGA player drop an F-bomb on TV in 20 years. And yet, they manage to get round the course."
PLAY LIKE A GIRL has become our new mantra for many reasons, including the one Max cites in the cover story. LPGA pros hit up on their drives about 3 degrees, maximizing distance instead of hitting ever so slightly downward--1 degree--like PGA Tour pros who are going more for accuracy. One exception is bomber Bubba Watson, who usually swings up at the ball. Bubba plays like a girl? Good advice, if you ask us.