News
Want to play Augusta National? With Bobby Jones? In 1934?
The closest thing to a time machine that golfers will ever experience comes not in a phone-booth-size contraption that H.G. Wells envisioned but in a phone-book-size box with images of Bobby Jones and Bubba Watson on the cover. It's the latest video golf game by EA Sports, called "Tiger Woods PGA Tour 14: The Masters Historic Edition."
It's another special edition of EA's hugely popular Tiger Woods game franchise, which dates to 1999. The first Masters edition was introduced in 2011. The 2012 edition, which sold almost one million copies, included an interactive experience of every hole at Augusta National, the new practice facility and the nine-hole Par-3 Course, all of which are reprised in the 2013 version.
The new wrinkle this time? Besides virtually teeing it up using today's juiced-up clubs and balls in a make-believe Masters against computerized likenesses of Rory McIlroy and Keegan Bradley on a fully up-to-date video version of Augusta National, you can, if you choose, don plus fours, arm yourself with brassie and niblick and play in the first Masters, which occurred in late March 1934.
This wacky idea was conceived independently by producer Sean Wilson of Electronic Arts and the video game's fans at Augusta National Golf Club, mainly digital-technology manager Will Armstrong and other club officials. When Wilson casually suggested the idea, Augusta National quickly embraced it, both sides believing it would help educate gamers and golfers on the evolution of golf and the heritage of the Masters.
But the idea posed a dilemma. When EA Sports re-creates a golf course for a video game, it scours the actual course with a laser scanner and uses the data to create a computer model of the real thing. It couldn't do that with vintage Augusta National, because that course no longer exists: Its tees have been relocated, many of its greens re-contoured, most of its bunkers reshaped.
EA had plenty of data on present-day Augusta National. A few years ago, its environmental modeler, Shannon Yates, spent 10 days mapping the entire course, taking 360-degree scans of everything inside the fence lines, covering 150 yards with each scan, to produce data accurate to one-quarter inch. Last summer, Yates returned to re-scan the 11th and 14th greens, which had been rebuilt for this year's Masters, to detect any minute alterations in their contours.
Armstrong and Steve Ethun, Augusta National's director of communications, immersed themselves in a six-month dig through the club's archives, looking for any and all photographs and plans that reflected what the original Alister Mackenzie-Bobby Jones design looked like in 1934.
EA's golf team is comparable in size to a team of specialists needed to create an actual golf-course design; besides Wilson and Yates it includes executive producer Brent Nielsen, art director Peyton Duncan, senior environmental modeler Jeff Martin, environmental artist Dante Duphorne, lead designer Mike DeVault and lead interface designer Matt Butler. Last fall, that team remolded its Augusta National to reflect the historic material Ethun and Armstrong had provided. In other words, they rolled back time.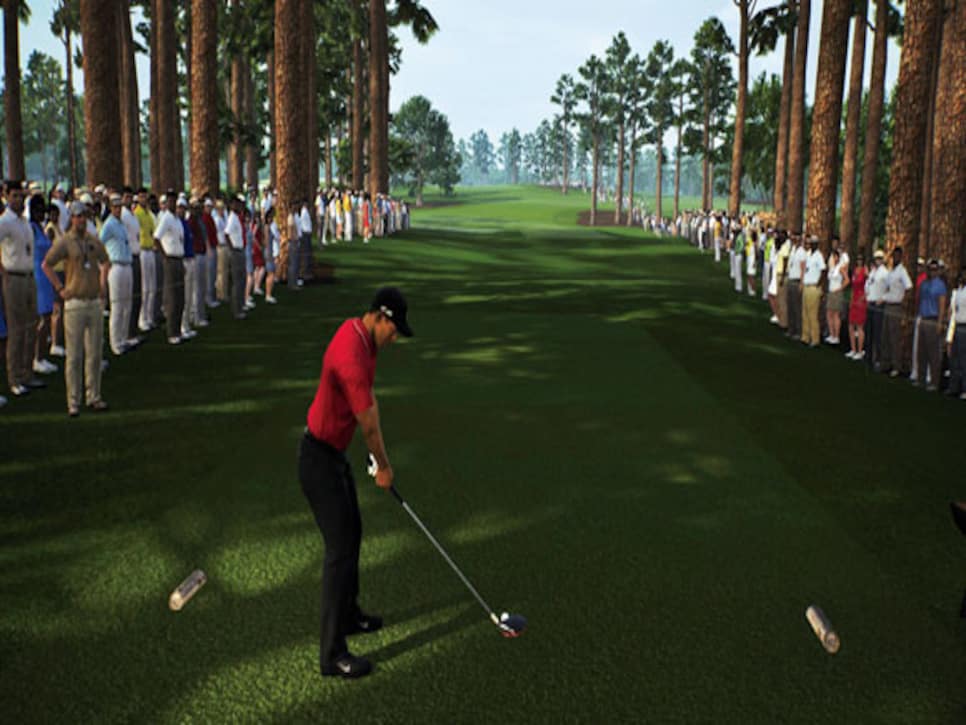 Still, Ethun was uncertain of the result. "It's all about authenticity," he says. "We want this to really represent the look of the course and the tournament back then, not just an approximation."
So he invited a couple of golf historians to review the vintage version while it was still in development: David Owen, veteran Golf Digest contributing editor and author of the 1999 classic, The Making of the Masters: Clifford Roberts, Augusta National, and Golf's Most Prestigious Tournament, and me, Golf Digest's architecture editor for the past quarter century and longtime investigator of Augusta National's design. I first wrote a piece detailing changes to the course in 1983 and most recently produced a hole-by-hole, change-by-change review for Golf Digest's iPad edition in 2011, including 95 hole diagrams.
We were there as judges, scrutinizing an engineered version of Augusta National on a wall-size video screen to decide if that's how the course would have appeared to contestants and spectators at the first Masters.
We toured each hole, starting with the first, which is now the par-4 10th. (The nines were reversed after the first Masters.) Wilson took the control, equipped a Bobby Jones avatar with a hickory-shaft driver and smacked a tee shot down the fairway some 310 yards. "Stop right there," Ethun said. "That never would have happened in 1934."
Owen agreed: "Balls never flew that far in the air, and Augusta National was one of the first clubs that irrigated its fairways. Players never got much roll on tee shots. Plus, the height of cut was much higher than today. Augusta National played very long back then, longer than those players were used to."
I gently disagreed, citing the fact that Byron Nelson repeatedly reached the green of the seventh hole, then 340 yards (on the bounce, not the fly), in the 1937 Masters, which resulted in the green's relocation atop a hill that summer.
But Owen's point was that long drives were a rarity back then, not the norm, so EA's team agreed to adjust the carry and roll for vintage play. (Surprisingly easily done, because the game has five modes of play: amateur, pro, tour pro, tournament and full-bore simulation. A 240-yard drive, typical of a 1934 pro, is common in the amateur mode.) We continued down 1934's first hole (a reminder: now the 10th), which rolled down some hills and around a corner to a punch-bowl green, tucked to the right and below a sentinel bunker. In 1937, the green would be moved 60 yards back, atop a hill. The bunker remains where it always was, today sitting forlornly in a no-man's land, too far from the tee to be a factor on the drive (although Tom Weiskopf once drove into it) and too far from the present green to be a factor on the approach.
In 1934, that bunker was very near the green but, we insisted, was elevated considerably more above the putting surface than portrayed on the screen. Digging through a raft of digital images we'd brought along, we found one shot of the old hole taken from the right-hand rough. It showed the bunker looming like a volcano above the putting surface. EA agreed to make the necessary change.
GETTING THE GALLERY RIGHT
Still, we weren't satisfied. Owen questioned the position of spectators, standing back left of the green, as if, from that position, they'd be able to get a head start in their rush to the next tee. But in 1934, the next tee was to the right of the green, not left of it. We examined an old postcard showing that green--a rare image of the hole--and discovered the footpath for players leading to the next tee. It was back left of the green, so maybe some fans would have congregated there. But it didn't offer much of a vantage point to watch play. In the end, EA decided to position most spectators along a hillside on the right of the green.
The spectators' garb, incidentally, is period authentic, too. Men in coats and ties, wearing hats--not caps--and women in long dresses. Part of the fascination of the game is how EA's technicians give spectators different expressions and reactions, depending upon the outcome of the shot. If you look closely, you'll see certain avatars replicated, but enough spectators have enough individual personalities that it appears to be a real crowd. Which raised the question: Just how many spectators would have attended the first Masters? No head count was ever published, but it was our opinion that because this was Bobby Jones' first appearance as a competitor since his retirement in 1930, there would have been plenty of fans on hand.
As we virtually stood on the tee of the second hole (now the par-4 11th), Owen noted that the image was displaying far too much manicured rough. Rough had no irrigation back in those days, he pointed out. It wasn't overseeded. It wasn't mowed every day. It was far more clumpy and patchy, with spots of bare dirt apparent even in old aerials. I then jumped in on the topic of mowing patterns. "The fairways depicted are far too curvaceous to be 1934," I said. "Fairways were mowed mostly in straight lines, with tractors and reel mowers, down one side, up the other side, producing the classic half-shiny, half-dull look."
Greens were hand-mowed, I added. We discussed for a time whether Augusta's greens had collars in 1934. After examining several photos, we decided the ring visible around each green was simply a "clean-up cut" mowed around the perimeter, not a collar mowed at a higher cut. Clubs couldn't afford separate collar mowers back then. We're not sure if collar mowers even existed in those days.
NO ANSWER TO THE STIMP SECRET
That led to a discussion of the height of cut on the greens. The Stimpmeter had yet to be invented. (It would be introduced in 1937.) Our educated guess was that Augusta's overseeded greens would have been very grainy during the first Masters, putting fast downhill and down grain, but exceedingly slow uphill and into the grain. Adjustments were made by EA's developers, and the greens on the screen soon putted true to form. Wilson put his silky 21st-century stroke on a 30-foot putt, but the ball didn't get halfway to the hole before it stopped. Welcome to 1934 conditions.
It was during this discussion I thought I'd finally crack Augusta's biggest secret. "What Stimpmeter speed did you ask them to produce for the modern-day version?" I asked Ethun and Armstrong. They grinned and replied that they'd simply asked Marsh Benson, the club's senior director of golf course and grounds, to review the putting speed on the game. He observed a few putts and recommended they be just a bit faster. But no Stimpmeter readings were revealed. I'm now wondering if we can create a virtual stimp to use on the game.
We spent a day and a half in a screening room, called The Observatory, on the third floor of EA's headquarters in Orlando, inspecting every vintage hole from the tee, from behind the green, and from the fairway, rotating our view to look across other holes as well. We meticulously examined a variety of images of early Augusta National with the intensity that Defense Department officials surely gave to aerial photos during the Cuban missile crisis. No detail was too trivial. Armstrong, for instance, caught the fact that the tops of the clubhouse chimneys in the game were slightly different from what they were in 1934, so that was fixed.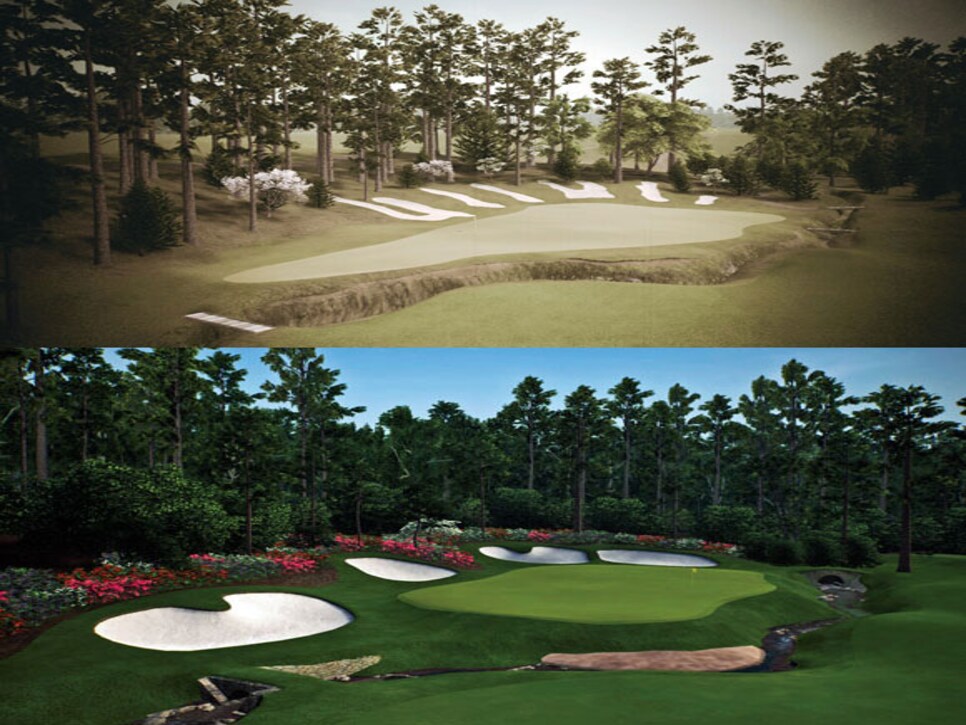 NOW ON THE TEE: A PINE TREE?
After admiring how well EA had captured the shockingly skinny front portion of the green for the 1934 version of the 13th hole (now the par-3 fourth), we noticed that a digital artist had stuck a pine tree on the tee box. He did so because an early hole diagram showed the tree positioned there. That couldn't be, could it? We flipped through our computer file until we found an early, faded photo and, sure enough, there's a pine tree protruding from the right half of the tee, maybe 10 feet tall, clearly planted. Its purpose and its fate pose new mysteries for us to solve.
The immaturity of the trees on vintage Augusta surprises everyone, even Jack Nicklaus. He was given a preview of the game a few months ago, and when the group got to the sixth hole (now the par-5 15th) he saw three little Christmas trees to the left of the fairway. "That's not right," he said. "Those should be tall pines." No, he was told, that's how small they were in 1934. They'd just been planted. Same with the Eisenhower Tree on the eighth (now the par-4 17th), which wouldn't be given that nickname for another 20 years. It is an astonishingly stubby pine on the video game, just as it was in real life. In 1934, every golfer could aim at it and work a fade over it. (Years later, the growing tree and Ike's slice didn't get along.)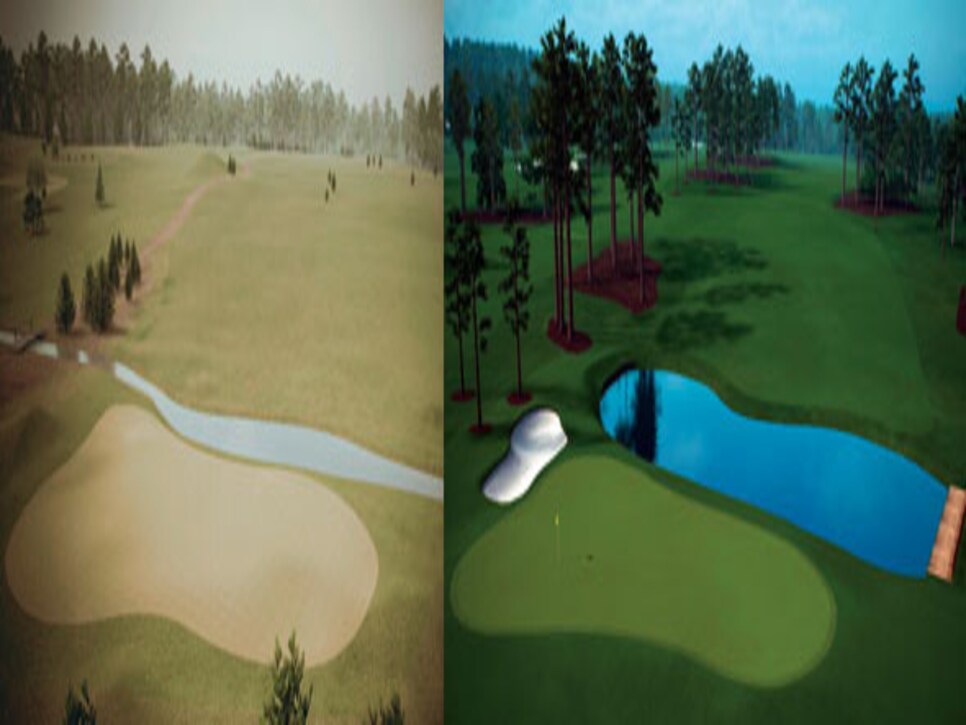 TONING DOWN MACKENZIE'S GREENS
We became vexed by the contours of the 15th green (now the par-3 sixth), described by several accounts as containing "elephant mounds" which were later, by other accounts, softened or removed. Ethun and Armstrong could find only one close-up photo of the hole from that era, a view from the tee of what appears to be an unfinished green, with no flagstick. The contours, even the shape and size of the green, were indistinct. We discussed possibilities for nearly an hour. It was late in the day, so we broke for dinner. Afterward, we dug some more and found three other views of the same hole (including a small photo in Owen's book) plus a couple of early diagrams. Slowly, we were able to piece together an accurate depiction of the green, its dimensions and shape, and the location of the mounds within it.
If anything, Mackenzie's original greens contained even more exaggerated contours than found at Augusta today. That was his style. A few years after Mackenzie's death (two months before the first Masters), his associate Perry Maxwell was hired to reduce the severity of several greens.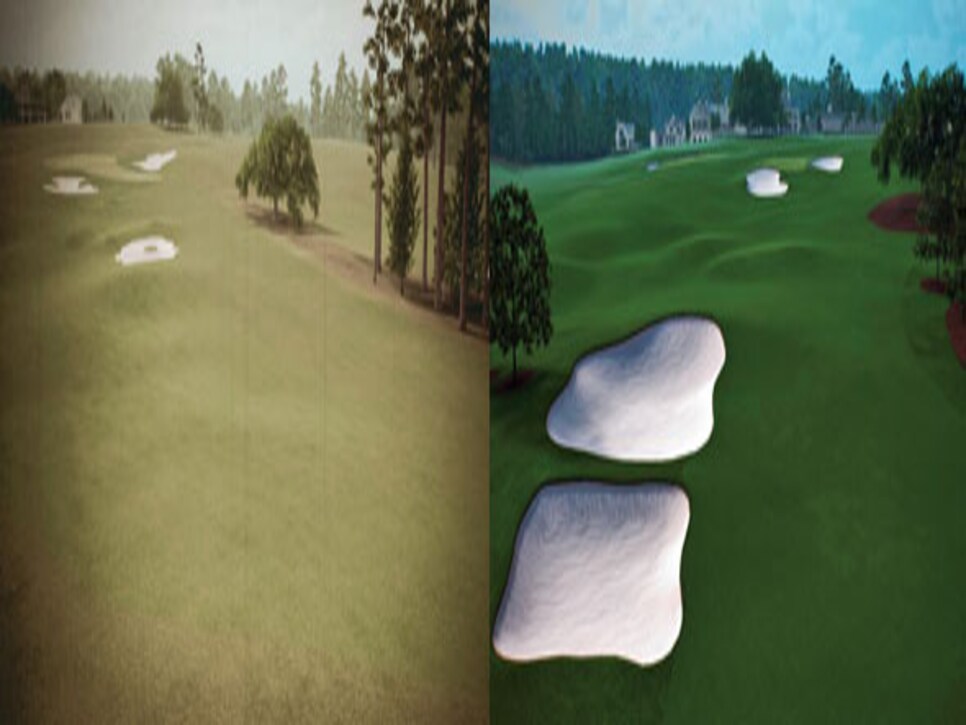 The finished version of the game has but two minor flaws. There's too much water in Rae's Creek (it was just a trickle in the 1934 Masters), and the dam beneath the footbridge on 15 is shown as vertical boards, when they should be horizontal. Overall, the game is a joyous joystick nudge back in time. What had faded to distant memories in dusty history books has been retrieved with vivid realism.
Having said that, I wouldn't want the real Augusta National Golf Club to be rebuilt to replicate the 1934 version. After seeing vintage Augusta, I suspect all but the most stubborn of design purists will feel the same way. Experiencing Augusta in its earliest form, with primitive golf equipment, should remind all of us just how much golf has advanced in the past 79 years and how much better it has become. It'll be fun to go back to the past for a visit now and then, but there's no reason to stay there.
AND IF YOU WANT TO PLAY THE U.S. OPEN ...
Augusta National Golf Club's agreement in 2010 to participate in a Masters video game clearly opened new doors for EA Sports. It has since licensed the other three majors. No longer must players compete in a mythical United States Golf Championship when they plug in the Tiger Woods PGA Tour game. They can now tee it up in the U.S. Open. They can also play online with up to 24 other players and trash talk with them through headsets. The game even has a real-time aspect, so if an American is competing on a course against someone in China, one or the other will be playing the course at night, by moonlight. (Spoiler alert: Night-time golf is not available at Augusta National. But you can make it windy or rainy at Augusta, as well as on the 20 other courses depicted.)
The game is available for PlayStation Move and Xbox 360 Kinect formats, with motion technology that allows golfers to make swings with the control in hand (at some hazard to television screens). EA Sports says it might someday develop technology that will allow golfers to play the game while taking full swings with actual clubs. But there's no need for that. That technology already exists, in the real world.
__Meet the guy who plays Jones and Nicklaus (complete with hair pulling) __
Re-creating an old golf swing can be as challenging as re-creating an old golf course. The "playable characters" in "Tiger Woods PGA Tour 14: The Masters Historic Edition" include Bobby Jones, who died more than 40 years ago and, needless to say, never swung a golf club in a video-game motion-capture session. Jones did, however, leave an extensive record of his technique in photographs, books and, especially, a series of instructional films he made for Warner Bros. in the early 1930s. It's not possible, yet, to convert old swing footage directly into a three-dimensional video-game avatar, but the designers at EA Sports were able to hire a talented stand-in: Joe Angelino, the director of golf at the Villas of Grand Cypress golf resort.
"I studied the old films, and worked on the range with Todd Meena, who's one of our head instructors, and I practiced in front of a mirror," Angelino told me. "Bobby Jones had a lot of moves that aren't natural to me. He had a long, flat swing, and he had a strong left-hand grip, and he had a very inside takeaway and an extraordinary hip turn. He went past parallel at the top—he really let those wrists hinge—and he let his left heel come way off the ground. Then he put his heel down, and the rest of his swing sort of worked its way up from that, all wonderfully in sync. For somebody who's 6 feet tall and 200 pounds and in his mid-40s, it's not the easiest swing to replicate."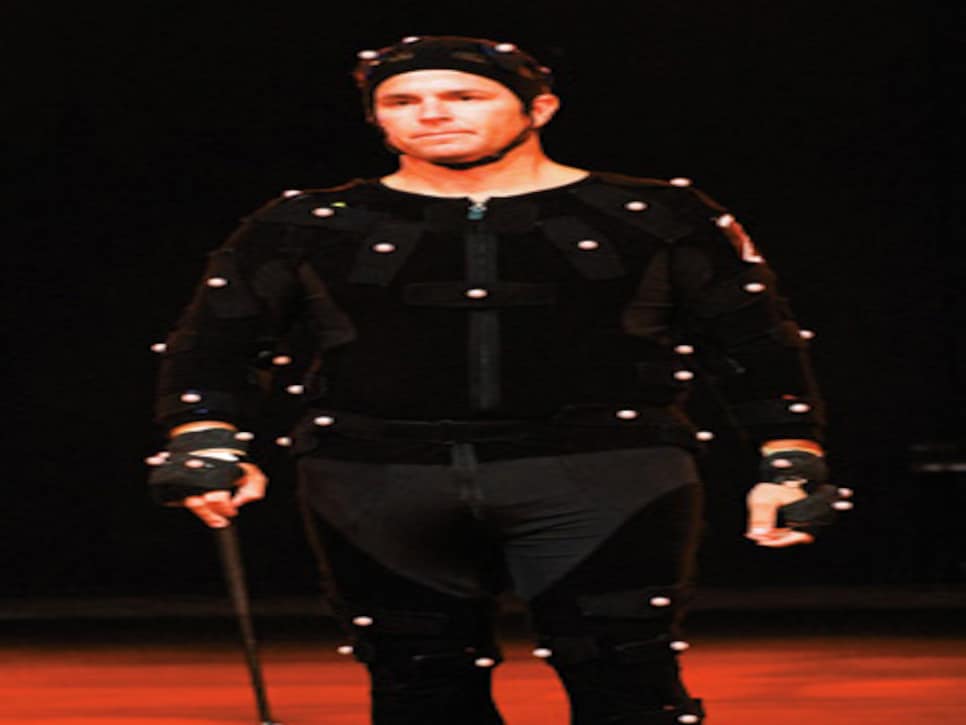 Impersonating Jones was made more difficult by the fact that Angelino had to do it while wearing a form-fitting body suit, which was covered with dozens of marble-size illuminated markers. "There was a black cap, too, and shoes like slippers, and there were markers on those as well, and also on the golf clubs."
Arnold Palmer and Jack Nicklaus are still around and still swinging golf clubs, but Angelino filled in for them, too. Peyton Duncan, the game's art director, told me, "Jack and Arnie's swing motion is still generally the same, but it doesn't have the same speed or flexibility, and it doesn't have the extremes." In addition, golfers in their 70s and 80s aren't necessarily eager to spend all day in front of 37 high-speed cameras while wearing an anatomically unforgiving leotard. Nor are they likely to have the stamina to perform numerous shot variations—fade, draw, straight, high, low, full, 90 percent, 80 percent, many others—with a variety of clubs. "If a game player wanted to be silly and hit a flop shot with a driver," Angelino said, "I did it, and that swing is in the game."
For Angelino, the easiest swing to imitate was Nicklaus', because it was the swing he grew up coveting. Still, when Nicklaus reviewed the tapes he suggested numerous modifications. Duncan said, "What's interesting is that Jack was able to call out exactly what we had done. He said, for example, that Joe's legs looked tense—and they did, because he was concentrating so hard on reproducing Jack's motion. Joe also struggled to get Jack's reverse-C finish." Nicklaus and his son Gary met with the game's designers to suggest tweaks and gave them access to their training facility, where Duncan was able to study a number of reference materials, including a storyboard-like sequence of annotated photographs of Nicklaus swinging in his prime.
"I took photographs of the photographs and the notes," Duncan said, "and I studied Golf My Way, and we applied all that, frame by frame.
The result can never be perfect, because it isn't actually Jack swinging and because game devices don't have unlimited memory. But we wanted to be sure we were right on the swing elements that are the most important to Jack. For example, he told us that his instructor, Jack Grout, used to hold his hair every time he swung, and that that was why his head didn't move. And when you look at old video of his swing you realize that it really does look like someone is holding his hair." Nicklaus also told Duncan that, if their goal was historical accuracy, they needed to make him fatter. (Nicklaus later changed his mind.)
Active tour players typically do their motion-capture sessions, and they are almost always eager to participate, especially if they are avid gamers. When Tiger Woods makes significant swing changes, he asks EA to reshoot him. (Players also often announce equipment changes to EA well before they announce them to anyone else.) Rickie Fowler prepared for his first Masters by repeatedly playing EA's Augusta National, and those sessions paid off in the tournament. The game's three-dimensional model of the course is accurate to within six millimeters and is updated every time the club makes a change. An ambitious player could actually use the game to learn every break on every Augusta green.
Sean Wilson, an EA Sports producer, said that older tour players, who tend to be less familiar with video games, sometimes initially expect a level of photorealism that isn't achievable with current technology. Part of Gary Nicklaus' role during the review process, he said, was to act as his father's generational intermediary. "Seve Ballesteros' nephew helps run his foundation, and we work with him," Wilson said. "We also work with Ben Hogan's niece"—who commented that her uncle's neck, in an early version, looked too long. Re-creating the ordinary facial expressions of historical players can be almost as difficult as re-creating their swings, Wilson said, because old photographs were usually taken at times of high emotion. "Either the players are in a state of elation or they're angry because they just missed a putt. I'd rather have a police mug shot."
Duncan, who is 46, has never played golf. "I do so much extracurricular stuff already, with kids and art and everything else, that there is literally no room," he said. "But I do wonder. And I stand there in front of the mirror, trying to imitate Jack Nicklaus, just based on what he told me—because, trust me, he ingrained it in my head, and then I had to communicate it to our animators and study every single video they produced, over and over."
Angelino found himself in what might be considered the opposite situation: After spending several weeks studying and then intensively performing three very different golf swings, he discovered that he almost couldn't play at all. "I tried to make my own swing and couldn't do it," he said, and laughed. "It was pretty ugly. And it took me close to three weeks to get it back."—David Owen