The Loop
Dylan Meyer's hot putter has him looking like the man to beat at the U.S. Amateur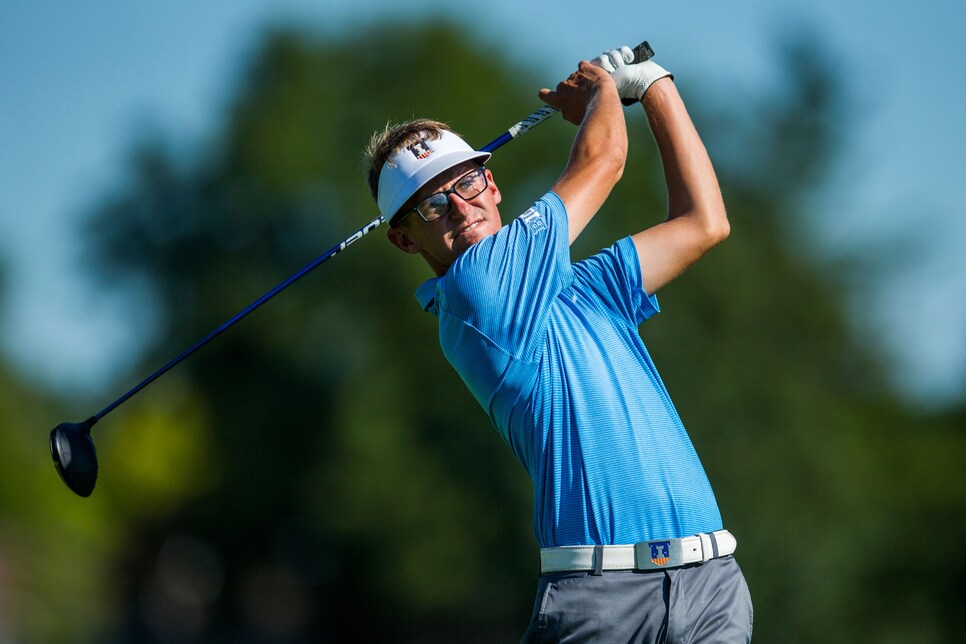 BLOOMFIELD TOWNSHIP, Mich. — The moment Dylan Meyer saw the match-play draw for the 116th U.S. Amateur, he realized that if things broke right, Thursday afternoon could get pretty interesting. The 21-year-old University of Illinois junior—all 5-foot-8, 142 pounds of him—would once again be playing Sam Horsfield, the No. 2 ranked amateur in the world, who he knocked off in the final of the Western Amateur 10 days earlier.
"I knew it would be the toughest match I faced all week," said Meyer, whose Clark Kent glasses and Conan O'Brien hairdo camouflage his competitive nature. Meyer figured Horsfield, college golf's top freshman in 2015-'16 at Florida and a 2016 U.S. Open qualifier, would want to settle the score.
But instead of Horsfield getting revenge, it was Meyer delivering another "upset," the 21-year-old from Evansville, Ind., winning the third-round match in 19 holes at Oakland Hills Country Club. The victory propelled Meyer into Friday's quarterfinal and continued an impressive, if somewhat unexpected, two-week run.
Like at the Western, it was the putter that proved the difference for Meyer, who was routinely outdriven by 30 yards. Clinging to a 1-up lead on the back nine, Meyer holed clutch par saving putts from 10, 15 and eight feet on the 13th, 14th and 15th holes to stay ahead.
A Meyer bogey on the 17th, however, returned the match to all square, which then made the 10-foot par putt he rolled in on the 18th to extend the match to extra holes even more impressive, although Meyer had another word to describe it: "Stressful."
Returning to the par-4 first hole with the match going extras, Meyer hit the fairway and green, leaving 20 feet for birdie. Horsfield, in the fairway and with only 113 yard for his second shot, saw an opportunity and went at the flag. His shot, however, flew over the green. Chipping his third to five feet, then giving Meyer his par putt after his opponent missed the birdie, Horsfield couldn't make his par attempt, and walked off with another painful loss.
Meyer is the first to admit that the Western win over Horsfield gave him a significant psychological boost, one that others have noticed. His father, Darren, says he can see it in the way Dylan has handled himself this week at Oakland Hills. So has Nate Phelps, Dylan's caddie and former high school teammate back in Evansville.
"He's definitely a more confident player out there," said Phelps, who has been caddieing for him this summer. "It's really neat."
That Meyer's short game is carrying him has his entire entourage laughing. "The one club we've always worried about is his putter," Phelps says.
"Oh, that has easily been the worst part of his game," confirmed Darren.
Meyer says guilty as charged, which is why he spent much of his two-year career thus far at Illinois working with coach Mike Small on trying to turn this part of his game around. Knowing that he would never be a bomber—"I'm used to guys flying it by me off the tee with their 2-irons."—the place where he could make up the most ground was around the greens.
"It's been some work on technique and just going over in my head that I can be a good putter if I put my mind to it."
While seeing steady improvement, the work started really paying off at the end of the college season, when Meyer put an old Ping putter from high school back in the bag and let the hours of practice finally bear fruit.
Asked if he's learned anything about himself, Meyer came as close to sounding cocky as you'll ever hear him.
"I'm a lot tougher than what I give myself credit for."
Phelps says Meyer knocking off Horsfield again didn't surprise him. "He likes playing guys that are better than him," Phelps says. "He likes to be the underdog."
Technically speaking, he won't be the underdog in his Friday quarterfinal, but he won't be a fan favorite as faces Nick Carlson, a Michigan native who plays on the University of Michigan golf team and drew the largest galleries of any player on Thursday. Yet Meyer is up for the challenge.
"I'm not ready to go home yet," he said. "I want to stay through Sunday."
U.S. Amateur
Third-round Results
Dylan Meyer, df. Sam Horsfield, 19 holes
Nick Carlson, df. KK Limbhasut, 19 holes
Sahith Theegala, df. Joaquin Niemann, 3 and 1
Curtis Luck, df. Cameron Young, 6 and 4
Jonah Texeira, df. Kyler Dunkle, 6 and 5
Luis Gagne, df. Jimmy Stanger, 3 and 1
David Boote, df. Collin Morikawa, 2 and 1
Brad Dalke, df. Bryan Baumgarten, 19 holes
Friday Quarterfinals pairings
1:30 p.m. - Dylan Meyer vs. Nick Carlson
1:45 p.m. - Sahith Theegala, vs. Curtis Luck
2 p.m. - Jonah Texeira, vs. Luis Gagne
2:15 p.m. - David Boote, vs. Brad Dalke