News
Dustin Johnson's methodical attack on the PGA Tour continues with Glen Abbey victory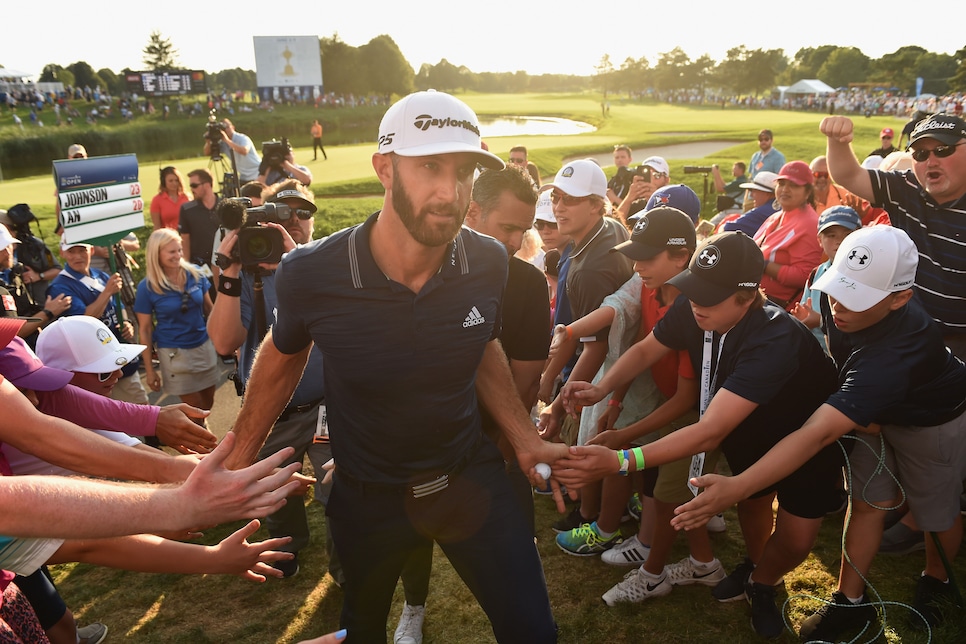 Photo By: Minas Panagiotakis/Getty Images
It's not difficult to appreciate Dustin Johnson. He often makes a difficult game look easy. What's difficult is subduing the inclination to simply expect him to do it all the time. And watching him dismantle Glen Abbey Golf Club this weekend on the way to a three-stroke victory in the RBC Canadian Open only reinforces the belief that, as good as he has been the last three years, he is somehow underachieving. That he's holding back. That his reclining, aw-shucks nature is preventing him from being even more dominant.
More, well, of an ass kicker.
A week after missing his first cut of the season at the Open Championship at Carnoustie, where he admitted he putted "horrendously bad," Johnson got the ball rolling with a proficiency that was somewhat commensurate with his prodigious ball-striking, and registered his third victory of the year and 19th of his PGA Tour career. Emerging from a four-way tie after 54 holes, Johnson shot a five-under 66 and posted a 23-under 265 total.
Byeong Hun An and Whee Kim, who along with Kevin Tway had a share of the lead at the outset on Sunday, each shot 69 to tie for second.
"Yeah, it was definitely a very good win. I'm very proud of the way I played today," Johnson, 34, said after joining Bubba Watson as a three-time winner on tour this season. "I knew I was going to have to go out and play really well. There were a lot of guys, a lot of really good players right around the lead, within a couple shots of the lead.
"This golf course, if you can get it going, you can shoot some low scores out here."
Which is what he did after making four bogeys in a halting 68 in the first round. Then he reeled off 66-65-66 while carding just three bogeys over the final 54 holes.
What changed after shooting six over par and appearing so pedestrian at Carnoustie?
Well, for one, he worked on his putting, particularly the take away. For how well it worked, consider the seven one-putt greens he executed to begin Saturday's third round, a stretch that led to five birdies and propelled him into the fray. For another, the guy is fiercely competitive, appearances aside. He wasn't about to show up in Canada as an RBC ambassador – and as a favorite of sorts because of his familial ties to national hero Wayne Gretzky – with whatever malaise seized him in Scotland.
"I just wasn't focused," he said. "I just thought about after I missed the cut I was just thinking … I was swinging well, I was hitting good shots, I was doing everything well enough to be under par after two days, but I was five or six over. I don't know if I had trouble sleeping. I don't know what it was, I just knew I wasn't focused. So I knew this week, coming out from the first hole, I was just going to make sure I focused on every shot, and really thought about what I was doing and where I wanted to hit the ball. I did a good job of that every shot for the whole tournament."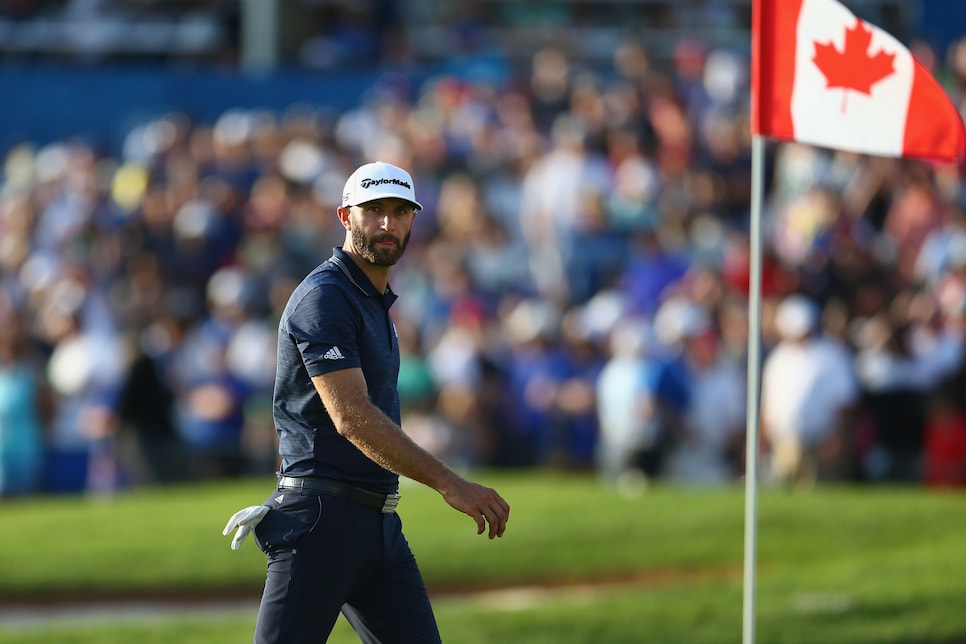 Vaughn Ridley/Getty Images
While his putting was better, he still didn't light it up, ranking 29th for the week on the greens. He didn't make a putt longer than 12 feet in the final round and still ripped up Glen Abbey, which might have hosted its final Canadian Open.
But now about the ball-striking: Here's where Johnson is scary. He beat the field by 7.54 strokes off the tee, and his strokes gained/tee to green was downright preposterous: 14.223. He led the field in driving distance average and greens in regulation (57 of 72). You just can't lose when you're doing this kind of damage with the other 13 clubs in the bag.
The South Carolina native is the first player since Tiger Woods in 2009 to win at least three times in three consecutive seasons and has won 10 of his 19 career titles in that span, including his lone major victory at the 2016 U.S. Open. He joins quite a handsome group in moving into a tie for 38th place on the PGA Tour's all-time victory list: Ben Crenshaw, Ernie Els, Doug Ford, Hubert Green, Tom Kite and Bill Mehlhorn.
Johnson extended his lead at the top of the World Rankings and in the FedEx Cup standings—numerical realities that prove his dominance without properly defining it or describing it. Truth is, when he brings his A-game, he relegates the world to the B-flight. He's as unbeatable as the sunrise.
"I would definitely like to play against whoever it is when I'm playing my best," he admitted.
Here's what playing his best looks like: a pitching wedge from 179 yards that reached the green on the par-5 16th hole Sunday. The ball was in ankle-deep rough. On a slight downslope. The ball ended up just off the putting surface in a funky lie, but "nothing that is going to bother the No. 1 player in the world," said CBS reporter Trevor Immelman, the former Masters champion.
Johnson gouged out to five feet and then made the birdie putt.
And as he made his way along the Glen Abbey layout, the crowds serenaded him with renditions of the Canadian national anthem. Nice touch. Johnson is betrothed to Paulina Gretzky, daughter of the aforementioned hockey great. That will buy you a lot of support. Having twice finished runner-up in the event, Johnson was happy to go over the top this time, earning $1.116 million to go with whatever RBC already is paying him as one of its ambassadors.
He hit all the right notes in the aftermath as well.
"Yeah, it's definitely special," he said of winning his second national Open title. "This is a special event. Being part of Team RBC and being the Canadian Open, having ties to Canada—Paulina, her dad Wayne. It's their national open, yeah, I mean, it's a big event. It's a big event for Canada. It's a big event for me. Every win is very special, but this one is definitely a little bit more special."
It's difficult to not think there will be plenty more. And that he'll make it look easy doing it.