The Loop
Dustin Johnson wins WGC-Bridgestone Invitational on heels of U.S. Open victory
Jason Day lives outside of Columbus, Ohio, so for this occasion he wore the scarlet and grey of Ohio State and opened a hole the size of which any Buckeye offensive lineman would have been proud.
He was, however, playing defense at the time.
Day was protecting a one-stroke lead in the WGC-Bridgestone Invitational in Akron, Ohio, late on Sunday, when he provided a gaping opening through which Dustin Johnson waltzed.
Johnson did not spike the ball. Not his style. But his victory in his first start since winning the U.S. Open, has put golf on notice that his talent is ready to argue on his behalf, that any discussions about the best player in the world better include him.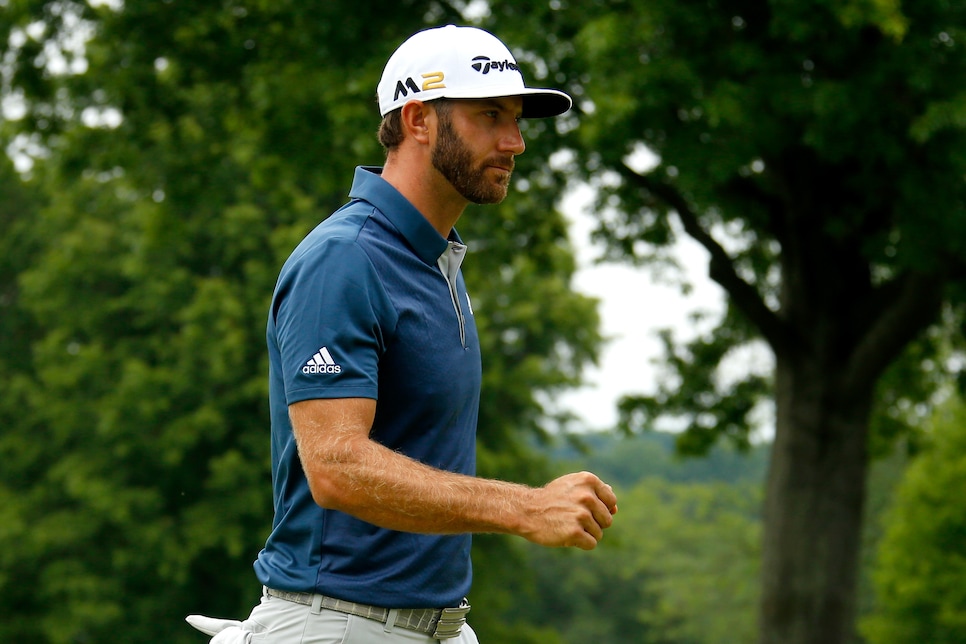 Think about this: Jordan Spieth has won twice this year, finished second in the Masters, is the reigning PGA Tour Player of the Year, yet Johnson has supplanted him as No. 2 in the World Ranking and beat No. 1, Day, by three strokes.
Day's charitable contribution included his playing the final four holes in four-over par. It turned a one-stroke lead into a three-stroke loss and a tie for third.
But Johnson's was not necessarily a backdoor win; he shot matching four-under par 66s on the weekend on a narrow, difficult Firestone Country Club course that has held major championships, only two weeks after winning the U.S. Open at Oakmont Country Club by three.
"I feel like my game is where it has been all year," he said. "I felt like I've been playing really solid all year. I've been driving it great and wedging it good. I just haven't been putting as well as I'd like to. But the last couple of weeks I've just putted a little bit better."
Johnson, playing ahead of Day, pulled even when the latter bogeyed the 15th hole. He took the lead with a birdie at 17 while Day got into a set-to with the trees and the rough at Firestone. He drove it left and was virtually stymied. He punched a shot that ran through the fairway into an unplayable lie and a stroke penalty. He then attempted to hit a punch fade from 200 yards that failed to skirt the pond fronting the 16th green, requiring a second penalty stroke that led to a double-bogey seven.
Johnson closed with his own hijinks at 18, but salvaged a bogey that was enough to give him a victory that is certain to quell, finally, the notion of a new Big Three, at least any that doesn't include him.