The Loop
Dustin Johnson wins PGA Tour Player of the Year Award -- despite NOT voting for himself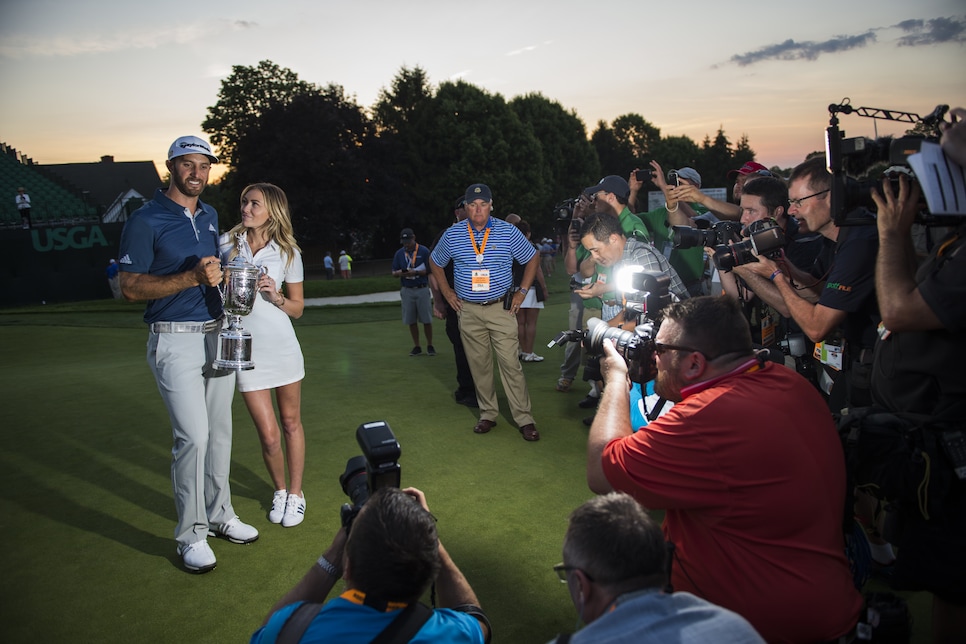 The PGA Tour doesn't reveal the final vote count for its Player of the Year Award, but we know two things for sure. 1) Dustin Johnson won; 2) Dustin Johnson didn't vote for himself.
Johnson was announced the winner of the annual award on Tuesday, and the reigning U.S. Open champ joined a teleconference to discuss the honor that's determined by a vote of his peers. It was then that Johnson was asked if he voted for Johnson in 2016.
"I did not," Dustin answered.
Why not?! asked an incredulous reporter.
"I don't know if I want to. . . I didn't vote," he replied.
It's OK, Dustin. Let's chalk it up to you being modest. Regardless, it's safe to assume that just about any player who did vote cast his ballot for DJ.
"Dustin had a tremendous year in every respect, and I don't think the players had much trouble choosing who to vote for," PGA Tour commissioner Tim Finchem said of a ballot that included FedEx Cup champ Rory McIlroy, Jason Day, Adam Scott, Jordan Spieth and Henrik Stenson.
Johnson won three times, including claiming his first major at Oakmont. He led the tour with 15 top-10s, and an incredible 11 top-fives in 22 official starts, while only missing one cut.
"I don't even know if I ever dreamed this would be happening," said Johnson, who climbed to a career-high (for the moment) No. 2 in the Official World Golf Ranking this summer. "Obviously, it was a great season. I worked hard on all parts of my game, and I'm going to continue to do that."
Johnson, who was named the PGA of America's player of the year last week, claimed the Jack Nicklaus Trophy for winning the vote. He also earned the Byron Nelson Award for the lowest adjusted scoring average (69.172) and the Arnold Palmer Trophy for leading the money list.
Johnson will start his 2016-'17 season at the WGC-HSBC Champions in Shanghai later this month, and he said he plans to play in the Tournament of Champions to kick off the new year. Johnson has won both of those events before.
"I've got a lot of confidence in the game right now. There's nothing I don't feel good with," said Johnson, who noted improvement with his wedge game was the biggest key to this breakout season. "Hopefully, next year, I can play up to the way I played this year. And hopefully, I can have a better year."
If he pulls that off, next year's vote is going to be even more of a landslide.