The Loop
Dustin Johnson wins again, Tiger Woods announces another comeback, and Peyton Manning's latest nice gesture
Welcome to another edition of The Grind, where we are back after a fun wedding weekend in the Hamptons. Ohhhh, you're so fancy, I can hear you saying. And you know what? For once, I was, rocking pink linen ties at parties by night and hanging at the pool with swan floats by day.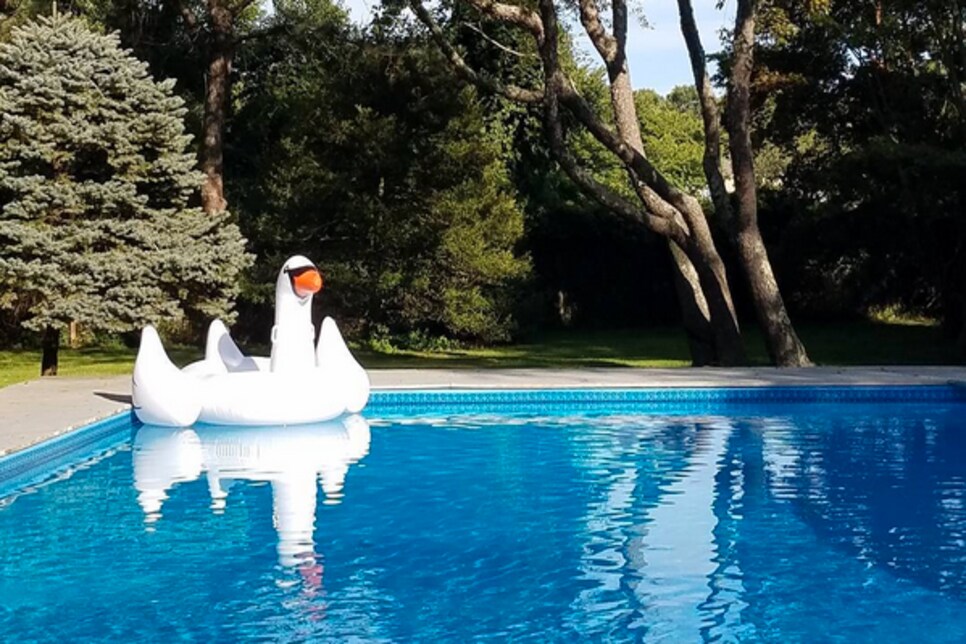 I know, I said float season ended last week, but I lied. Don't worry, I kept it real by drinking a few "John Dalys" from the can. But anyway, it's back to the grind The Grind and there's plenty to get caught up on. Let's do it before I start missing my inflatable pool friend.
Dustin Johnson: You know how people always say "the floodgates could open now" after a golfer gets a breakthrough win? Well, that appears to actually be the case with Johnson. Including his maiden major victory at the U.S. Open, Johnson has now won three times in his past eight PGA Tour starts. DJ added a FedEx Cup playoff title to that major and a World Golf Championship and now he's a virtual lock to win his first PGA Tour Player of the Year Award.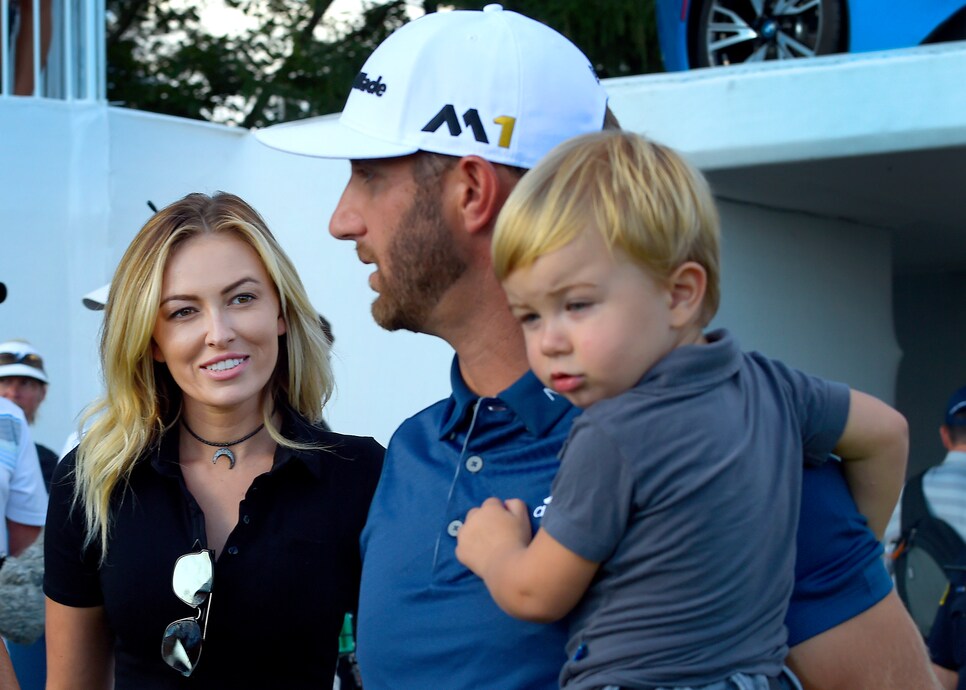 How do you know DJ winning is becoming old hat? Paulina Gretzky didn't even post anything about it on social media.
Davis Love's captain's picks: Were they somewhat expected? Yes. Were they particularly creative? No. Still, it's tough to find serious fault with Rickie Fowler, Matt Kuchar or J.B. Holmes making the U.S. Ryder Cup team. Could you make a case for someone like Ryan Moore? Sure, but there's still one moore pick and one moore tournament for Moore to earn it. Get it? Sorry, couldn't resist.
Bryson DeChambeau: He didn't take the route to the PGA Tour that people expected at the beginning of the year, but the most-talked about amateur since Ryan Moore (or maybe even Tiger Woods) will be on tour next season. DeChambeau entered the Web.com Tour Finals and won the first event to pick up his first pro victory and earn a coveted PGA Tour card. He also may have just started an equipment revolution with those single-length irons of his.
Tiger Woods: The 14-time major champ announced he hopes to make his latest comeback to competitive golf at the Safeway Open after a 14-month break that included two back surgeries and we couldn't be more excited. In fact, we made a video about it:
Tiger Woods as a captain's pick: As excited as we are about Tiger's return, Matt Kuchar got a little carried away when he floated Woods' name as a possible final captain's pick. "It would be legendary," Kuchar said. Yes, it would, Matt. If you were playing Europe in a video-game contest.
Jason Day's POY chances: Entering the FedEx Cup Playoffs, we thought Day was the only non-major winner in 2016 with a legit chance to win the PGA Tour's Player of the Year Award. But a bad back caused the Aussie to WD from the BMW and even a Tour Championship/FedEx Cup sweep probably won't be enough to overtake DJ.
Smylie's ROY chances: Kaufman appeared to be a serious threat to Emiliano Grillo for the PGA Tour's Rookie of the Year Award. Then two things happened. Kaufman didn't qualify for the Tour Championship (Grillo did) and Si Woo Kim was classified as a rookie by the tour. Apparently, Kim, who first earned his tour card when he was 17 in 2012 but only played in seven events in 2013, had slipped through the cracks. That is, until he won the Wyndham Championship by five. Now he might become the first ROY who didn't even know he was an R until a few weeks before the vote.
The PGA Tour has a rare off week before the season concludes at the Tour Championship. The biggest event of the week takes place on the LPGA Tour with the season's final major, the Evian Championship.
Random tournament fact: Lydia Ko became the youngest major winner in golf history at this event last year at 18. Yes, we know Young Tom Morris was 17 when he won the 1868 Open Championship, but we're not counting things that happened within five years of the Gettysburg Address.
RANDOM PROP BETS OF THE WEEK
-- Tiger Woods will be the last captain's pick: 200-to-1 odds (Actual odds; don't do it, people!)
-- Tiger Woods will retire at the end of the year: 7-to-2 odds (Actual odds; don't do it, Tiger!)
-- A lot of weekend hackers are thinking single-length clubs are going to solve their problems: LOCK
PHOTO/INSTAGRAMS OF THE WEEK
Check out Jordan Spieth's caddie, Michael Greller, going ALL OUT when a group of caddies and players visited the gym from the classic movie Hoosiers: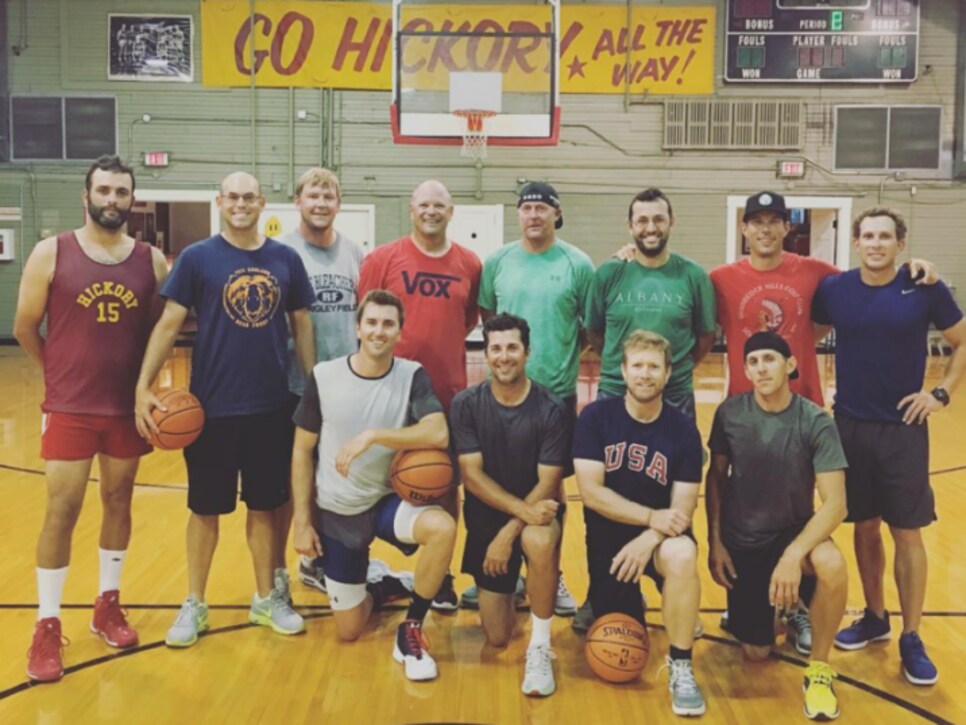 He's the guy on the left. Not that you should've needed to be told that.
And a fan actually brought Beef some Arby's at the turn in the first round of the DAP Championship.
Aww. That's what, um, fans are for.
HORRIFYING VIRAL VIDEO OF THE WEEK
This king cobra snake on the golf course will haunt your dreams.
It led to our obvious PSA of the week: Stay away from king cobra snakes on the golf course.
CUTE VIRAL VIDEOS OF THE WEEK
First, we had our little buddy Sam working on his golf swing with a variety of household objects:
Then there was this little tike, showing off a great swing of his own, and even better golf course etiquette by tapping down his divot:
And of course, there was the biggest child star of the week on the course. . .
THIS WEEK IN DUSTIN JOHNSON-PAULINA GRETZKY-TATUM PUBLIC DISPLAYS OF AFFECTION
After DJ's latest victory, fans witnessed a sweet family celebration on the course and this adorable video of little Tatum trying to interrupt daddy's interview with Steve Sands:
"Joost is on fire!" – It's not really a quote, but it's the catchy chorus that Joost Luiten, drink in hand, was serenaded with following his victory at the KLM Open (his national championship).
So good. This should be a mandatory part of post-tournament activities.
Andres Gonzales may have lost to Bryson DeChambeau in a playoff, but he did enough to get his PGA Tour card back. Based on his hysterical Twitter feed, that's good news for everyone. . . . Do you know what else would be good news for everyone? If Andrew "Beef" Johnston gets the invite to #SB2K17 he covets.
OK, so maybe Beef should pack a few shirts, but please, guys, make this happen! . . . And finally, Crooked Stick member Peyton Manning sent this letter to the course's staff thanking them for their hard work during the BMW Championship and rewarding them with pizza and beer:
Even in retirement, Peyton (nice job with that cameo in the TV booth Week 1, by the way) is still shilling hard for Papa John's and Budweiser. Still, it was a nice gesture.
RANDOM QUESTIONS TO PONDER
Who will get more TV time in 2017: Peyton or Tiger?
Who will get more TV time in 2017: Dash or Tatum?
How big is this #SB2K17 crew going to be?