News
Dustin Johnson-Jon Rahm was a rare treat for pro golf—a clash of power players on a big-time stage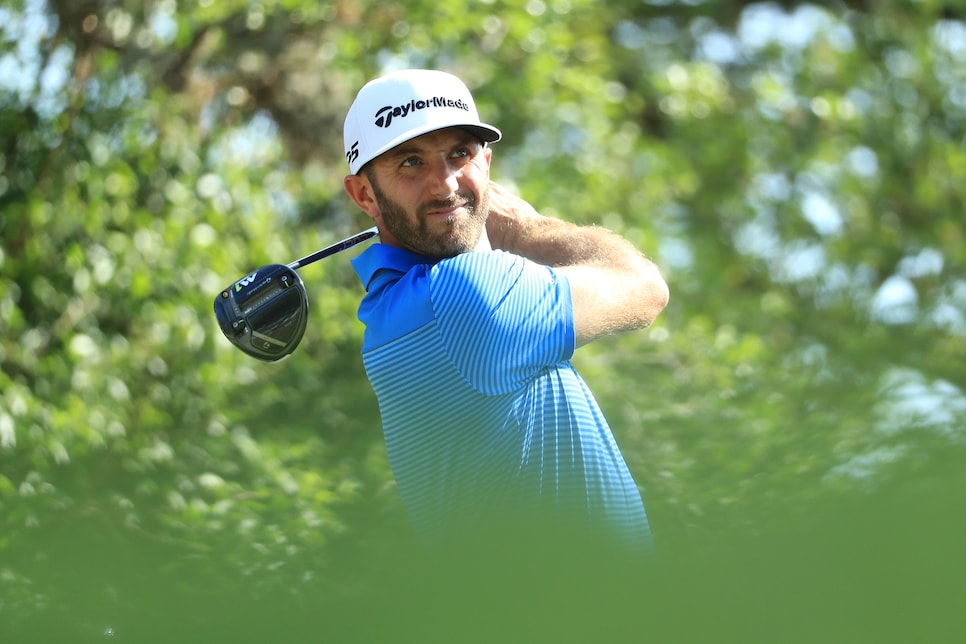 Photo By: Richard Heathcote
Everyone loves showdowns between the most physically imposing athletes. The allure of the gifted big man is what makes heavyweight title fights so electric, and what can bring magic to other sports lucky enough—such as professional basketball was in the 1960s with the rivalry between Wilt Chamberlain and Bill Russell—to feature match-ups between extra-large marvels.
In pro golf, the big man, however, hasn't traditionally dominated. The sport has often been the little guy's revenge, a game of mistake-avoidance in which finesse and precision usually overcomes power alone. Over the years, big golfers have tended to have bigger holes in their arsenals.
That's not to say the game's most popular great players haven't been those who possessed extraordinary power and length. And when two such players meet at big moments, history remembers. Consider the storied match-ups of Ben Hogan and Sam Snead at the 1954 Masters, Jack Nicklaus and Arnold Palmer at the 1962 U.S. Open at Oakmont, Nicklaus and Tom Watson at Turnberry for the 1977 British Open.
It should be pointed out that none of the players above, save perhaps for the young Nicklaus, were the longest hitters of their day. George Bayer would have something to say about that. But Bayer couldn't hang with Nicklaus in a big moment, just as John Daly couldn't with Tiger Woods.
More recently, just how rarely power players clash is best illustrated by the lack of important mano-a-mano confrontations between Woods and Phil Mickelson. It's Ernie Els who had the most such moments with Woods, the best one at the 2003 Presidents Cup, but Woods' dominance obscured moments of rivalry.
The trend continues among today's young long hitters who have been No. 1 or won major titles. Rory McIlroy, Jason Day, Bubba Watson and Dustin Johnson simply haven't run into each other very often head-to-head.
Which is a long way of explaining why Sunday at the WGC-Dell Technologies Match Play was special. At Austin Country Club, we got Johnson and Jon Rahm, the young Spanish star, in the 18-hole final, and the spectacle will be remembered for much more than Johnson winning 1 up.
That might seem like overstatement. After all, one guy has been No. 1 for a month and has a single major, and the other guy has only played in 18 pro tournaments, with one victory.
Still, their scrappy showdown, in which neither played as well as they had in previous matches, was an epic demonstration of big-man power—the modern game personified. For all the long hitters in the previous century, none drove it so consistently far as to have wedges for the majority of their approaches. But in this century, on many if not most PGA Tour courses, that is precisely the club most long hitters use most often for their approaches, the main reason so many players now carry four wedges.
At Austin CC, a 7,100-yard course with firm fairways that wouldn't be long enough for a stroke-play event but made for an intriguing match play arena, it seemed like every other hole Johnson and Rahm had less than 100 yards left.
The 6-foot-2, 220-pound Rahm and the 6-4, 190-pound Johnson have different physiques and radically different backswings, but both deliver their considerable mass with a preponderance of fast-twitch fibers. Although the Pete Dye design had plenty of trouble bordering the wide fairways, unloading with the driver was the percentage play, and did they ever.
The match contained several off-the-charts moments. The most remarkable occurred with their tee shots on the downhill, 581-yard par-5 12th hole, where Rahm's high draw travelled 438 yards and Johnson's power fade went 424. That's a combined 842 yards, surely more than Shotlink has ever recorded by two tee shots on the same hole by two players paired together.
Then on the next hole, the 293-yard par-4 13th playing into a stiff wind, Rahm, 4 down and desperate, blasted a high cut that carried more than 300 yards, but landed softly enough to stay on the green. Finally, on the 359-yard 18th hole, Rahm, having clawed back to 1 down, hit a rocket that went over the green, 382 yards from the tee.
While their length combined with exceptional accuracy was a main reason Johnson and Rahm dominated most of their opponents on their way to the final, it was instructive to see that in their match, the most consequential shots were the short ones. Rahm fell behind because of early poor putting, and got back in when Johnson's began to let him down. And on the final hole, the sound of slamming door during his backswing led Rahm to slightly chunk his chip from over the green, after Johnson had missed the green from 108 yards with a mishit wedge.
For Johnson, the big evolution is that he now finds a way where he used to give way. He got up-and-down for par on the home hole to clinch his third PGA Tour victory in his last three starts, and strengthened his hold on No. 1.
As for Rahm, with four top-five finishes in his last five appearances, he's quickly become the most intriguing player in golf today. The way he steamrolled his six opponents prior to the final reaffirmed that, more than any 22-year-old since Woods, Rahm seems to have everything. His thick build is a larger version of Nicklaus circa 1962, giving him the strong base that supports his massive explosion of rotation and extension through the ball, a feat of extreme speed and athleticism that Rahm nonetheless seems to repeat easily. He can work his driver both ways, and hit irons high and low, especially a vicious 3-iron stinger off the tee that he showed off in Austin. Side by side with Johnson, a physical marvel, it was Rahm's move that seemed more efficient. And as powerful as he is, he regards himself as a touch-and-feel player with great hands.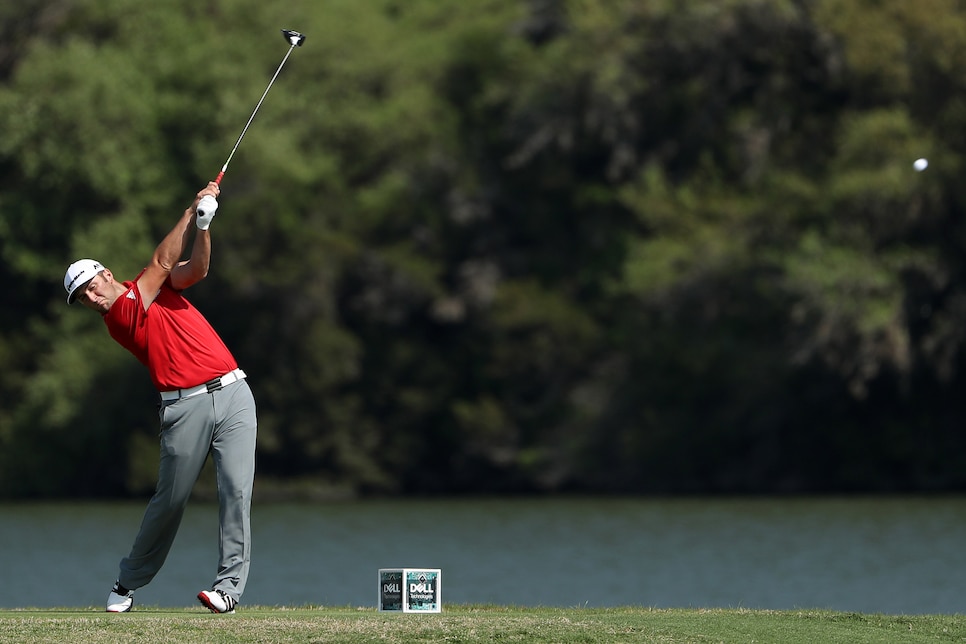 Rahm also possesses the charisma of the great competitor. His near comeback from 5 down against Johnson was evocative of Woods in three U.S. Amateur finals. A long-iron escape from long grass requiring a threaded line between branches on the par-5 16th was Seve-like, as was the capitalizing 32-foot birdie putt. And Rahm's blast off the tee on the 18th was reminiscent of Nicklaus taking off his sweater before driving over the green on the home hole at St. Andrews in his playoff with Doug Sanders in the 1970 British Open.
"He just seems like he might advance to World No. 1 in his career," NBC's Johnny Miller said of Rahm during the tournament telecast. "It just seems like he's got it written all over his forehead."
It was a meaningful match. A good one for Johnson to win, reinforcing his growing confidence in being able to win ugly. And perhaps a good one for Rahm to lose, as he'll reflect on how letting his emotions get the better of him on the front nine cost him holes and adjust accordingly.
And like all the great fights for the heavyweight title, everyone now awaits the rematch, one that will be watched even more intently.