Dustin Johnson is not looking ahead to U.S. Open, opens Memorial with 64
DUBLIN, Ohio – Dustin Johnson measures his success by knowing how to count. He wishes others could learn to do the same.   "I don't know if anyone's aware of it, but I've played 20 freaking tournaments since Chambers Bay," he said Thursday after taking the lead in the Memorial Tournament presented by Nationwide with an opening 8-under-par 64. "It's not that I'll be OK. I am OK."   When you carry around as much talent and as much major championship baggage as Johnson, people tend to wonder if their counterbalance is proportional. A recent poll of his peers placed him among the game's best drivers, and the same constituency largely considers him the most naturally gifted player in the world.   But all that talent brings into stark focus his lack of success in grand slam tournaments, particularly when at least four excellent chances have eluded him, including the U.S. Open last June at Chambers Bay. After reaching the par-5 18th in two mammoth swings, Johnson needed one putt to win and two for a birdie to force a playoff against Jordan Spieth.   He took three.   With the U.S. Open in two weeks, Thursday's narrative almost inevitably had to pull Johnson away from Muirfield Village Golf Club and onward to Oakmont Country Club – by way of Chambers Bay, of course.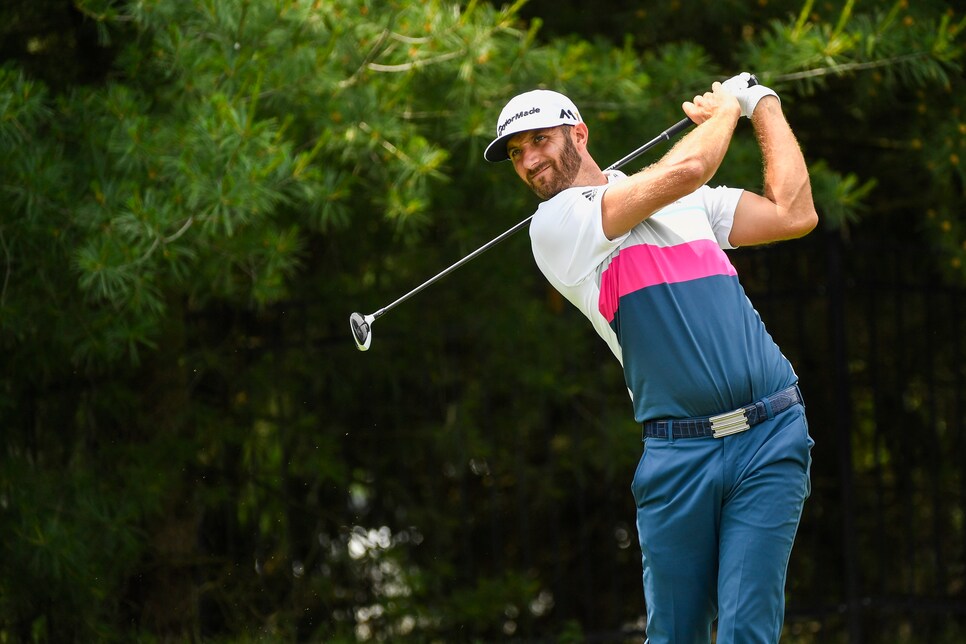 "No, I felt like I did what I was supposed to do in the situation," Johnson said when asked if he has stewed over his closing three-putt to lose to Spieth. "So it wasn't really anything to be upset about or to be down on. I hit the shots I needed to hit in the situation and in that moment. It was unfortunate the surfaces of those greens weren't as smooth as they should have been, but it is what it is. Everybody was putting on them."   Johnson, 31, has not won since last year's Hyundai Tournament of Champions, nearly 18 months ago. That's a notable drought for a man who has captured at least one PGA Tour title each year since 2008. Six top-10s in 11 starts this year without missing a cut translates to a solid season, but he can do better.   "I just haven't quite played up to my potential," he said, blaming mostly a balky putter.   If there was a hangover from Chambers Bay, it might have revealed itself the following month at the Old Course at St. Andrews, where Johnson grabbed the 36-hole lead at nine under only to come undone with a pair of 75s. He insists that nothing substantial should be read into that finish. Or into his winless season to date.   "I'm at a great, great point in my life," he said. "I think everything's going really well. My son's healthy. Family's good. So I'm excited about the rest of the year."   But first things first, which is his first-place status in Jack Nicklaus' invitational. He'd like to stay there before being dragged into his major dilemmas.   "I'm playing the Memorial," Johnson said after converting 10 birdies against two bogeys for his career low round at Muirfield Village. "I've got a lot of other things to worry about than the U.S. Open. I'll worry about it when I get there."   In other words, he'll let others do the worrying. In fact, count on it.