The Loop
Dustin Johnson: 'I knew I was really good [but] there was something missing that could make me great'
The key to unlocking potential isn't as easy as summoning a locksmith. Or a swing guru. It's more complicated than swing-plane minutiae, too difficult to measure with a launch monitor.
Who's to say that Dustin Johnson wasn't fulfilling his potential before, what with eight victories in his first seven years on the PGA Tour, even with the last year cut short by a self-imposed hiatus to address personal issues that included his unease with the quantities of vodka he was consuming?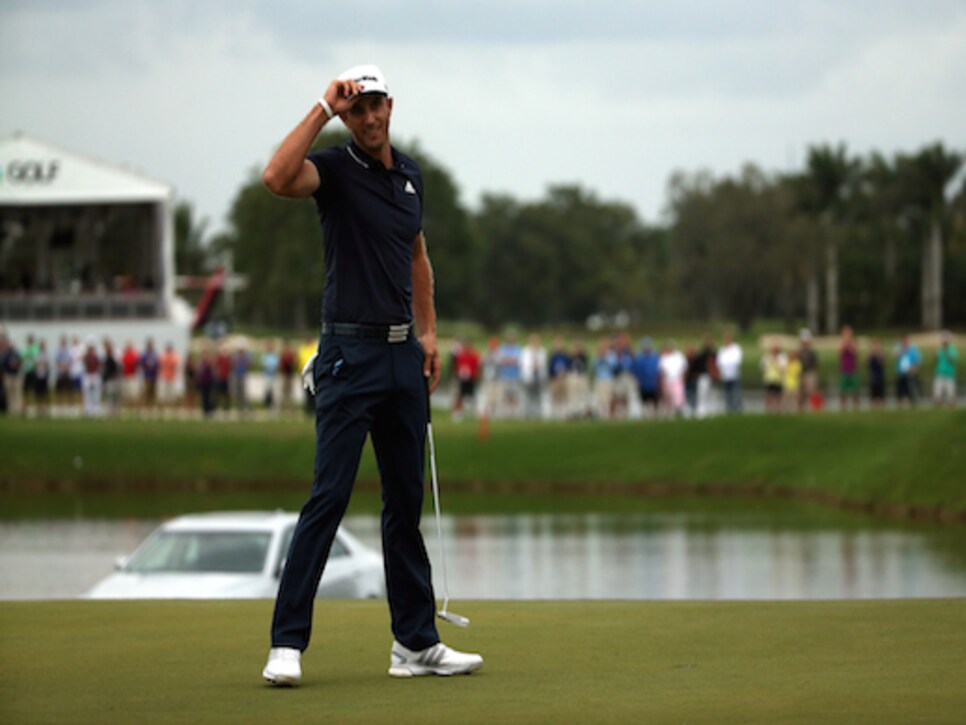 That said, we've always expected more, and Johnson acknowledged in the wake of his ninth PGA Tour victory, this in the WGC-Cadillac Championship on the Blue Monster at Trump Doral on Sunday, that he expected more, too.
"I knew I was really good," he said. "I just knew there was something that I was missing that could make me great."
He did not elaborate, though presumably he was referring to an absence of discipline off the course that seemingly had him stalled somewhere between potential and his realizing it.
Johnson is now 30, a new father with its inherent responsibilities and, time will tell, possibly the maturity required of them. And if indeed he is in a good place in his life, isn't it reasonable to conclude that his career will follow suit?
"It means everything," he said of his one-stroke victory over J.B. Holmes. "It's been a tough road, but a really good one, Obviously a lot of great things came out of it. My son, and me and [fiance] Paulina are doing great. It just feels awesome to get that W."
Johnson's leave of absence was precisely six months. He returned at the Farmers Insurance Open where, not necessarily unexpectedly, he missed the cut. Since then, he has tied for fourth at the AT&T Pebble Beach National Pro-Am, lost in a playoff at the Northern Trust Open, missed the cut at the Honda Classic and won at Doral against a stellar field.
The tour stop at Doral has always been considered the de facto start of the PGA Tour season, the beginning of the countdown to Augusta and the Masters. Johnson's talent and major championships seem to be compatible, hence seven top-10 finishes in majors.
The odds on his winning fell from 20/1 to 12/1 with his victory at Doral, according to Jeff Sherman, assistant manager of the Westgate Las Vegas SuperBook. Only Rory McIlroy at 11/2 and Bubba Watson at 10/1 have lower odds.
He beat the former by eight and the latter by two on Sunday, when he hinted strongly that he's ready to shed talk of his potential and is on the verge of living up to it.