The Loop
Dustin Johnson and caddie Brown part ways
Dustin Johnson and Bobby Brown were always more family than just player and caddie. That was never more evident after the U.S. Open collapse on Sunday at Pebble Beach, the rules violation on the 72nd hole of the PGA Championship at Whistling Straits, or the near missed tee time in this year's Northern Trust Open. Many players would have made caddie changes after any of those mistakes, but Johnson took it on himself and never blamed his man on the bag.
In a move that comes as a surprise, Brown and Johnson have split up. Brown, who is dating the sister of Johnson's girlfriend, initiated the dialogue and both have agreed it's better to move on. They started working together in the middle of Johnson's 2008 rookie season and have been together for four victories, including two AT&T National Pro-Ams and the 2010 BMW Championship.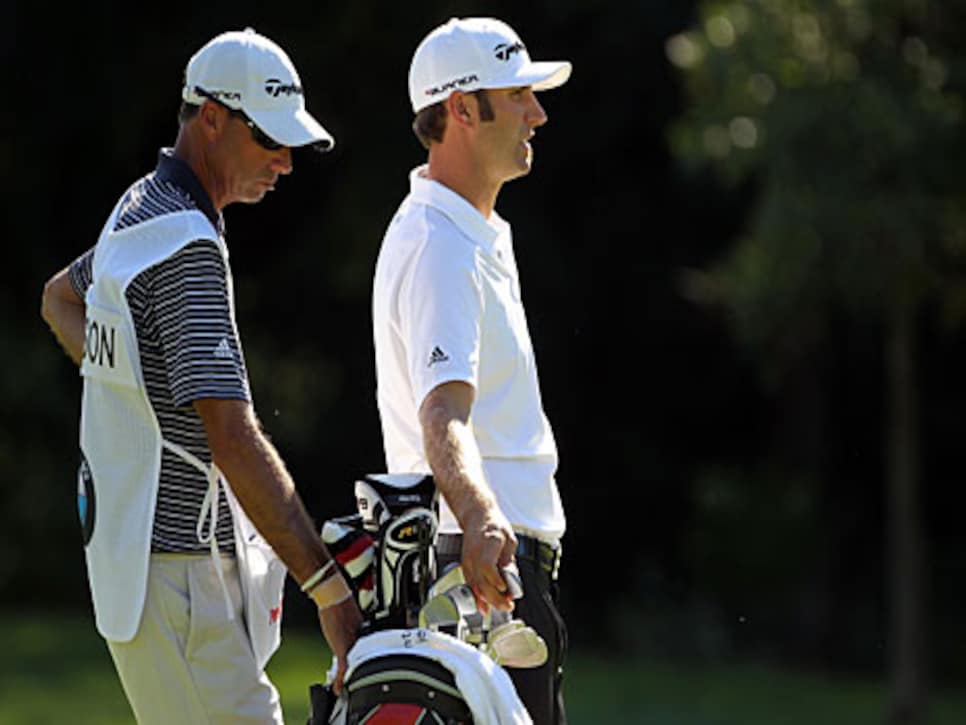 "This is part of the game and we both understand that," Brown said Tuesday.
Johnson, a native of Myrtle Beach, S.C., is not playing in this week's Heritage in Hilton Head, S.C. David Winkle, Johnson's agent, said the breakup was "mutual," adding, "I guess only time will tell if their break proves to be temporary or permanent."
The timing is awkward, one week after Johnson finished T-38 at the Masters, and with two-thirds of the season remaining. This also represents the second disruption to Johnson's season, following a rumored relationship with LPGA diva, Natalie Gulbis, and a return to his girlfriend, Amanda Caulder. Next week he will be at the Ballantine's Championship in Seoul, South Korea, where, according to Winkle, a "more than qualified friend" will be on the bag.
Word is out and Johnson has received the expected overtures. He recently played a round at the Bears Club with Dan Quinn, who split time with Ricci Roberts caddying for Ernie Els in 2010. "This isn't about finding a replacement as quickly as possible," Winkle said in an email. "It's about finding the right person for the long term. More than likely, Dustin will have a trial run with a few different guys before making any decisions. Just as with any player/caddy relationship, it's not just about experience and caddying skills, but also about chemistry."
Brown and Johnson had chemistry, maybe too much. At 48, Brown said he has foot surgery scheduled, an 18-year-old son that he wants to spend more time with and an impending move to Charleston, S.C. He was caddying for Eric Axley before moving to Johnson's bag three seasons ago, and eventually hopes to return to tour caddying.
"There's no bad blood between [Dustin] and me," Brown said. "We are very cool with each other and will remain very close. We're like brothers."
(Photo: Jamie Squire/Getty Images)