News
Dustin Johnson acknowledges just how much his Masters slip and fall set him back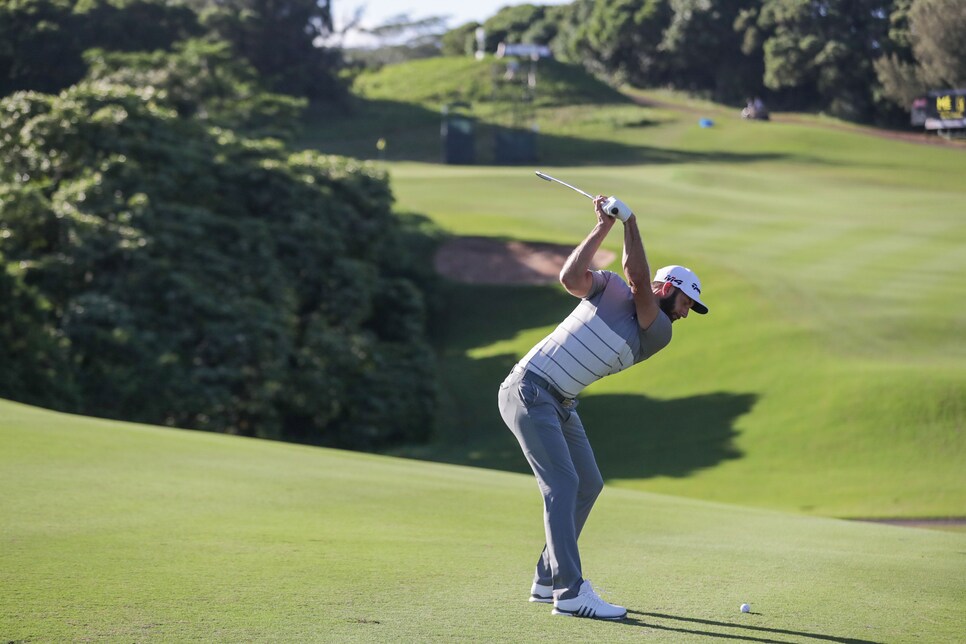 He won four times, ascended to No. 1 in the World and built enough of a cushion to where he's likely to become just the fifth player to hold the top spot for a full year come February. Dustin Johnson's 2017 was a success in almost any measure. And yet … it's remains tantalizing to think of what might have been for the 33-year-old if not for the back injury he suffered on the eve of the Masters.
That prospect became even more so after listening to Johnson during his press conference on Wednesday at the Sentry Tournament of Champions, an event where the 2016 U.S. Open champion is making ninth appearance in the last 10 years. When asked about the stretch to start the season, in which he won three straight events, he acknowledged the roll he was on.
"Winning in L.A. and then Mexico and Match Play, all three starts in a row, [I was] obviously playing probably the best golf of my career," Johnson said. "And it wasn't like they were back-to-back weeks, there was a lot of space in between, so I really felt like I had my game really dialed in."
Any momentum was halted when he slipped on the steps in his rental home in Augusta the day before the start of the Masters. Only now, though, does Johnson appreciate just how long it took him to get back to his former form.
"Probably for a good five months. It took a long time to recover from it, for sure. … But that kind of threw me off there, I struggled for awhile after that."
The results would seem to confirm that. It wasn't until late summer that Johnson was in contention again, winning in a playoff over Jordan Spieth at the Northern Trust. While disappointed that he let another title slip away in the fall at the WGC-HSBC Champions thanks to a final-round stumble, Johnson believes 2018 is setting up nicely.
"I'm seeing signs of I'm hitting the shots, they've got the right patterns, and I'm hitting the shots that I'm seeing," Johnson said. "It's just more my cut's starting to come back where I'm hitting it with irons and with the driver. Where every shot's starting to cut again. So that's pretty much it. Just need a little more practice, need to really work on the wedges here the next few weeks to get ready for the big part of the season."