News
Dustin feels good for Wells Fargo, Poulter gets a second chance, and Spieth continues to make tweaks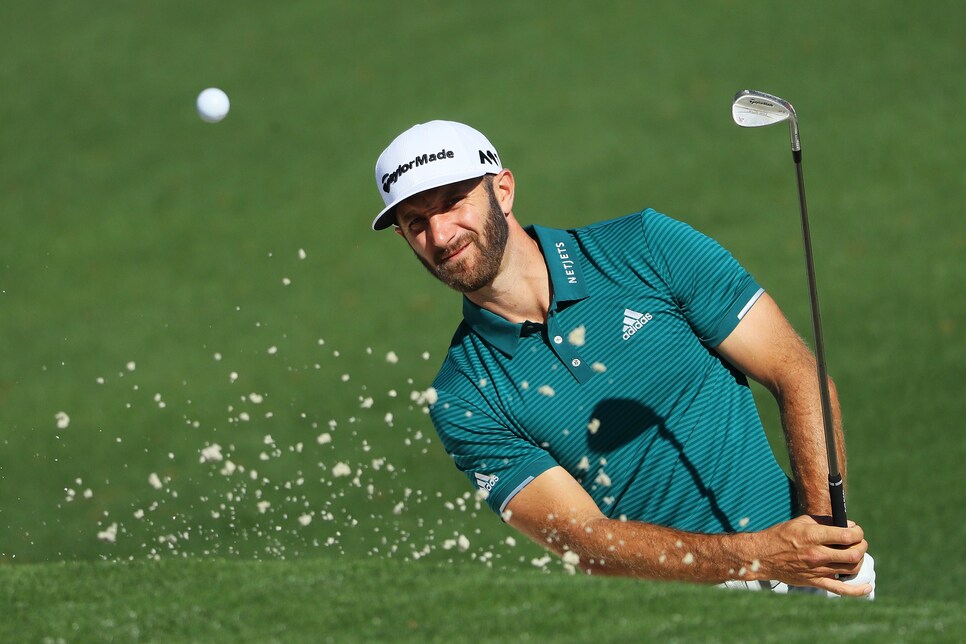 Dustin Johnson spent part of last week at Bel Air Country Club in Los Angeles, where he was being honored at the annual Friends of Golf charity tournament. He gave a clinic and was mashing drives.
On Friday, Johnson was back in Florida, mashing more drives during nine holes of practice at The Floridian.
This week, he'll tee it up for real at the Wells Fargo Championship at Eagle Point Golf Club in Wilmington, N.C., where he's playing for the first time since falling down a set of his stairs on the eve of the Masters, injuring his back and withdrawing from the tournament just prior to his tee time 23 hours later. He's paired with Davis Love III and Bill Haas
"He's 99 percent [healthy]," said his trainer, Joey Diovisalvi, via text. "He feels good. I'm confident he is where he needs to be."
Johnson's swing coach, Claude Harmon III, seconded that opinion, as did his agent.
"He may have a tiny bit of rust," said David Winkle. "But I fully expect him to quickly pick up where he left off."
Where he left off, in case you forgot, was having won his last three starts. As for his upcoming starts beyond this week, he'll tee it up at the Players, AT&T Byron Nelson (thus making three starts in three weeks), Memorial and then at Erin Hills in Wisconsin for the U.S. Open, where he is the defending champion and still the betting favorite.
Is there any reason he shouldn't be?
SECOND CHANCE FOR POULTER
What a wild, weird and wet week in New Orleans. So much so that Ian Poulter finding out that he's exempt for the rest of the season due to an oversight by the PGA Tour ranked as probably only the third craziest story to come out of the Crescent City.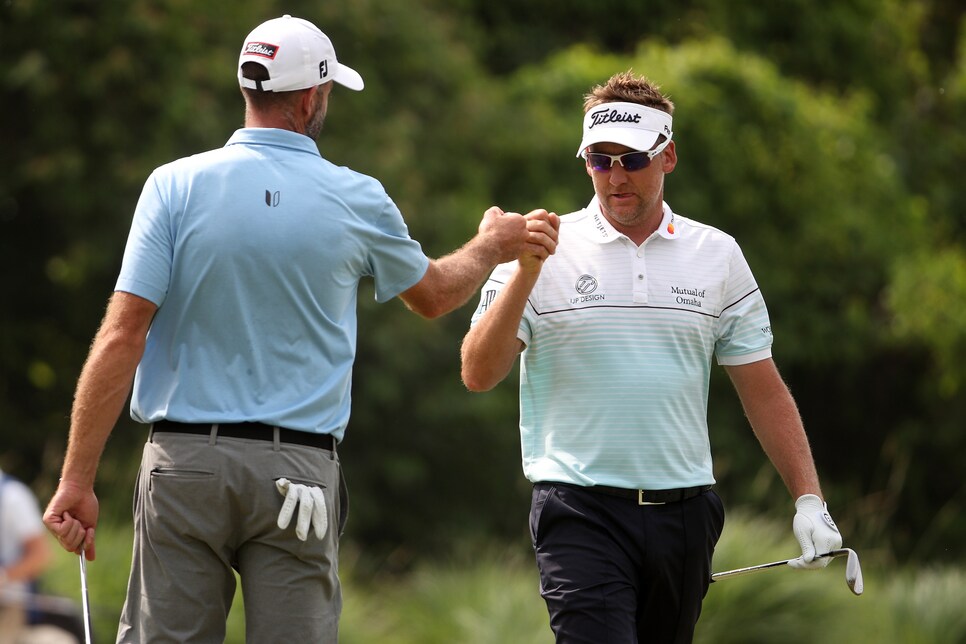 Still, it's a big one for the 41-year-old Englishman (and Brian Gay, who discovered the glitch in the points snafu) since he originally thought he lost his tour card.
"Obviously quite a relief to know that I can play my schedule and plan my schedule for the rest of 2017, and obviously I've got work to do to maintain my status for a regular season, but I'm in a very different situation [now] than what I was [before]," Poulter said. "It's huge. … It's obviously a good surprise, you know, to hear good news when you've been under an awful lot of pressure to play golf, you've come under a lot of tricky media questions in the last month; and being somewhat subjected to some social-media abuse, it's been tough. The last month's been hard to deal with."
Poulter doesn't make it easy on himself when it comes to the latter but, hey, he's appreciative for the second chance.
So much so that he has a nice present planned for Gay and his wife Kimberly, though he hasn't said what as of yet.
Gifts aside, it's now about what Poulter does with the opportunity as he works out his schedule for the rest of the year.
"Being in kind of no man's land, not knowing whether you're going to play golf, is very tough," said Poulter, whose next start will come in the Players Championship. "I'm going to try and play as much golf as I can in a condensed time frame now to do everything I need to do to be able to go back and spend a bit of time in Europe."
SPIETH SEARCHES FOR ANSWERS
In 10 starts this year, Jordan Spieth has one win (Pebble Beach). Uh oh, time to hit the panic button.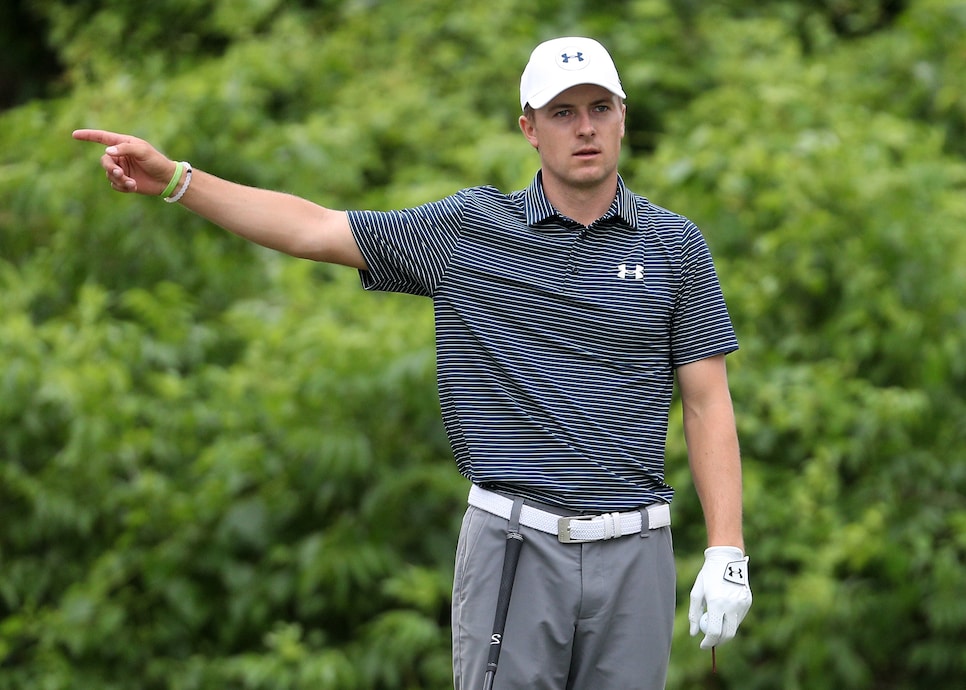 Still, Spieth has not produced the kind of results he has hoped for. There was the Sunday fade at the Masters, and in his last five starts he has zero top-10s (excluding last week's team effort at TPC Louisiana, where he and Ryan Palmer finished fourth).
When you're No. 5 in the world and have already done historic stuff by age 23, the standards are a little higher, which is why after the Masters he went to work on tweaking some things in his game.
Setup, posture, alignment. Adjustments, not swing changes. It has even crept into his vaunted short game—Spieth is down about 5 percent from last year on putts made in the 10-15 foot range, a zone he has always been very good at. That's a sizeable dip.
While his ball-striking has been good this year at times it hasn't been as sharp at others.
"The slightest little move is very difficult to go out there and trust on course," he said last week. "It's a lot easier on the range.
"Standing over the ball, saying I know this is going to draw 10 yards, I know I'm aligned here, that kind of comfort level that when it depletes a little bit—and I've had it this year for the first six, seven events, I had it as good as I've had it. I knew where the ball was going, and here or there it just gets a little bit off, and that's very normal for everybody, and it's just about adjusting back as quickly as possible."
Reminder: the Players is a little over a week away and the U.S. Open a month after that.
Pace of play certainly wasn't, ahem, crisp this weekend during gusty conditions in alternate shot or with fast approaching darkness in the final round Sunday in New Orleans, or during the LPGA's event in Texas, where the playoff felt like Groundhog Day in slo-mo as they kept playing the same hole. Again. And again. Meanwhile on Twitter (you know, the land of logic), someone suggested to Justin Rose's caddie in the wake of the USGA and R&A examining whether caddies will be able to continue to use the intricate green charts they carry that rangefinders would solve all when it came to getting yardages and speed up play. Actually, it would likely do the opposite, given that most players aren't hitting to the flag but some small quadrant near it. Not to mention what happens when the laser doesn't fire correctly? …
Crazy statistic from the Zurich Classic: 43 percent of rounds (12 total) since 2010 have been suspended or canceled, including Sunday when players waited out a six-plus-hour weather delay. This city just can't catch a break. …
Keep John Senden in your thoughts. The Aussie has taken a leave of absence from the tour after his 13-year-old son, Jacob, was diagnosed with the brain cancer.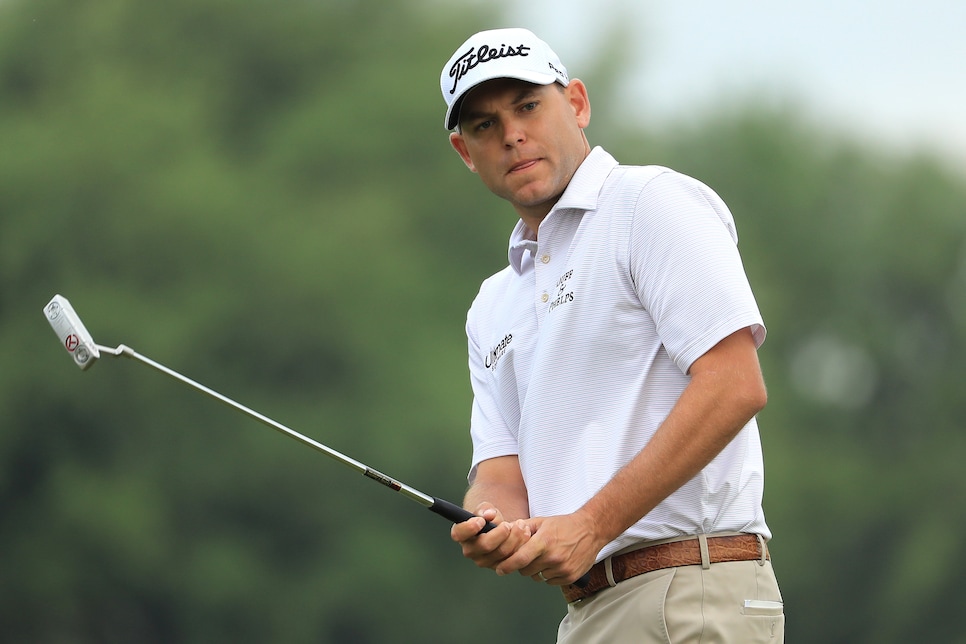 The Wells Fargo Championship moves to Eagle Point in Wilmington N.C., this year, with Quail Hollow undergoing preparations for the PGA Championship later this summer. For you trivia buffs out there, the last event played there was the Azalea Open Invitational in 1971. The winner? George Johnson. Other winners there included Arnold Palmer, Mike Souchak and Art Wall Jr. In other words, almost no one in the field has experience at the Tom Fazio-designed course. Among the players who do? Bill Haas (above) and Webb Simpson. I don't know if either will win, but expect one of them to be in the mix come Sunday.