The Loop
Dustin & Paulina celebrate another win and July 4th, Justin Bieber hangs with Rickie & golf's greatest theme music returns
Welcome to another edition of The Grind, where we learned a lot on our annual golf trip. Most notably, you do NOT order the Chicken Marsala from an Italian restaurant that also features General Tso's chicken as one of its specials. Oh, and no matter what format we use to determine a champion, I will finish in second place. Cue the violins.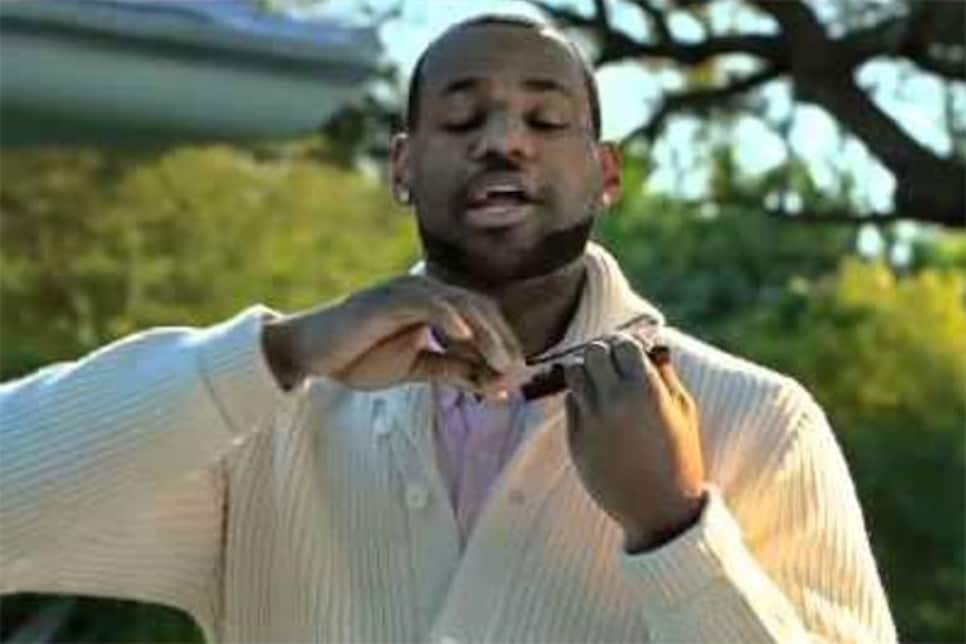 This year, we tried a match-play round robin in which I did well enough to end tied for the most points. Of course, the person with whom I tied was the only person I lost to during the week, though, so I lost on a tiebreaker. Let's just say the drive back from Ocean City wasn't particularly enjoyable – especially since I was sitting in the back of the winner's car with our green jacket hanging up a couple feet from me. But while I take a break from competitive golf (until next year's trip) to get over this latest disappointment, I will do my best to carry on.
Dustin Johnson: Another week, another huge win by DJ. Honestly, this one might be as impressive as his victory at Oakmont. You know there had to be some serious celebration following his first U.S. Open title (brother Austin was playing golf in the Bahamas and wearing his caddie bib from Oakmont a week later).
Yet Dustin returned to win his next tournament and claim his third career World Golf Championship at the WGC-Bridgestone Invitational. And then he celebrated by doing a backflip off a boat.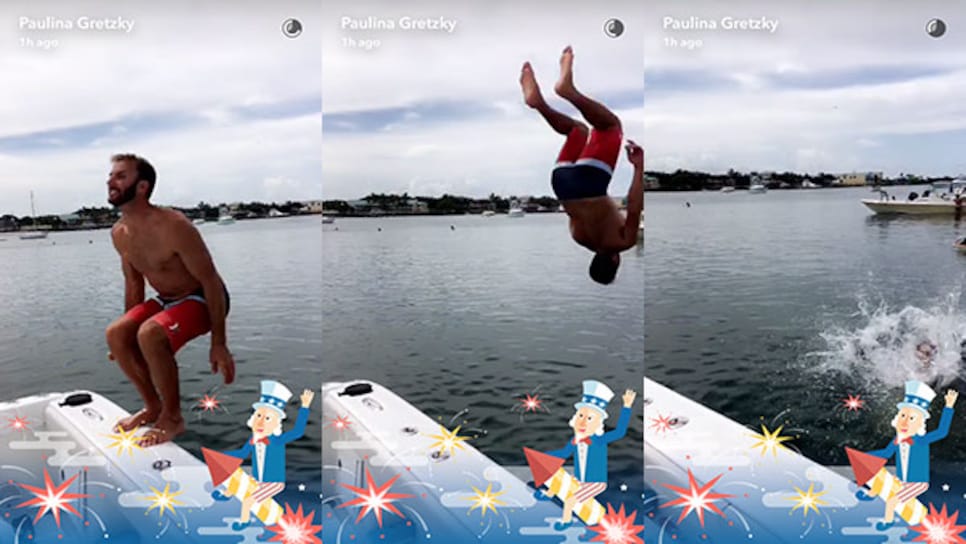 By the way, the Big Three Era is officially over. Unless you're booting out someone other than the new World No. 2.
Greg Chalmers: The Aussie picked up his first PGA Tour title at the Barracuda Championship after being winless in his previous 385 starts. More amazingly, the 42-year-old lefty had only made six of those starts this year, and had missed the cut in five of them. But the man known for his putting closed things out in style with a 229-yard shot to six feet on 18 to set up an eagle. Well done, Greg. You've got a week to celebrate before heading to the British Open.
Ocean City (Md.) golf: Well, the Ocean City area, to be more specific. Our golf crew couldn't care less about the beach so we actually stayed outside the popular summer destination in Berlin, Md., which made getting to and from the golf courses a lot easier. The rota? The Links at Lighthouse Sound, Rum Pointe, Man O' War, War Admiral (twice), Baywood Greens (twice), Bayside and River Run for an HGGA Championship record total of nine rounds in five days. I highly recommend this trip, especially if you can drive there. Again, though, be careful when eating at "Italian" restaurants around there.
"In Celebration of Man": Did you hear the great news?! This Yanni masterpiece, which is the greatest sports theme song in history, is coming back for the British Open! With bagpipes! We still haven't received a clip of the finished product yet, but here's the classic, which was the U.S. Open theme on NBC for nearly two decades.
It's almost enough to pull me out of my post-golf trip doldrums.
Harsh court orders: A 10-year-old golf prodigy was ordered to stop playing tournaments for a year as part of an on-going custody battle between her parents. The judge also ruled the girl isn't allowed to take lessons for a year and is only allowed to play golf for five hours a week with her father. That wouldn't even mean a full round at most of the places I play. Rough.
The Olympics: The hits just keep on coming. Last week, Rory McIlroy and Jason Day added their names to the list of golfers who won't go to Rio. And over the weekend, another huge international star, Hideki Matsuyama, followed suit. And we finally had the first female, South Africa's Lee-Anne Pace, drop out, citing the Zika virus. At this rate, the Barracuda Championship might have a more impressive field.
The USGA handicap system: How do I finish runner-up on my trip EVERY year? Seriously, something has to be off! It's bad enough I have to give shots to everyone in our group, but then that number goes up even more due to course handicap? BOO! I'm thinking of filing a petition against the USGA. Dustin, can I count on your support?
There is no PGA Tour event this week due to terrible floods in West Virginia that brought major damage to the Greenbrier Resort. That puts the LPGA in the spotlight (as it should be) for the U.S. Women's Open at CordeValle.
Random tournament fact: Lydia Ko, Brooke Henderson and Lexi Thompson will play together the first two rounds. It was nice of the USGA to let Lexi, a grizzled vet at 21, play with these two up-and-coming youngsters.
RANDOM PROP BETS OF THE WEEK
-- A USGA official will inform the leader of a possible penalty on the back nine that will send the tournament into utter chaos: 1 MILLION-to-1 odds
-- The Golden State Warriors will win the 2017 NBA title: 2-to-3 odds (actual odds after signing free agent Kevin Durant)
-- The Golden State Warriors would win a best-ball tournament among NBA teams: LOCK
THIS WEEK IN DUSTIN JOHNSON-PAULINA GRETZKY PUBLIC DISPLAYS OF AFFECTION
The two celebrated being golf's royal couple for another week: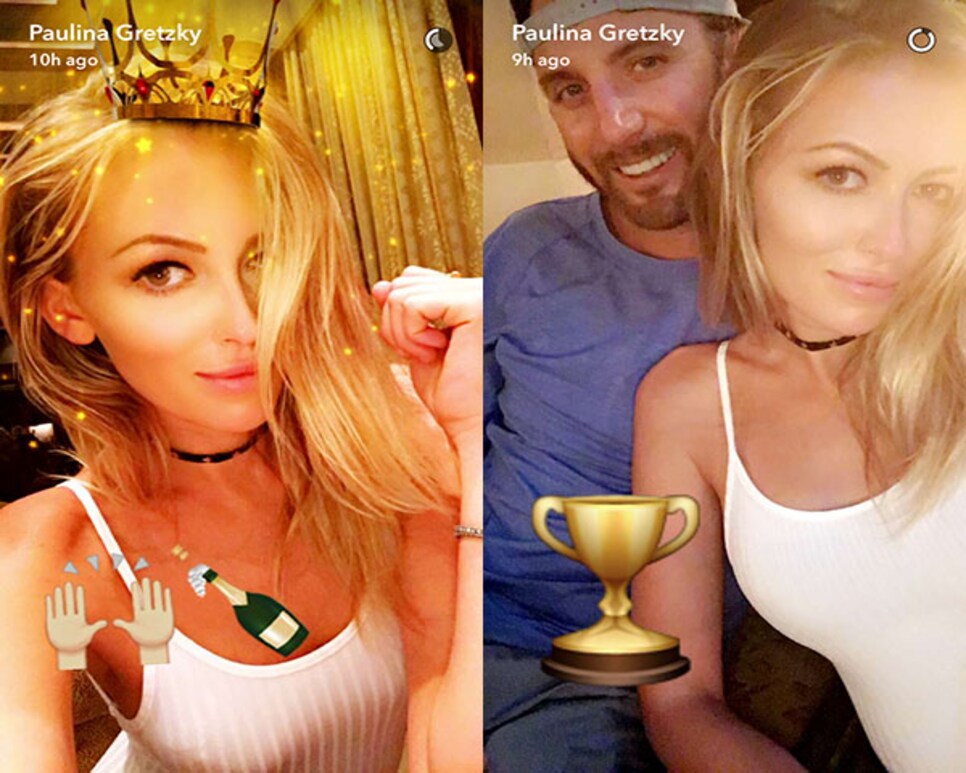 And partied on a boat for the Fourth: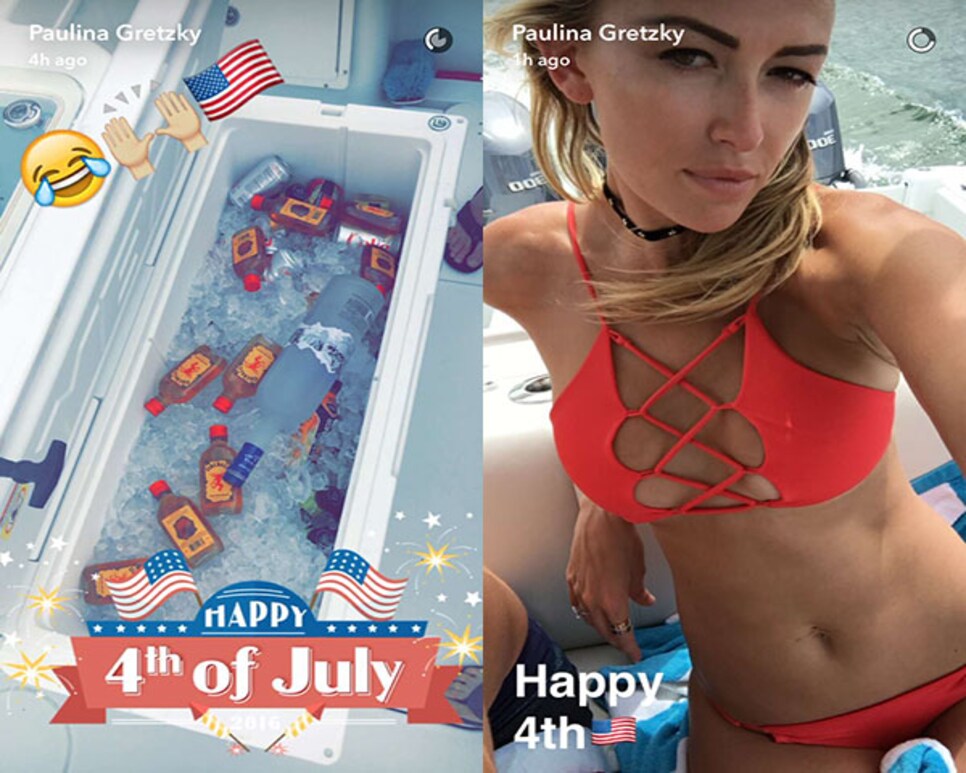 Well done, Danny. I would have worn our green jacket to cool places too, if I had won. Sigh.
There were a couple of creative videos showing how to "safely" light fireworks using golf balls.
Just a guess, but this guy's balance is better than yours.
"It's crazy. I don't know if he's going to be able to control himself tonight. Look out if you are at a wine bar. He might have a glass of wine or two." – Greg Chalmers on his dad being on hand for his first PGA Tour win.
THIS WEEK IN MODELS PLAYING WHO PLAY GOLF
Last week, Hayden Sylte showed off her golfer's tan. This week? Her patriotism:
THIS WEEK IN CELEBRITIES PLAYING GOLF
Actually, we're not sure what Justin Bieber and Rickie Fowler are doing in this clip, but it looks like they're having a good time:
THIS WEEK IN JOHN DALY BEING JOHN DALY
Has anyone ever been more comfortable in their own skin?
J.R. Smith continued his NBA title tour by attending the WGC-Bridgestone Invitational and even borrowing Dustin Johnson's driver to hit a few balls on the range.
Keep being you, J.R. . . . Ever wonder how the odds for a golf tournament are determined? Check out my podcast with Westgate Las Vegas Superbook manager and golf oddsmaker Jeff Sherman. . . . Brooke Henderson successfully defended her Portland Classic title on the LPGA Tour. Like DJ on the men's side, Brooke has skyrocketed up to No. 2 in the world rankings. . . . And speaking of repeat winners, congrats to Josh Thomson for winning the 23rd annual HGGA Championship. For a second straight year, this mudder took advantage of difficult conditions to claim this coveted prize: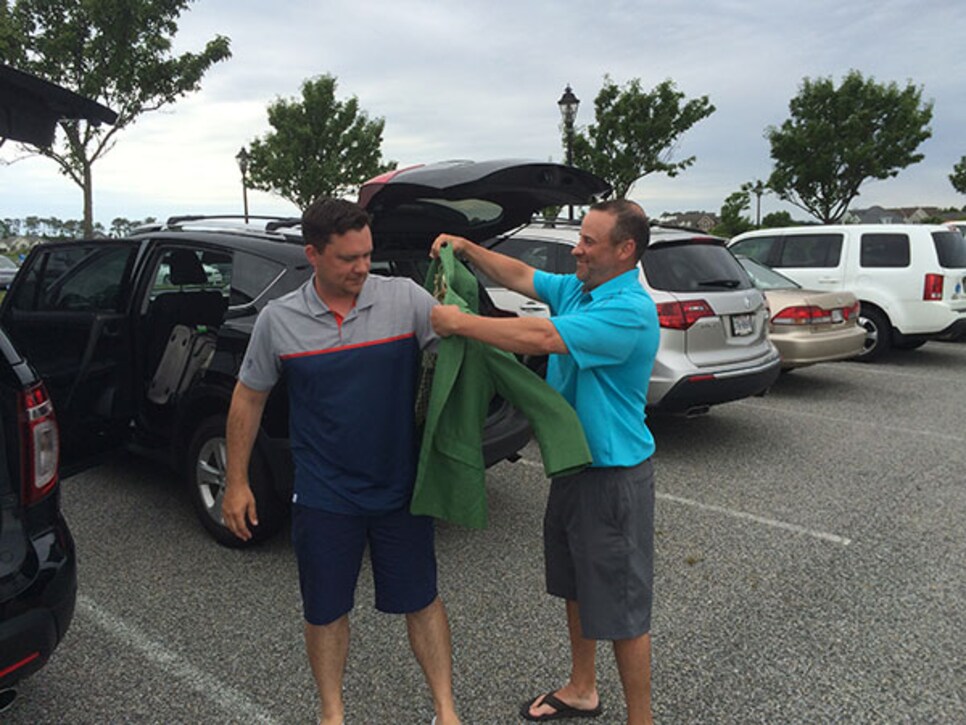 In a funny twist, Josh forgot to bring the jacket and had to pay $70 to have it shipped to where we were staying. The jacket originally cost $5 at a thrift store.
RANDOM QUESTIONS TO PONDER
How far can J.R. Smith hit a golf ball?
Did Kevin Durant choose the Warriors because he wants to get into golf?
When will the pain of losing go away?